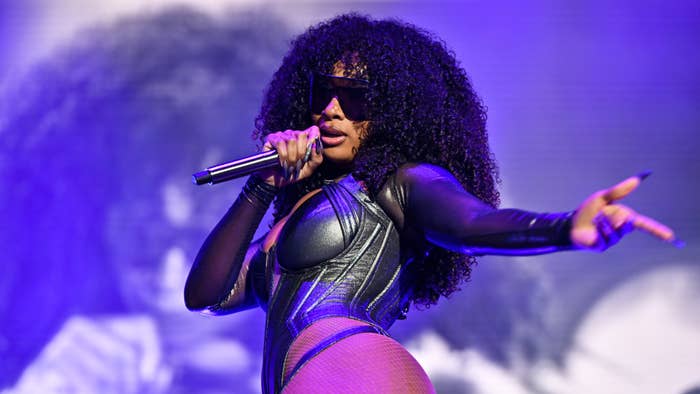 A man in Texas has been accused of pretending to be a cop as part of an effort to sneak into a Megan Thee Stallion show.
28-year-old Trayvone Lil Darus Stevenson, per a report from regional outlet KHOU 11, was arrested on Friday after trying to get into a March Madness Music Festival-launching show headlined by Megan in Houston. According to initial reports, Stevenson was wearing a vest that read "Police K-9" at the time of his arrest.
Ultimately, Stevenson was hit with a felony charge of impersonating a public servant. On Monday, per a separate report from KTRK, Stevenson was released after being granted a $20,000 bond by Harris County Judge Danilo Lacayo. In comments to the local outlet, a prosecutor pointed to the popularity of Megan, particularly in the Houston area, while reminding viewers "this is still a felony case." 
Meanwhile, Megan Thee Stallion was reported by Deadline last week to be in discussions about a role in Josh and Benny Safdies' new film. As previously reported, the highly anticipated Netflix entry sees the filmmaking duo reuniting with Uncut Gems star Adam Sandler, although additional details have been largely kept away from public view.
Over the weekend, Megan made an appearance at the 2023 edition of the CMT Music Awards in Austin, where she presented Shania Twain with the Equal Play award. She also walked the red carpet at the annual event, which holds a unique place in the country music scene due to the fact the ceremony's awards are all fan-voted.