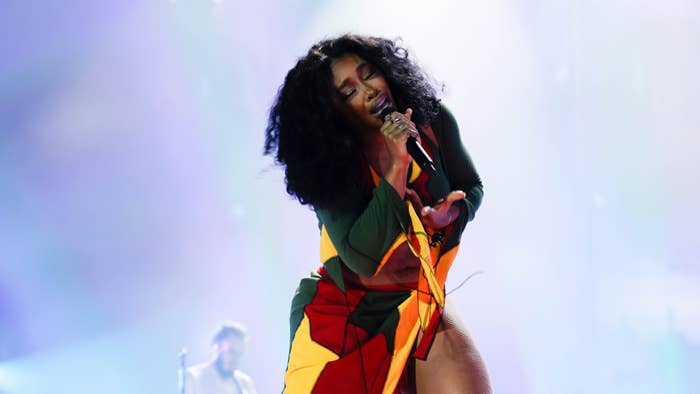 SZA has opened up about how a long-revered photo of the late Princess Diana inspired the cover art for her long-awaited new album SOS.
In an interview with Nessa this week for Hot 97, SZA was asked (as seen around the 7:28 mark in the video below) about fans having already connected the recently revealed art to the 1997 photo in question. SZA confirmed it was indeed inspired by the photo, as well as elaborated further on the artistic intentions behind the imagery.
"Originally I was supposed to be on top of, like, a shipping barge," SZA said. "But in the references that I pulled for that, I pulled the Diana reference because I just loved how isolated she felt and that was what I wanted to convey the most. And then at the last minute, we, like, didn't get clearance to get the shipping barges that we wanted and we were like, 'We're gonna build the diving board instead. We're still gonna try it.' We didn't nix the boat altogether and we tried it and it turned out cool and I wasn't sure it was going to be really cool until, like, right now."
See more below, including some insight from SZA on the album's title.
SOS is out Friday and arrives five years after the release of SZA's widely acclaimed debut Ctrl. Don Toliver, Phoebe Bridgers, Travis Scott, and the late Ol' Dirty Bastard have been confirmed to have features on the new album.
Next May, as announced this week, SZA will headline the Hangout Music Festival in in Gulf Shores, Alabama. For full lineup details and ticketing info, hit this link.