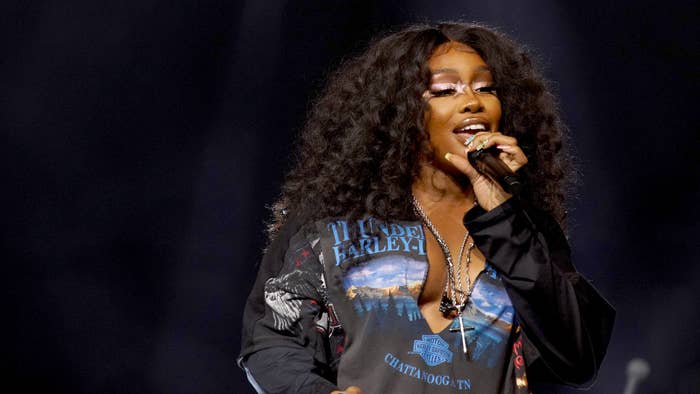 UPDATED 11/29, 4:30 p.m. ET: SZA took to Instagram on Wednesday, where she debuted artwork ahead of the release of her upcoming album SOS. It should be noted that it's unclear if the artwork is for the album itself, or an upcoming single. Check it out below. 
See original story below. 
Following the release of a mysterious teaser, SZA has unveiled the title of her long-awaited follow-up to Ctrl.
In a new interview with Billboard, the "Shirt" singer-songwriter announced that her new album is titled SOS, and is currently set for a release in December. She added that she's "currently stressed" about hitting the deadline. Fans correctly assumed the title would be SOS when her recent video teaser ended with a morse code for "SOS," which also appeared in the "Shirt" video.
As mentioned in the feature, she commented on an Instagram post earlier this year that she wanted to release the project in the summer, but TDE and RCA wanted more time on the project. A specific release date hasn't been announced yet, but the rollout is evidently already underway.
The unveiling of the title comes not long after SZA shared her "PSA" teaser on her birthday. "Clock starts now," she teased fans. In the new interview, she also expressed frustration with not being able to drop her music whenever she feels appropriate.
"I hate the red tape analytics of dropping anything—it's so stressful," she told writer Heran Mamo. ""I definitely have heard [the term 'digital service provider'] more this week and last week than I have ever. I don't like the way it sounds—it sounds stressful and like something that requires a lot of attention and maneuvering. I hate the word 'single.' It's like, 'What the fuck separates a single from other shit on my album that I like? Why does it have to be different?'"
Elsewhere in the interview, SZA spoke about how she regrets performing with DJ Khaled on Saturday Night Live in 2019 instead of spending time with her late grandmother Norma in her final days.
"I wish I went to spend time with her. She was catching a medical jet from St. Louis to New Jersey because she spent the rest of her days at my parents' house; she passed at my mom's house [in June]," she said. "That last week when she was really ill, I went to go perform with DJ Khaled, who I love, at SNL… And in hindsight, that was so dumb. I just wish I spent those last moments with her at home. That was a hard lesson. Like, 'Great, I perform for a minute and 30 seconds on SNL and I lost my grandma for the rest of my life.'"
Read the full feature here.