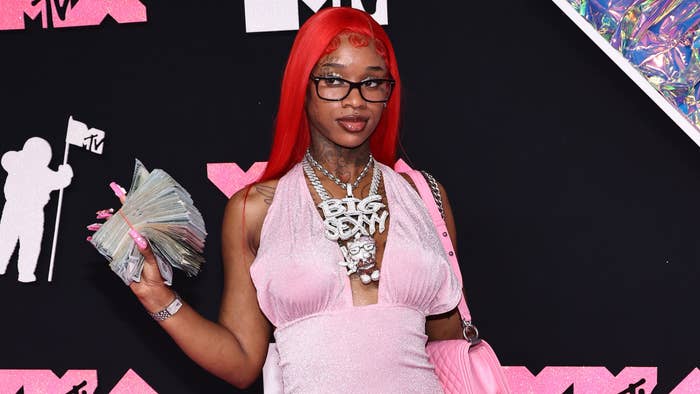 Sexyy Red can't help but ask "Why me?" whenever she sees the slew of decidedly NSFW replies that often follow her updates to Twitter, which is technically known as X now but I refuse to call it that.
While the Hood Hottest Princess artist isn't the only one frequently experiencing this on the platform, as it appears certain bots and related account types are arguably more visible than ever these days, she's definitely noticed a pattern.
During a recent interview with Zias (a.k.a. JustZik), Red was asked how this began.
"I don't know, man," she said a little over 18 minutes into the video below. "They sick. Why me? That's all I be wondering. Why me?"
After laughing about it, Red continued by opening up about how this practice once led to her accidentally having a dick pic on her phone during an otherwise casual conversation.
"I remember, I straight was scrolling and I ain't know something was on my screen," she said. "I'm just sitting there. My phone's just out. I'm talking. They're like, 'Why you got a dick on your screen?'"
See more below.
Later this month, Sexyy Red will head out on her first headlining tour, starting with a show at the Paradise Rock Club in Boston on Oct. 16. Nashville, Birmingham, Atlanta, and more are also on the schedule.
The tour arrives at a particularly shrewd time for Red following the recent releases of new solo track "Shake Yo Dreads," Young Nudy's "Peaches & Eggplants" remix with Latto, and "No Panties" with Raedio. The latter marks the first single to be unveiled from the soundtrack to the upcoming second season of Max's Rap Sh!t.