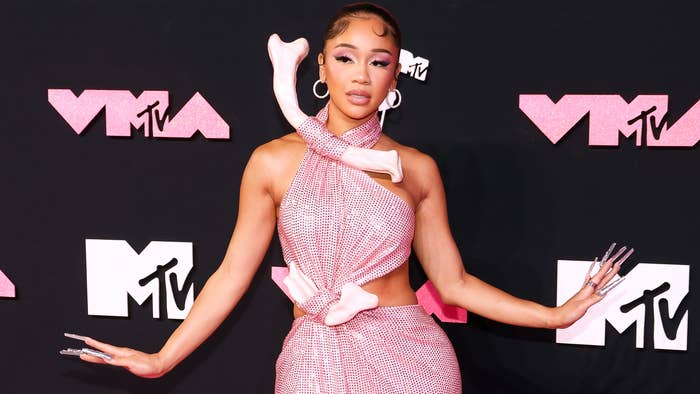 Saweetie was quick to shut down an instance of virality in progress during Tuesday night's MTV Video Music Awards ceremony.
As those who watched the ceremony in real time are likely already aware, a pair of clips of Saweetie from the pre-show festivities started making the rounds. The focus, as seen below, was on Saweetie's apparent teleprompter difficulties.
Later on Tuesday night, Saweetie confirmed she was aware of what people were trying to do with the footage. Additionally, she advised such individuals to promptly cease their virality push.
"What's up, y'all? It's me again," she said during the main broadcast. "And y'all better stop making my little stutter video go viral. I see what you doing."
Of course, a larger question here when it comes to the VMAs is, who exactly wrote whatever the night's presenters and other talent were reading off the teleprompters? The WGA and SAG-AFTRA strikes are both very much still in effect.
This month, Saweetie was slated to hit the road with YG and Tyga for the previously announced Str8 to the Klub Tour. However, as of this writing, it appeared that all dates for the tour listed on Ticketmaster had been canceled. Additional info was not immediately shared.
In July, Saweetie launched a pair of new singles, including "Birthday" and "Shot O'Clock." The former featured YG and Tyga, while the latter was a straight-up solo cut.
That same month, Saweetie provided an updated on her long-teased debut album, confirming to Power 106 Los Angeles' Justin Credible that she was no longer using the title Pretty Bitch Music. An official release date for the album has not been announced.