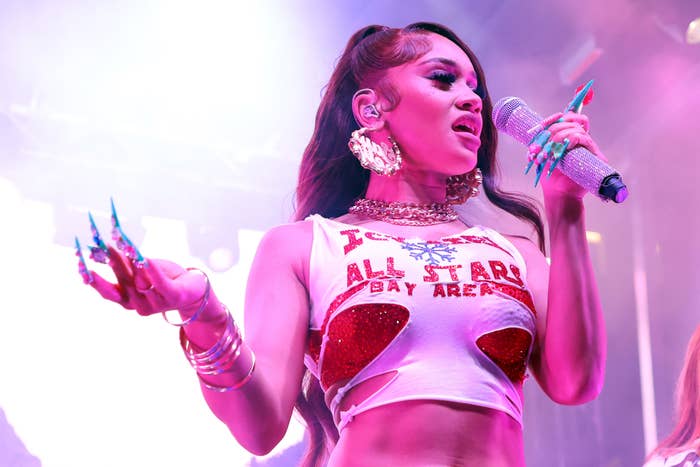 According to Saweetie, there's always room for more than one Barbie.
Last year, the rapper previewed a clip of an unreleased song sampling Aqua's hit "Barbie Girl." But some fans felt some kind of way when it was revealed that Nicki Minaj and Ice Spice also had an Aqua-sampled single, "Barbie World," on the way for the official Barbie soundtrack.
When sitting down with Power 106 Los Angeles' Justin Credible, Saweetie revealed that there were no hard feelings when the Nicki Minaj and Ice Spice cut was released. "It's inspiration," she said. "Like, I love to inspire, that's my purpose here, and they look bomb as fuck in the video. So it's just like 'Okay, bitch, I see you!'"
Just because "Icy Girl, Icy World" wasn't included in the Barbie soundtrack, it doesn't mean the track won't ever see the light of day. "Mine is still coming out though, stay tuned," Saweetie revealed. "I'm saving it for a very special moment."
As fans still wait for the 30-year-old artist's long-awaited debut album, she also revealed that the project is going through an overhaul. "[The name of the album] was Pretty Bitch Music but I realized, Pretty Bitch Music is my movement," she explained. "It's like a category of my brand. Like there's Pretty Bitch Music, there's Icy, there's Icy University, etc. So I'm changing the name of my album."
The Icy Girl is set to join YG and Tyga on the Str8 to the Klub Tour this fall in the U.S.
Watch the full interview with Saweetie below.