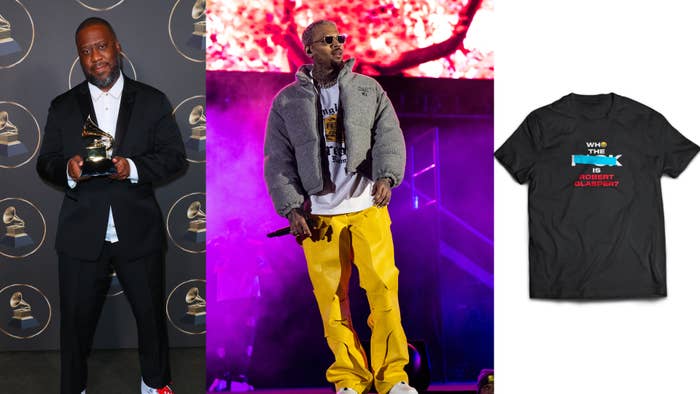 Robert Glasper's well-played response to Chris Brown's attempted questioning of his Grammys victory has resulted in a sold-out t-shirt design.
The design, pictured above and below, included the phrase "Who the fuck is Robert Glasper?" In addition to calling to mind (largely, it's presumed, inadvertently) the oft-repurposed "Who the fuck is Mick Jagger?" design made famous by The Rolling Stones, the shirt's text also represents a verbatim quote from Brown himself.
As previously reported, Brown shared a number of similarly worded Instagram updates on Grammys night after losing to Glasper in the Best R&B Album category. Glasper, of course, took home the award that evening for his acclaimed 2022 album Black Radio III. Brown, meanwhile, was up for the same award with his Breezy (Deluxe) album.
Brown later apologized and shared a screenshot of a message he sent to Glasper. In it, he congratulated Glasper while also redirecting his prior criticism toward the Recording Academy.
On Monday, Glasper alerted fans to the fact that the resulting t-shirt had sold out.
"Thanks for the support," he said in an IG update. "A portion of the proceeds from this shirt will be donated to the Community Music Center of New Orleans. A nonprofit created to share the music culture and music education in New Orleans, providing free music lessons to underserved youth. I can't thank y'all enough for supporting this cause."
Before Brown's original comments and prior to winning Best R&B Album at this year's Grammys, Glasper shared a separate post to IG (dated Jan. 30) in which he had a little fun with the "Who the fuck is" phrase. The shirt itself, however, was launched after Brown's widely reported comments.
This July, Glasper will take the stage as the artist in residence at the Blue Note Jazz Festival in Napa Valley. The three-day festival, which kicks off on July 28 at the Silverado Resort, will unveil its full lineup next month.