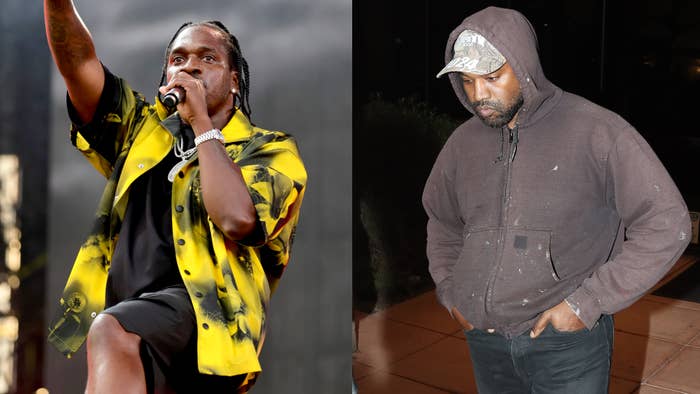 Pusha-T has spoken out about recent developments surrounding the artist formerly known as Kanye West, who in recent months has been at the center of ongoing criticism in response to a string of comments widely slammed as anti-Semitic.
In a recently sharedLos Angeles Times chat, Push—who was recently in the house for the 2022 edition of ComplexCon—spoke briefly about these "very disappointing" recent months.
"Definitely affected me," he told writer August Brown, as seen in the video below. "To describe it, I'd say it's been disappointing, very disappointing. You know, just as a Black man in America, there is no room for bigotry or hate speech or anything like that."
Elsewhere in the Times discussion, King Push spoke candidly on what Ye has meant for him in a creative sense ("freedom") and reflected on both the personal and broader importance of recently landing his first-ever No. 1 debut with the acclaimed It's Almost Dry. See more here and/or below.
More recently, Ye has seemingly turned his attention back to the world of politics, most notably in the form of a number of tweets regarding apparent 2024 plans, Trump dinner included.
In a statement shared with CBS News and other outlets last week, Trump confirmed the meeting but alleged that he had not been made aware prior to the dinner that Ye would be bringing Nick Fuentes along with him. Fuentes, notably, has been identified by the Southern Poverty Law Center as a white nationalist and extremist. Additionally, Fuentes is known as a Holocaust denier and was involved with false 2020 election claims.
"Bigotry, hate, and anti-Semitism have absolutely no place in America—including at Mar-a-Lago," a White House rep later said of the meeting. "Holocaust denial is repugnant and dangerous, and it must be forcefully condemned."