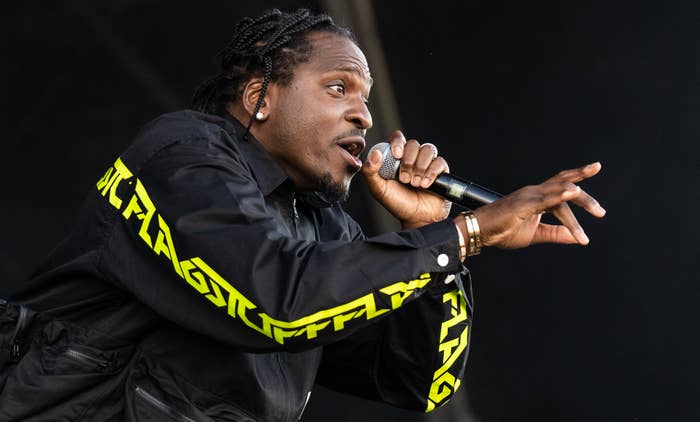 This Friday the feast continues, as Pusha-T has just announced the release date for his long-teased new album.
As confirmed via a brief clip shared to Instagram on Monday, It's Almost Dry will arrive this Friday, April 22. In celebration, Push also announced a "Cokechella"-nicknamed listening event for this week in New York.
The new album, Push's first since the universally revered DAYTONA, includes the previously released "Diet Coke" and the Jay-Z and Pharrell-featuring "Neck & Wrist." The first phase of the It's Almost Dry Tour kicks off on May 29 in Seattle.
In the run-up to Dry's unveiling, Push has sustained a prolific presence in headlines thanks to a number of noteworthy interviews, including spots on Hot Ones and 360 With Speedy Morman. Last week, he sat down with Charlamagne tha God for a nearly 55-minute discussion, eight takeaways from which can be found here.
"I feel like, you know, I had the best of both worlds in regards to production and in regards to two people that actually understand who I am and they like two different things from me that I feel are both really great," Push told Charlamagne of his It's Almost Dry-centered work with Pharrell and the artist formerly known as Kanye West.
As previously reported, the album is produced entirely by Pharrell and Ye. The latter contributed production to the aforementioned "Diet Coke" (as did 88-Keys) and was prominently featured in the track's official video, directed by Omar Jones and Onda.
This Thursday, fans can expect to see a Pusha-T performance on Jimmy Fallon's Tonight Show. The appearance follows last month's Late Show performance of "Diet Coke."