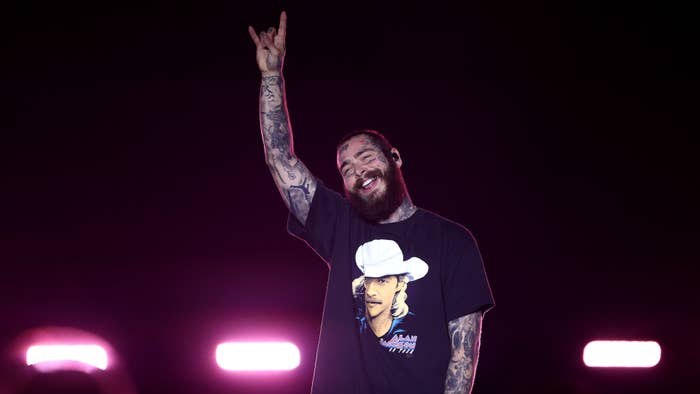 Post Malone helped a fan and fellow singer buy a house after a chance encounter at a bar.
Speaking with BBC News, Gregor Hunter Coleman—who frequently performs at the Wunderbar in the Glasgow area—recalled having the chance to not only meet Posty, but to also be the recipient of some admirable generosity in the process.
"He said, do you want a drink? I was like, listen, I'm saving for a house so I'm not drinking just now," Coleman told BBC of meeting Malone, who had stopped by the bar after his own show at the nearby OVO Hydro venue. "Which was daft, my mates were, like, why did you turn down a drink from Post Malone?"
From there, Coleman says he was asked to play at an afterparty event for Malone, who asked him how much he would expect to be paid for such a gig. Coleman says he declined to name a price, instead considering such a performance "the chance of a lifetime' for him.
"He got talking to me and he offered to help me out with my house deposit," Coleman, who thanked Malone for "such a life-changing experience" in a subsequent Instagram post, said.
The Wunderbar staff later congratulated Coleman, saying they were "so proud" of the singer. The venue also thanked Post Malone for stopping by.
Of course, Malone has often made headlines in connection with various fan interactions. Last November, for example, he helped two fans by officiating their wedding during a Seattle stop on his Twelve Carat Tour.
Next up, Posty will release his fifth full-length album, titled Austin. The album is expected to hit streaming services on July 28. Earlier that month, he will kick off his recently announced If Y'all Weren't Here I'd Be Crying tour in Indiana.