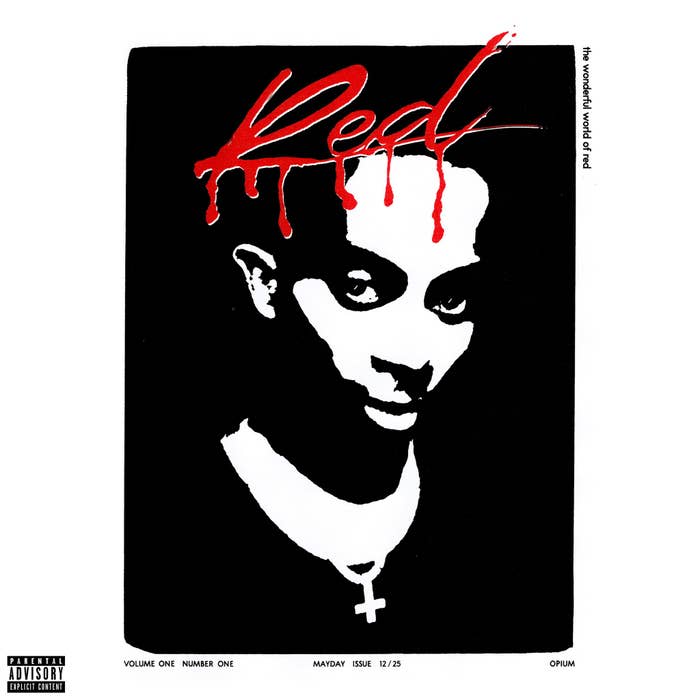 Whole Lotta Red, the ruthlessly long-teased new album from Playboi Carti, is here to infuse Dec. 25 with some meaning. 
The cover art for the follow-up to Carti's 2018 debut studio album Die Lit pays homage to the Slash fanzine which became pivotal for punk music in the late '70s. In fact, if you look closely at the Whole Lotta Red cover, you'll see that it says "Volume One Number One" on the left side next to the parental advisory label. The first issue of Slash, notably, featured a Melanie Nissen-snapped photo of Dave Vanian of The Damned.
Way back in 2017, Carti referenced Vanian (and fellow Damned member Captain Sensible) by sharing a photo of the two on Snapchat when teasing a collab tape with Lil Uzi Vert.
The Whole Lotta Red era kicked into full gear in late November when Carti announced the project had been finished and sent off to his label. A few days later, the Cudi-featuring collection felt even more imminent thanks to Carti's appearance on Lil Yachty's Lil Boat 3.5 cut "Flex Up" with Future.
Also in November, Carti teased the upcoming Whole Lotta Red in a GQinterview as "alternative" and "psyched out," two descriptions that immediately pleased fans who had spent the better part of two years begging him to drop.
In addition to dropping the album, Carti also shared the music video for "M3tamorphosis" featuring Kid Cudi.
Without further ado, here's the full Whole Lotta Red experience: