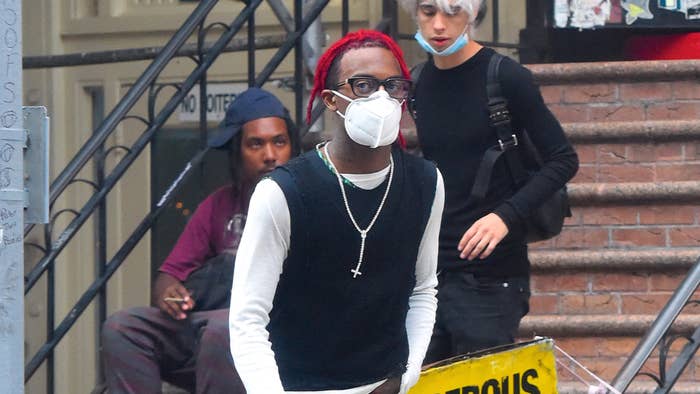 Playboi Carti's 24-track xxxmas gift, the long-teased Whole Lotta Red, has finally landed on Earth.
The album boasts Slash-honoring cover art and a trio of well-curated guests including Kanye West, Kid Cudi, and Future. Deeper dives on the new full-length, Carti's first since the beloved Die Lit back in 2018, are sure to stack up in the coming days. An early contender for closer dissection, however, has emerged thanks to some key lyrics on the exquisitely named "Punk Monk."
Deep into the track's bass-driven introspection, Carti reflects on trying to sign Trippie Redd "before they knew about Trippie." Carti also mentions Lil Keed, specifically his track "Blicky Blicky," as well as being "tricked" by a label when trying to sign the prolific Pi'erre Bourne:
"I had every chance to sign all these young n****s
But I was in my bag
Really I don't worry about these n****s
I was tryna sign Trippie Redd before they knew 'bout Trippie
I was fuckin' with Lil Keed when he made lil 'Blicky'
I thought I had Pi'erre but the label tricked me
They tried to turn me into a white boy but I'm not Lil Dicky
I remember I used to follow Key! and ManMan Savage
Ridin' 'round the hood, I was ridin' with the ratchet"
A couple lines later, Carti appears to reference Offset's 2017 criticism of Lil Uzi Vert's use of inverted crosses. As you may recall, Uzi at one point playfully trolled Offset over his condemnation of the admirable aesthetic flourishes. According to Carti, he didn't want to get in the middle of their disagreements because "that ain't none of my business." Carti also noted he would simply rather worry about himself:
"I was in Paris when Offset and Uzi started hittin'
I had to stay out that shit because that ain't none of my business
I just worry 'bout me
I just worry 'bout me
I gotta worry 'bout me
I gotta worry 'bout me
Why?
I'm not friendly at all"
Peep the full song—which also includes the highly quotable line "I don't rap, I write poems"—below: