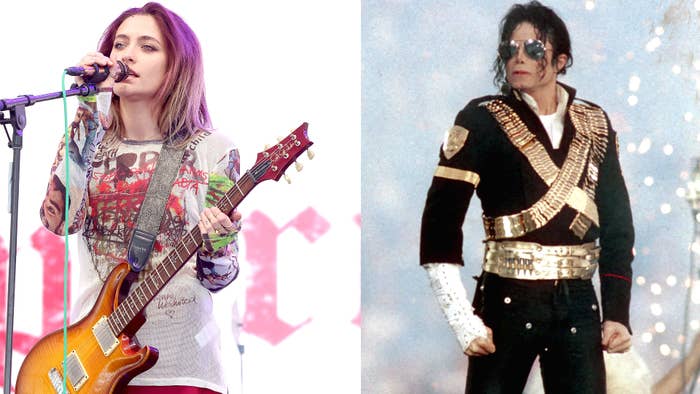 Tuesday marked what would have been the 65th birthday for the late Michael Jackson, the King of Pop. In response to apparent complaints from some fans, Paris Jackson—MJ's daughter—shared a special video touching on the problem of placing too much importance on public social media tributes and her late father's dislike of birthday celebrations.
"I just got off stage and I'm very sweaty," Paris noted in the video, originally shared to Instagram. "So today's my dad's birthday and back when he was alive he used to hate anybody acknowledging his birthday, wishing him a happy birthday, celebrating it, nothing like that. He actually didn't want us to even know when his birthday was because he didn't want us to throw a party or anything like that."
Despite this, Paris pointed out, some fans have decided to harass her about what they think is appropriate, despite having never met either one of them in real life.
"That being said, social media is apparently how people express their love and affection these days," she said. "And if you don't wish someone a happy birthday via social media, it apparently means that you don't love them, you don't care about them. There have been times where I don't post anything for my dad's birthday and people lose their fucking minds. They tell me to kill myself and they're basically measuring my love for my own father based off of what I post on Instagram. So, I made you guys a little video and I hope you enjoy it."
From there, Paris urged those who wish to properly honor her father's memory on his birthday to consider donating climate change awareness organizations or to groups involved with animal rights activism efforts. She also included a recent clip from a performance with her band, which recently shared the bill with Incubus and Badflower on a summer tour.
"It's also my dad's birthday and he would have been 65 years old today," she's seen telling the crowd in the live footage. "He put 50 years of blood, sweat, and tears and love and passion into doing what he did so that I could stand up here on stage in front of you and scream into a microphone. So I owe everything to him."
In the caption of her IG post, as seen above, Paris pointed out the absurdity of the attacks on her regarding birthday tributes.
"Please don't use a man you have never met as an excuse to abuse, manipulate, and harass his daughter (who you also have never met)," she wrote.
Earlier this month, Paris released her latest single, "Hit Your Knees." See below for the track's official video, directed by @nashavefun.
On the horizon for MJ fans is a hotly anticipated biopic helmed by Antoine Fuqua. In January, MJ's nephew, Jaafar Jackson, was announced to be taking on the title role in the tentatively titled Michael.