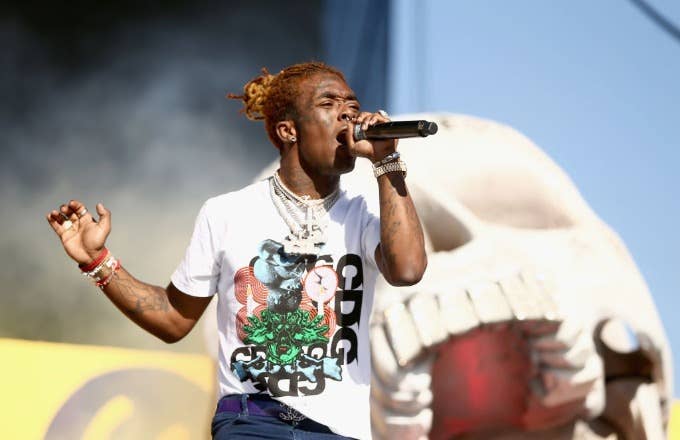 UPDATED 1:25 p.m. ET: In response to Nav's claim, DJ Drama tells Complex four collaborations between Nav and Lil Uzi Vert were previously cleared, adding, "It's not about the money because we turned down $100k."
The four records between the two rappers are "A$AP Ferg" and "NAVUZIMETRO#PT2," which were both featured on Nav and Metro Boomin's Perfect Timing, as well as "Wanted You" and "Glow Up (Remix)," the latter of which debuted on the Weeknd's Memento Mori Beats 1 show last August.
See original story below.
With a new album campaign that's already featured a public feud with surviving members of an infamous cult and an acutely entertaining social media stunt involving imagined goodbye notes and Mike Jones, it's hard to imagine the path to Lil Uzi Vert's Eternal Atake complicating further. Yet, here we are reporting on some words from Nav that suggest exactly that.
Late Wednesday, Nav—who's currently in the middle of emerging from a self-instated hiatus of his own—informed fans that a certain Uzi verse likely won't make it on the final tracklist for his upcoming Bad Habits project. According to Nav, the Uzi omission is the fault of Generation Now co-founders DJ Drama and Don Cannon.
In a post tagged #FreeUzi, Nav said he knew fans wanted some Uzi on a track called "Habits" (or possibly the title track) on the album, though that sadly isn't expected to come to fruition now. "I had an open verse for the longest and Uzi blessed us with one," Nav said on Instagram. "Unfortunately DJ Drama and Don Cannon [won't] clear his verse legally."
Nav added that he was once a fan of Drama and Cannon's work, but now believes it's "all about the money" to them.
As you'll recall, Nav initiated a mini-retirement in solidarity with Uzi earlier this year. He's since resumed releasing new music, having just released his Brown Boy EP last week. An apparently Uziless Bad Habits, boasting an executive producer credit from The Weeknd, is expected Friday.

Eternal Atake, as far as anyone knows, is still the presumed next solo project from Uzi. This August will mark two years since the release of his Luv Is Rage sequel, which marked his studio debut through Atlantic and the aforementioned Generation Now imprint. Back in December, Uzi said he was trying to "figure out how I'm gon' get out my deal" during his appearance on Shabazz PBG's "Shells."