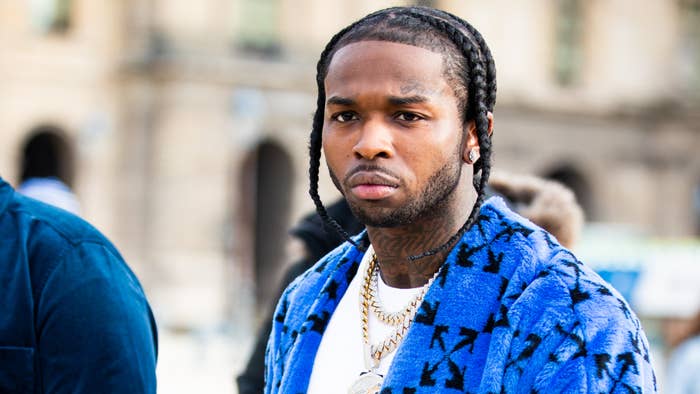 A man charged in connection with Pop Smoke's 2020 murder pleaded guilty in a California court this week.
Per a report from the Associated Press, the 20-year-old man pleaded guilty to charges including voluntary manslaughter and home invasion robbery on Thursday. The identity of the man, who was 17 years old at the time of Smoke's murder, has not been publicly released due to his age during the commission of the crime. He's now been sentenced to four years and two months to be served in a regional juvenile treatment facility.
The 20-year-old is one of four individuals who have been charged in the murder. In July 2020, the Los Angeles County District Attorney's Office announced that Corey Walker, then 19, and Keandre Rodgers, then 18, had each been charged with murder with the special circumstance of the killing having taken place during a robbery and burglary. The fourth individual to have been charged was not identified aside from authorities revealing that their age at the time of the crime was 15.
Pop Smoke was just 20 years old when he was shot multiple times at an Airbnb in the Hollywood Hills area in February 2020. He later died at an area hospital, with the arrests of multiple suspects coming several months later in July. The posthumous album Shoot for the Stars, Aim for the Moon was released that same year in commemoration of what would have been Smoke's 21st birthday. A follow-up, Faith, was released in July of 2021.