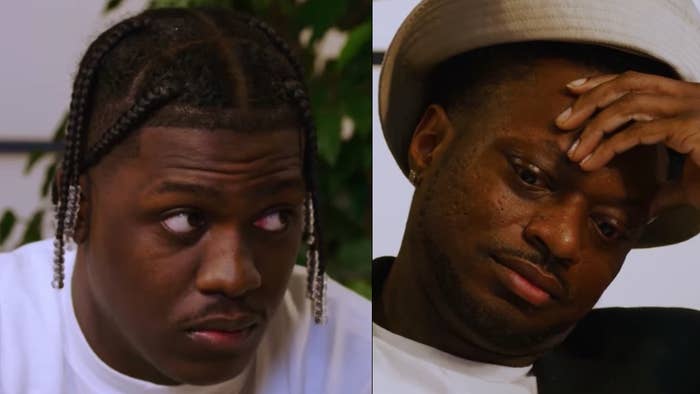 Lil Yachty playfully roasts Funny Marco over Bobbi Althoff's viral success in a new clip from an upcoming conversation.
In the clip seen below, Yachty asks Marco if he was "jealous" that the Really Good Podcast personality had "surpassed" and "completely obliterated" him. Worth noting, of course, is that Marco appeared on Althoff's show earlier this year. That very interview, notably, was later referenced by Yachty in his own discussion with Althoff.
"Were you jealous that she just surpassed you and completely obliterated your existence?" Yachty asked, followed by an extended pause only broken when Marco offered up a halfhearted "Nah" in response.
From there, Yachty continued prodding Marco about Althoff's rise by theorizing that he likely "stopped at this little white girl's house" and thought "nothing of it." In fact, Yachty said, he likely expected to not get more than 5,000 views.
"Turns out, she gets 10 million-plus views," Yachty said. "I'm talking about 500,000 extra followers. Drake, me. … I mean, the list goes on. She's turnt."
Yachty added that he had actually just spoken with Althoff, though he declined to reveal the name of someone important with whom she had just scored a meeting.
"You sitting here right now, no shoes on, socks are dirty, got $20 in your pocket and you mean to tell me that you wasn't jealous in any type of way?" Yachty added.
Naturally, the clip was further boosted by a somber piano-driven soundtrack. See more below. As for Marco's take, he joked in the caption that he's "got words" for Yachty after this exchange.
Yachty's Field Trip Tour is now in progress and will soon hit Austin, Nashville, San Diego, and a ton more cities in the weeks ahead. In fact, Yachty was initially slated to give SXSW attendees in Austin a special performance back in March before (as documented here) some decidedly Texan weather intervened and forced an abrupt cancelation.
Complex recently spoke with Yachty about the tour, as well as his expansive partnership with C4. Head here for the full discussion.