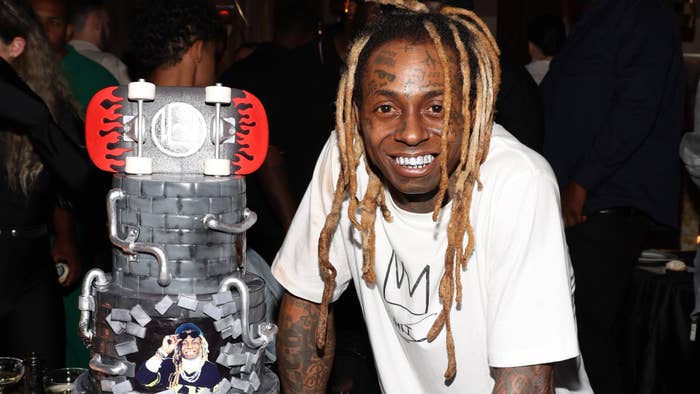 Following a celebration at the Nice Guy in Los Angeles over the weekend, Lil Wayne's 40th birthday-commemorating festivities continued on Tuesday with the announcement of 22 new platinum certifications from the Recording Industry Association of America (RIAA).
Among the Weezy tracks given new plaque-worthy certifications is the 2 Chainz collab "Rich as Fuck," now certified as triple-platinum. The song, which appeared on Wayne's I Am Not a Human Being sequel, first achieved RIAA gold status back in December of 2013.
Other highlights from Weezy's fleet of newly minted RIAA distinctions include a double-platinum confirmation for "Fireman," an eight-times multi-platinum marker for Tha Carter III, platinum statuses for the Drake-featuring "I'm Single" and the Travis Scott-featuring "Let It Fly," and more.
This weekend's throwdown in Los Angeles, per TMZ, was an expectedly stacked affair. YG, Skip Bayless, Yella Beezy, and more have been confirmed to have joined Wayne in person to help ring in the prolific artist's 40th birthday. Further amplifying the celebratory energy were special video messages shared by Drake, Nicki Minaj, and the artist formerly known as Kanye West.
"I'm wishing a happy birthday to the goat, Lil Wayne," Ye, who was in Paris at the time, said in his clip.
"I know that God loves me, because he placed you in my life," Nicki said in hers.
Drake, meanwhile, joked about having camera operation-related difficulties after sharing some love for Weezy. "I'm like you with this phone," he said at one point. "What the fuck?"