Life Is Beautiful returns to Downtown Las Vegas this September for more extremely well-curated music and general whimsy. While early-bird tickets for the three-day thrasher have been rolling since earlier this month, the full lineup wasn't unveiled until Tuesday.
Chance the Rapper and Billie Eilish lead this year's reliably stacked music lineup. The recent Coachella Sunday Service collaborator toplines Friday night, with the Black Keys and Post Malone holding it down for Saturday and Sunday, respectively. Gunna, Maggie Rogers, Rae Sremmurd, Sheck Wes, Vampire Weekend, Lil Wayne, Janelle Monáe, and Carly Rae Jepsen are also aboard for the 2019 festivities.
Meanwhile, Desus & Mero and the Pod Save America team are among those confirmed for the fest's non-music happenings. It all goes down starting Sept. 20. Grab the 2019 lineup flyer below. For ticket info, head here. General admission starts at $315.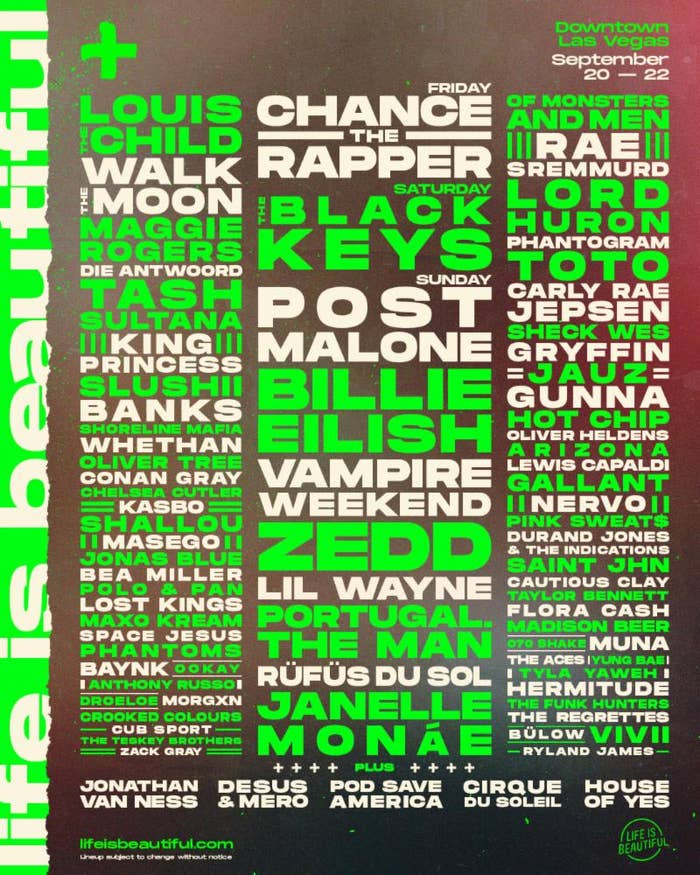 Last year's edition marked the biggest Life Is Beautiful yet, with more than 180,000 estimated to have attended across the three days. In preparation for the event, the team that year teased its plans for expansion in the future, though such plans don't necessarily include the launching of LIB-backed festivals in other markets.
"We're holding ourselves accountable to see what can be done," CEO Justin Weniger told WWD last July. "At the same time, [we're] looking at it from a business perspective and saying, how do we build resilience around that so we're not always beholden to one event being our entire year and there's not just a single touch point for us."