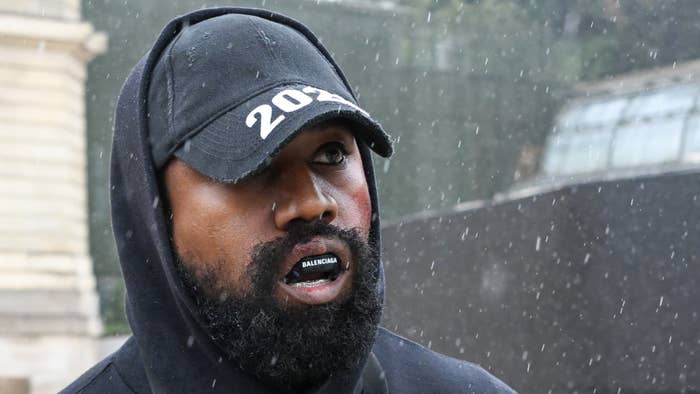 UPDATED 12/1/22, 4:45 p.m/ ET: Ye is not acquiring Parler, the company said in a message posted on Twitter. News of the deal's termination comes on the heels of the Donda artist making several anti-Semitic statements and praising Hitler while speaking to far-right conspiracy theorist Alex Jones.
"In response to numerous media inquiries, Parlement Technologies would like to confirm that the company has mutually agreed with Ye to terminate the intent of sale of Parler," the company wrote. "This decision was made in the interest of both parties in mid-November."
See original story below.
The artist formerly known as Kanye West is acquiring Parler, the social media platform billed as a so-called conservative alternative to other sites.
In a press release, Parlement Technologies CEO George Farmer argued that Ye was "making a groundbreaking move" with this deal.
"Parlement will be honored to help him achieve his goals," Farmer, who is married to Candace Owens, said.
In the same press release, a Ye quote is also included, complete with similarly Fox News-ian wording.
"In a world where conservative opinions are considered to be controversial we have to make sure we have the right to freely express ourselves," Ye said.
He further touched on the acquisition—and his antisemitic comments—while speaking with NewsNation's Chris Cuomo on Monday, saying "the CEO is just really incredible."
"Why would I remain in a place where I'm just tolerated?" he asked the ex-CNN host, referring to Twitter and Instagram. "Why not go to a place where I'm celebrated? That's actually something Kid Rock just gave me a text about."
Parler, as the Southern Poverty Law Center pointed out last January, has been criticized as "a haven for far-right extremism of all stripes." The platform became a much-discussed facet of the larger Capitol riot investigation, with a previously published USA Todayanalysis showing the extent of Trump's real-time impact on the platform in the moments leading up to the attack.
First launched in 2018, Parler quickly became the go-to social media choice for a number of far-right figures. By November 2020, per an Anti-Defamation League report at the time, those with sizable presences on the platform included Islamophobic conspiracy theorist Laura Loomer and the Proud Boys hate group.
In recent days, Ye has been met with account-restricting actions on Twitter and Instagram in response to antisemitic remarks. Elon Musk, who himself is set to acquire Twitter, later claimed to have spoken with Ye regarding his then-recent Twitter activity.
"Talked to ye today & expressed my concerns about his recent tweet, which I think he took to heart," Musk claimed in a tweet, marking an apparent reference to Ye having previously said on the platform that he was "going death con 3 on JEWISH PEOPLE."
To read more on the dangers of amplifying antisemitism, hit this link.