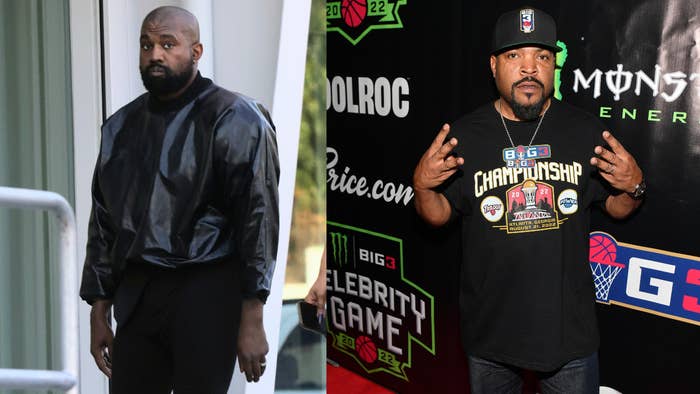 Kanye West and Ice Cube have seemingly put any issues between them to rest. At least, that's what's suggested in photos shared by the usual sources over the weekend.
Per a report from TMZ, Ye and Cube met up at the latter's residence in the Los Angeles area last Friday. Following the meeting, they were both pictured engaging in a hug as Ye left the premises. Expectedly, any actual details on the nature of the meet-up have not been made public, nor will they likely ever be. At any rate, see the articles-spurring pics below.
For those who need a reminder, Ye and Cube were last in headlines together in October 202. At the time, Ye was in the middle of a series of widely condemned anti-Semitic remarks. These remarks, as some predicted, eventually led to Ye literally praising Hitler in an interview with Alex Jones. But before that, he made an appearance on Drink Champs in which he mentioned Cube.
"You know, Cube's really set me up for this," Ye said in the interview, adding that Cube "really influenced" him to "get on this antisemite vibe." Cube was not amused, quickly issuing a tweet in which he distanced himself from Ye's remarks.
"I don't know what Ye meant by his statement, you're gonna have to ask him," Cube said at the time. "I didn't put the batteries in his back. Please leave my name out of all the antisemitic talk. I'm not antisemitic and never have been."
Last week, as we reported, it was revealed that a third former Donda Academy teacher had joined a lawsuit against Ye.