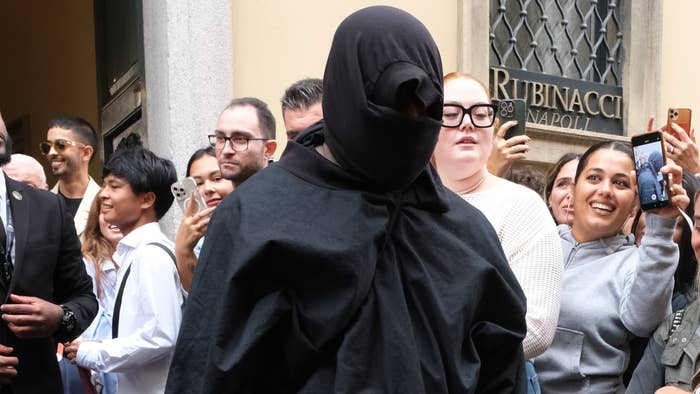 The flood of leaks focused on the artist formerly known as Kanye West continued in recent days with the surfacing of extensive documentary footage dating back to 2018.
The larger chunk of footage in question has been referred to in some circles of the fan community as a rough cut of a Love Everyone documentary, one upload of which pegs that particular available edit's runtime at about two and a half hours. Love Everyone, of course, was being publicly floated as a potential album title back in 2018 alongside ultimately scrapped cover art.
During a photo shoot, as seen in the widely shared clip, Ye is heard on a phone call, seemingly with Scooter Braun or with a group of people connected to and/or including Scooter Braun, when he's told "the label's sale" is a process that could take anywhere between three and six months to complete.
This prompted Ye to make a number of remarks about his G.O.O.D. Music label, which was confirmed in October of last year to no longer be a part of Def Jam Recordings.
"It ain't gon' be in this situation," Ye is heard saying in response to the months-long timeline given to him on the call. "It's gon' be a get me out this motherfucking G.O.O.D. Music shit now. And Scooter, ain't gon' be no 'I'm still putting my name on this shit.' I need to get rid of G.O.O.D. Music because I'm great. And guess what good is? The enemy of great."
Ye then got specific by referencing a string of albums he helmed in 2018 including Pusha T's Daytona, Teyana Taylor's K.T.S.E., and Nas' Nasir. Those albums—as well as Ye and Cudi's Kids See Ghosts and Ye's solo project Ye—are collectively referred to as the Wyoming Sessions.
"The fuck I'm doing giving ['Gonna Love Me'] to fucking Teyana?" Ye said in the years-old footage. "What the fuck I'm doing giving that Daytona album to Pusha? What the fuck I'm doing, bruh? That shit was three Dark Fantasies that I gave away. 'Cops Shot the Kid,' Nas rapping all goddamn off beat on it. Don't even wanna shoot the video, then shoots the video [and] don't even tell me."
While fans and the artist herself were vocal about some of the confusion surrounding the K.T.S.E. rollout, Taylor expressed gratitude to Ye shortly after the release for helping her "most vulnerable, personal and soulful album" yet.
"I LOVE MY ALBUM and never said that I didnt AND BELIEVE IN MY ALBUM with all of me," she wrote in an IG update at the time. "My complaints never came from a place of anger but more so from a place of hurt that I felt that I owed the world more."
When releasing her 2020 follow-up The Album, Taylor pointed out the differences between that project and its predecessor in an interview with Ailsa Chang for NPR.
"When people hear the album, they will understand what my frustration was with K.T.S.E.," Taylor said at the time, adding that it was "tough" to follow the Wyoming Sessions' seven-songs-only approach while also trying to express a multitude of different emotions.
Nas, meanwhile, also pointed to the hectic period during which his Wyoming Sessions entry was completed. During a 2020 Breakfast Club appearance, Nas said he wished he and Ye had been given more time together in the studio.
"I don't know what went wrong," Nas said.
Speaking more generally about how he sees his impact as an artist in the newly surfaced documentary footage, Ye called himself "the greatest motherfucking artist living" and pointed to frustrations he had at the time about his vision "not being expanded to what it is."
He also referenced the murder of XXXTentacion, as well as vowed to get out of then-current deals related to his publishing, his relationship with Universal, and more.
As previously reported, the same leaked documentary also included a widely discussed moment in which Ye spoke about Cardi B and Nicki Minaj. The doc's leak, as fans will note, comes amid an ongoing flood of newly surfaced (and presumably abandoned) work from Ye including a Jesus Is King sequel with Dr. Dre and other previously unreleased music.
Ye's most recent wide release was 2021's Donda, the release of which was followed one year later by a string of anti-Semitic comments leading up to a Hitler-praising Alex Jones interview. In recent months, multiple reports have stated Ye was preparing to release a new album.