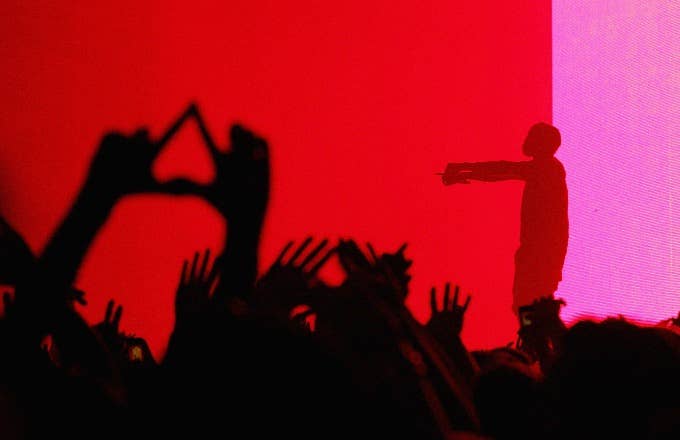 Thanks to a provision in his EMI contract that's now been newly revealed to the public, Kanye West is not allowed to retire.
West's EMI publishing contract, currently at the center of a wide-ranging lawsuit, states that West will "remain actively involved in writing, recording and producing Compositions and Major Label Albums, as Your principle occupation." Furthermore, West must "at no time during the Term" initiate a retirement from those occupations or take an extended hiatus in which he's not actively carrying them out.
This wording was revealed thanks to the latest move in the dispute from EMI, as the Hollywood Reporteroutlined Monday. According to the report, EMI has now filed a notice of removal in an effort to move the case from California state court to the federal level. Their argument is that this all falls under the Copyright Act, an argument that—if made successfully—could complicate what West is seeking in the dispute.
As reported in January citing court documents that were heavily redacted at the time, West is suing both EMI and his label following a previous effort at buying back his publishing rights that proved unsuccessful. Moving forward, the no retirement provision is expected to be a central aspect of West's case, in which he wants "freedom" from his publishing and recording contracts.
West's team has specifically pointed to California Labor Code section 2855, a.k.a. the De Havilland Law. The famous legal precedent states that personal service contracts, i.e. the same ones employed by those in creative fields, are limited to no more than seven calendar years in length.
As you'll recall, this argument was predicted when initial reports of West's suit came through in January. Artists who've previously made similar arguments against the Powers That Be include Courtney Love, Rita Ora, and West's "Hurricane" collaborators Thirty Seconds to Mars.
The latter's battle, also against EMI, was documented in the 2012 film Artifact.
For West, the seven-year argument places the timeline here as starting in 2003 circa College Dropout sessions.
"It makes no difference under section 2855 whether the contract is otherwise fair, or whether the employer has fulfilled its end of the bargain," West's complaint says. "It matters only whether the services began more than seven years ago. There can be no dispute that this happened here. The seven year period ended under this contract on October 1, 2010." My Beautiful Dark Twisted Fantasy, West's magnum opus, was released that November.