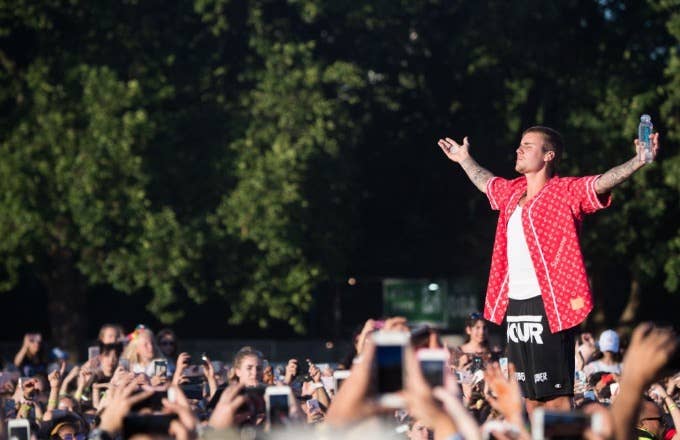 Justin Bieber is bringing a 50 Cent classic to mind via his latest update from the studio.
The track was teased via Bieber's Instagram Stories, complete with in-studio footage in which Hailey Baldwin is by his side. Lyrically, Bieber reflects on his experience with gluten-free dining, Christianity, depression, and married life.
He also dives into an excerpt of the chorus to 50 Cent's "Many Men (Wish Death)."
The track is merely the result of fucking around in the studio and is not slated to appear on his next record. "Not album stuff just messing around while Haileys doing stuff in the [other] room.. It is tight though," he wrote.
Around the same time as the 50 flip, Bieber also shared a series of Instagram photos of his home, presumably joking when he said he would sell it with all the furniture included. "I think I wanna sell my home in Beverly Hills who wants it," he said, also urging his followers to "MAKE AN OFFER."
Let the record show that I am offering—right here, right now—$5 for the property. Feel free to hit me back, Justin.
As for a new album, not much is known about the specifics surrounding the next full-length from Bieber, who earlier this month linked with Dan + Shay for the single "10,000 Hours." His 2019 release strategy has thus far been centered entirely on collaborations with Gucci Mane, Billie Eilish, Ed Sheeran, and more.
2015's Purpose, his most recent solo studio outing, still holds up quite well and is seemingly due for an imminent follow-up. In another recent Instagram update, Bieber told fans to expect exactly that before year's end.