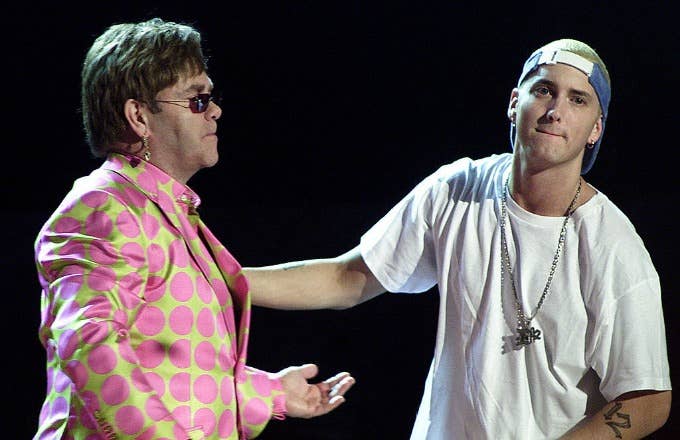 Elton John hasn't put a thoughtful wedding gift he received from Eminem to use just yet, the singer confirmed in a new interview consisting of questions from fellow artists.
"Ah, no," Elton John said in response to Em's inquiry about the matching cock rings that have been discussed in previous interviews, perThe Guardian. "Eminem bought me and David matching cock rings when we got married. That was his gift. They sit there, like the crown jewels, in this beautiful box on satin cushions. They're wonderful to look at."
While John confirmed that he and David have opted to keep the gifts tucked away, he was unable to offer the same confirmation regarding his house guests. 
"I don't know if any guests we've had have used them. God, I hope not," he said. "They're kind of sacrosanct."
John added that he's particularly fond of the gift, which he considers "very [Eminem], as is this question." Per the interview, the two have stayed in touch over the years, developing a friendship that notably includes the phone greeting "Hello, you old cunt, how are you?"
Sir Elton also fielded questions from Charli XCX, Bob Dylan, Alessandro Michele, Billie Eilish, Kacey Musgraves, and more. For Charli's question, she wondered if there were any recent songs he wished he had written, a distinction he says goes to both Lil Nas X's breakout hit "Old Town Road" and Brandi Carlile's "The Joke."