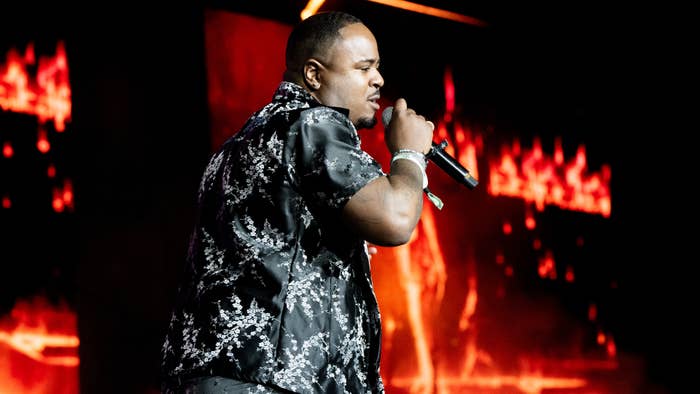 Drakeo the Ruler's brother is now suing the promoters behind the Los Angeles music festival where the "Talk to Me" artist was fatally attacked.
The lawsuit, first reported by TMZ, sees a lawyer for Devante Caldwell (a.k.a. Ralfy The Plug) detailing the "violent mob attack" that he says took place within minutes of his brother's arrival at the Once Upon a Time in LA festival last December. Focus is placed on alleged security-related issues at the festival, with Devante stating that his brother made his entry via a pair of checkpoints that he says weren't secure enough. 
A separate Rolling Stone report adds additional insight, with the outlet noting that the suit in question is from Devante and other Stinc Team members. Involved parties have alleged that negligence by promoters is to blame for both Drakeo's death, as well as the "severe physical and emotional harm" they say they faced during the incident.
The lawsuit was filed in Los Angeles this week and names Live Nation, Snoop Dogg's LLC, C3 Presents, Bobby Dee Presents, and more. The attack, as alleged in the suit, lasted "up to 15 minutes" and said to have at one point seen the involvement of between 50 and 100 people. 
"While (the plaintiffs) defended themselves bravely, the attack continued relentlessly until one of the assailants struck Drakeo in the neck with what turned out to be a fatal knife wound," the suit, which also alleges that inadequate safety measures resulted in emergency officials taking up to 30 minutes to get to Drakeo, states. "Plaintiff Devante Caldwell was shoulder to shoulder with his brother and best friend Drakeo, and witnessed the blow from inches away when it was delivered."
Complex has reached out to Live Nation for comment. For more on the lawsuit, see here and here, respectively. News of the legal action arrives several weeks after word of a wrongful death lawsuit being filed against Live Nation and others on behalf of Drakeo's son.