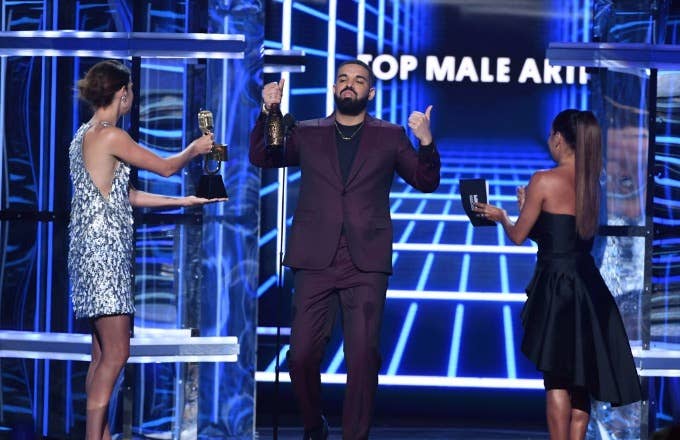 Drake was tasked with taking the stage during Wednesday night's Billboard Music Awards to collect, like, a dozen awards. Seriously. To be fair, the fact that Drake gave us "Summer Games" last year means he's entitled to any and all awards. During one of many BBMAs acceptance speeches, the 6 god shouted out a Game of Thrones character who's been having quite a year so far.
"Shout out to Arya Stark for putting in that work last week, ayyy," Drake told the audience at the Grand Garden Arena in Vegas. The shout-out to the character, portrayed on the HBO juggernaut by Maisie Williams, arrives in the wake of a final season moment in which Arya takes down a certain force of villainy. 
The mention came while Drake was accepting the Top Billboard 200 Album distinction. During his speech, he also gave another special shout-out to his own lifelong dream of releasing a double album, which he fulfilled with last year's Scorpion. "I always had a dream of doing a double album and I finally did it, so now I'll never do it again," he said before requesting some champagne.
Understandably, Drake's public Arya praise now has Thrones fans worried about the character's fate.
Anyway, hear me out: Summer Games of Thrones, a GoT reboot starring Drake. What's there to lose?