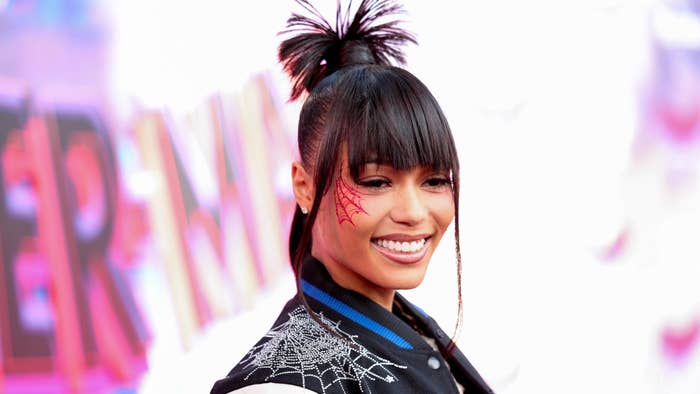 Coi Leray is callling on "all the female rappers" to unite behind the shared goal of giving 2023 its first No. 1 hip-hop song.
As recently broken down in a Billboard report from Kyle Denis, this year has not yet seen a No. 1 hip-hop entry on either the Hot 100 songs chart or the 200 albums chart. This isn't necessarily indicative of anything in particular, aside from the fact that several top-tier artists have not been as active in 2023 after earning No. 1 showings in 2022. Kendrick Lamar, for example, was among last year's No. 1 entries on the Billboard 200 with his Mr. Morale & the Big Steppers album.
Amid a larger discussion about this on Twitter, Leray proposed what she billed as "just an idea." In short, she wants to "make history" with a collaborative No. 1.
"Ain't been a [No. 1] rap song at all this year," Leray told fans on Tuesday night. "Calling all the female rappers to front. [Hear] me out. ladies night. Hip hop. Unity."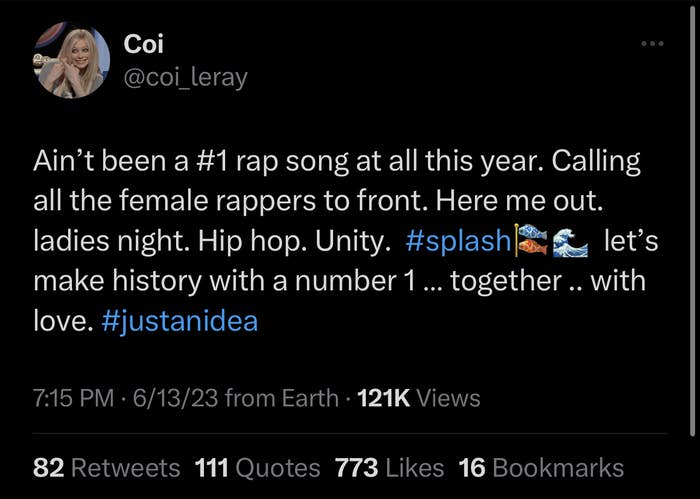 When someone joked there's "too many of y'all" for this to be feasible, Leray disagreed; accommodating for a potentially large number of contributors, she noted, is possible via a number of structural choices.
At one point, a fan specifically mentioned Doja Cat as someone Leray needs to work with in the future. Leray concurred by praising Doja as a "genuine and so fucking pure and sweet" person.
"It will happen," she added.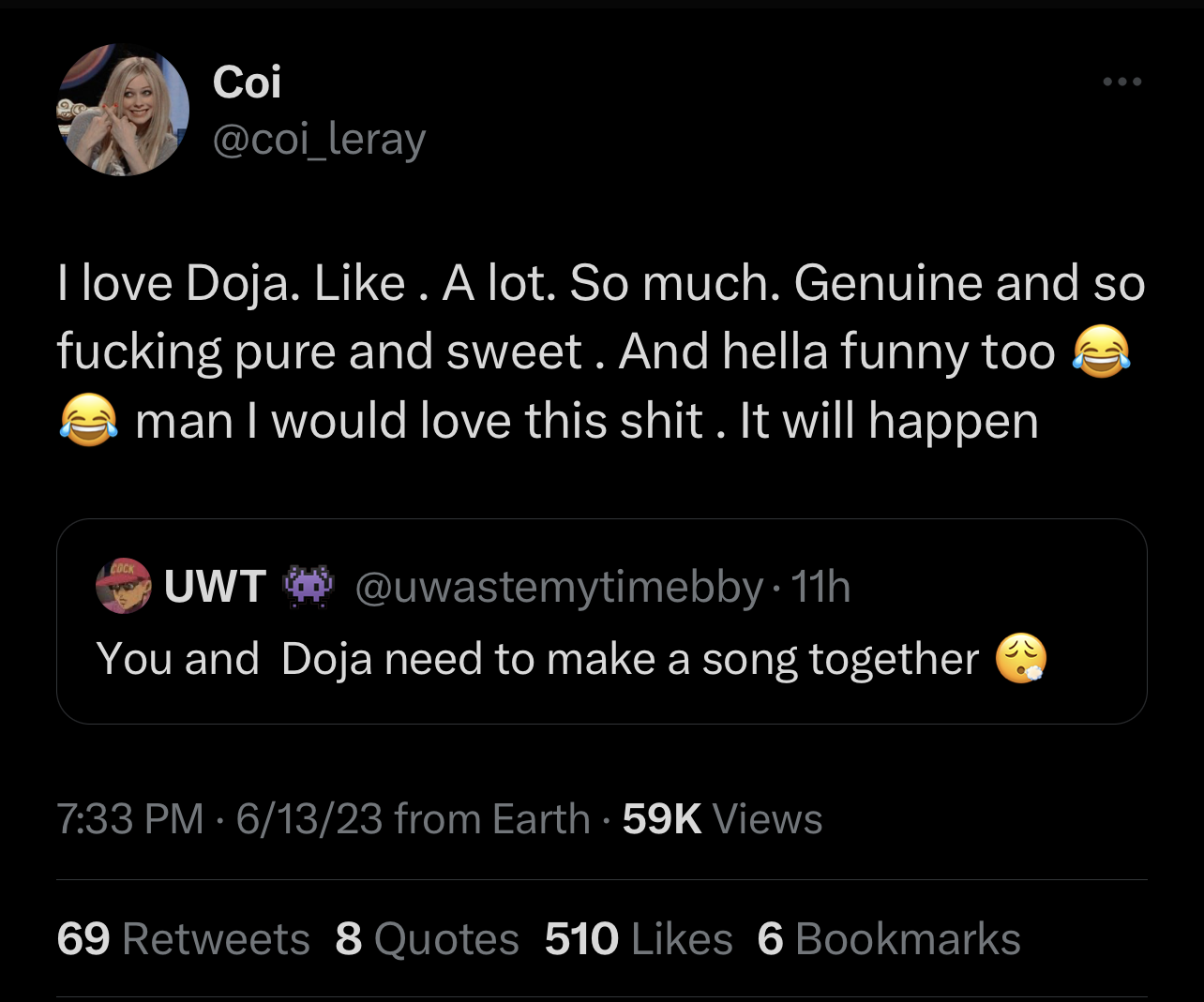 Meanwhile, some respnoded to Leray's initial idea with predictable negativity, as seen below.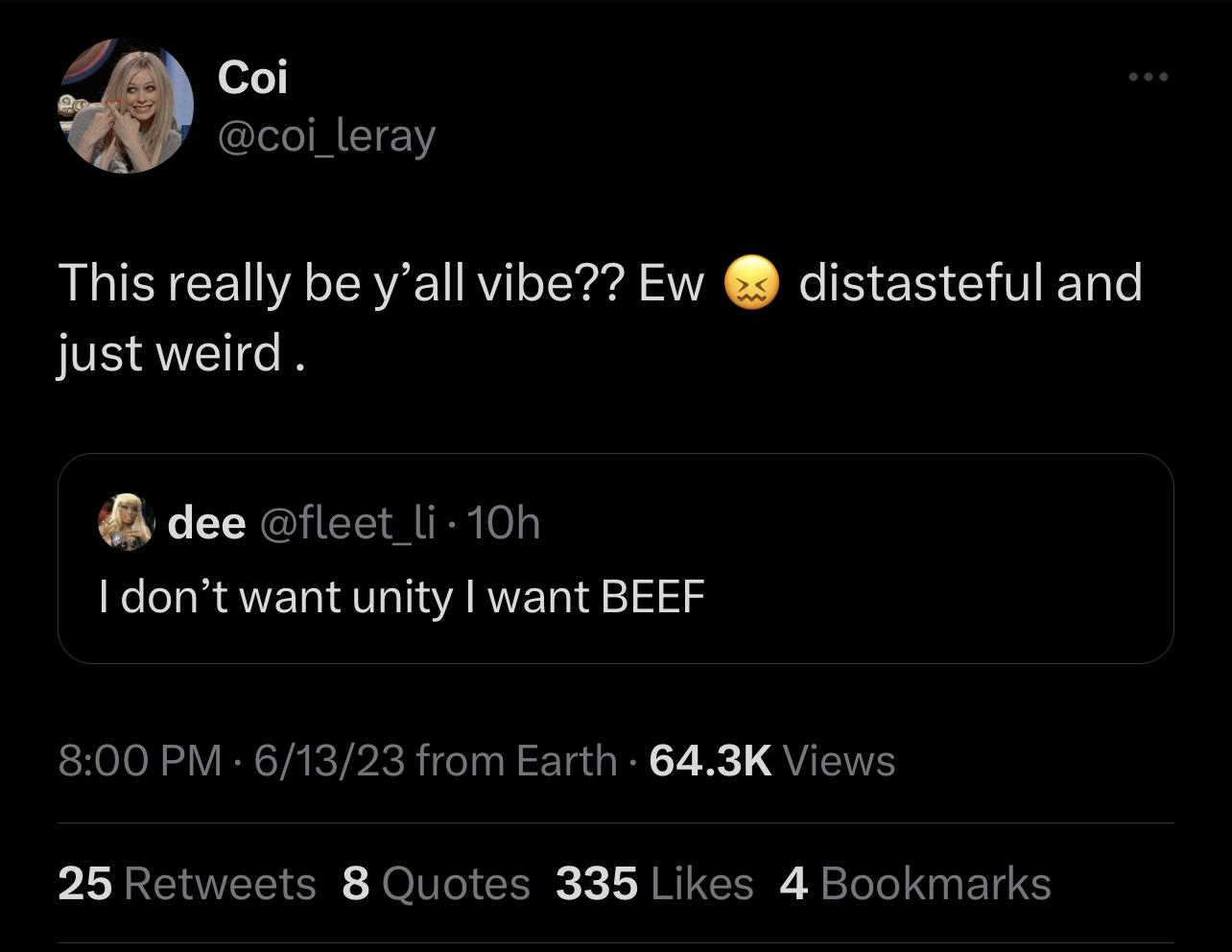 Later this month, Leray's sophomore album, titled COI, will be released. In April, she dropped two new tracks, "My Body" and "Bops," and revealed during an accompanying press run that her new album would only have "a couple features." Speaking with Eddie Francis on Apple Music 1 at the time, Leray teased that fans could expect the album to be "all about me."