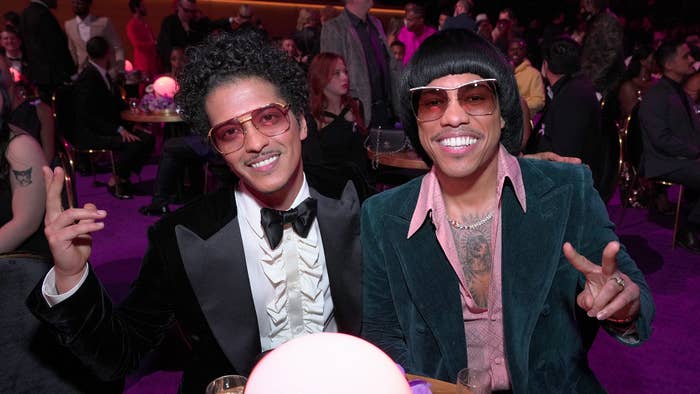 Don't expect to see an Album of the Year nomination for Silk Sonic at the next iteration of the Grammy Awards.
Thursday, Bruno Mars shared a statement withRolling Stone in which he revealed his and Anderson .Paak's decision to "bow out of submitting our album this year." According to Mars, he and his collaborator would be "crazy to ask for anything more" after previously performing (and winning) at the Grammys.
"We truly put our all on this record, but Silk Sonic would like to gracefully, humbly and most importantly, sexually, bow out of submitting our album this year," Mars told the publication on Thursday. "We hope we can celebrate with everyone on a great year of music and partake in the party. Thank you for letting Silk Sonic thrive."
In Mars' opinion, the duo has already achieved victory with "Leave the Door Open," the An Evening With Silk Sonic single that ultimately won Song of the Year (and more) at last year's ceremony. "Everything else was just icing on the cake," he said.
Recording Academy CEO Harvey Mason Jr. later responded to the duo's decision not to submit their album, saying he looks forward to "celebrating an amazing year in music together."
An Evening With Silk Sonic was released last November, opening at No. 2 on the Billboard 200 albums chart. Amid the widespread acclaim for the album, which marked the duo's debut under their Silk Sonic moniker, the collection was often cited as being among those assumed to be a safe bet for an Album of the Year nod.
Both "Leave the Door Open" and An Evening With Silk Sonic have been certified platinum by the RIAA. The latter achieved the one-million-units milestone in August of this year, a feat Bruno Mars marked by thanking fans.
"Silk Sonic goes platinum because of y'all," he wrote in an IG post at the time.