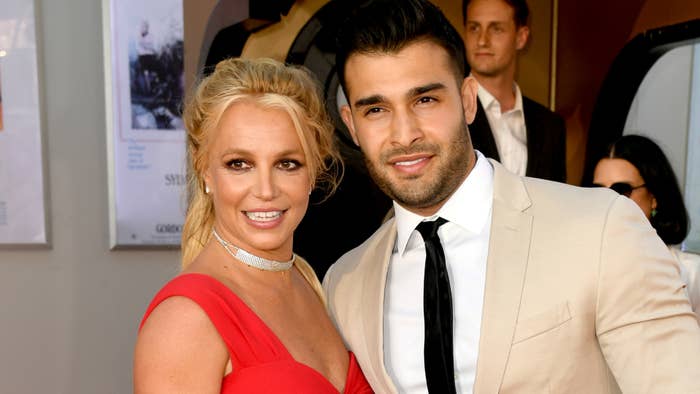 Roughly nine months after the couple's engagement, Britney Spears and Sam Asghari were married at their Los Angeles area home on Thursday.
In a statement shared with the Associated Press on Friday, a rep for Asghari said he was "very ecstatic" about the couple's big day.
"I know [Asghari] wanted this for so long," the rep added. "He is so caring and supportive every step of the way."
As previously reported, the ceremony was unfortunately the target of a crashing attempt by Jason Alexander, to whom Spears was briefly married in 2004. Alexander, who also shared footage of the wedding-crashing stunt on social media, was ultimately arrested.
Meanwhile, bothPeopleandVogue have since shared photos and other insider info on Thursday's wedding at the couple's home. Spears and Asghari have been reported to have wed in front of around 60 ceremony attendees including Paris Hilton, Selena Gomez, Drew Barrymore, and Madonna.
"She wanted a fairytale wedding and she got it," one source told People.
Madonna, who recently expressed interest in reenacting her and Spears' iconic kiss at the 2003 MTV Video Music Awards, got a chance to do exactly that on Thursday.
Spears herself provided comments on her and Asghari's celebration of love to Vogue, revealing their goal from the beginning was to craft a "small and beautiful moment" for their friends and family.
"We wanted warm and feminine colors including blush, white, cream, and gold, and a lot of various shades of pinks, blush, and reds," Spears said of how the space was overhauled to accommodate for their shared vision. 
Also mentioned in the report is that Britney and Paris joined together to sing the latter's 2006 single "Stars Are Blind" at the post-ceremony throw down, which is said to have featured music by DJ Albert.
Spears and Asghari, who first met on the set of the video for Spears' 2016 Glory single "Slumber Party," announced their engagement to the world in September via Instagram. Just two months later, a Los Angeles judge ended Spears' widely criticized conservatorship, which had long been the source of intense scrutiny from fans and legal experts alike.
Congrats to the newly married couple.