Britney Spears' Ex-Husband Jason Alexander Films Himself Crashing Singer's Wedding, Police Respond
Jason Alexander, who was married to Spears for 55 hours in 2004, livestreamed himself entering Spears' LA home shortly before she married Sam Asghari.
Getty
LOS ANGELES, CALIFORNIA - SEPTEMBER 20: Britney Spears (L) and Sam Asghari (R) attend the 2019 Daytime Beauty Awards at The Taglyan Complex on September 20, 2019 in Los Angeles, California. (Photo by Paul Archuleta/FilmMagic )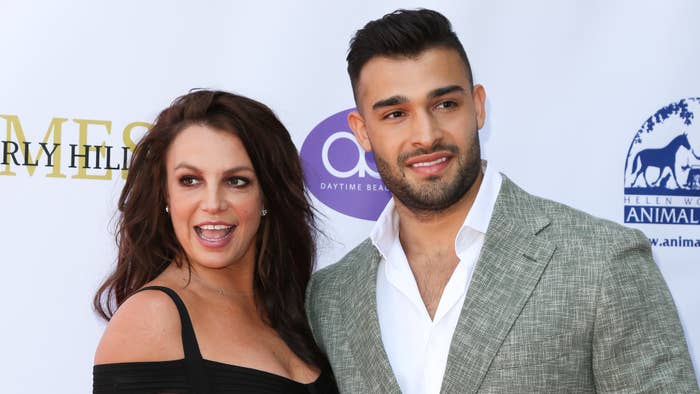 Britney Spears' wedding day was far from drama-free.
According to TMZ, the pop star's ex-husband Jason Alexander attempted to crash the Thursday ceremony at Spears' Southern California home. Alexander, who was briefly married to Spears nearly two decades ago, broadcasted the stunt via Instagram Live. The video showed him approaching security while announcing: "Britney Spears invited me here. She's my first wife, my only wife, I'm her first husband. I'm here to crash the wedding."
Another video showed Alexander entering Spears' Thousand Oaks residence as crews began setting up for the ceremony. He's heard calling out for Spears before telling someone off camera, "Don't fuck with me, bro. I'm done."
According to TMZ, the Ventura County Sheriff's Department arrived shortly after and remain on the scene. It's unclear if he will face any charges. The 40-year-old grew up with Spears in their native Kentwood, Louisiana. In 2004, they made a spur-of-the-moment decision to get hitched in Las Vegas; however, their marriage was annulled just 55 hours later. Since then, Alexander has face a number of legal battles including drug- and stalking-related charges. Spears' family says he's also visited their homes unannounced, causing them to become alarmed.
"They think it's incredibly inappropriate and downright weird," a source told Page Six. "It's bad enough that the family has to deal with fans getting too close for comfort, but they'd like to think they can expect more from Jason, who claims to still have so much love and respect for Britney."
Spears is tying the knot with longtime boyfriend, Sam Asghari. The two announced they were expecting their first child together back in April; however, they confirmed they had lost the pregnancy about a month later.