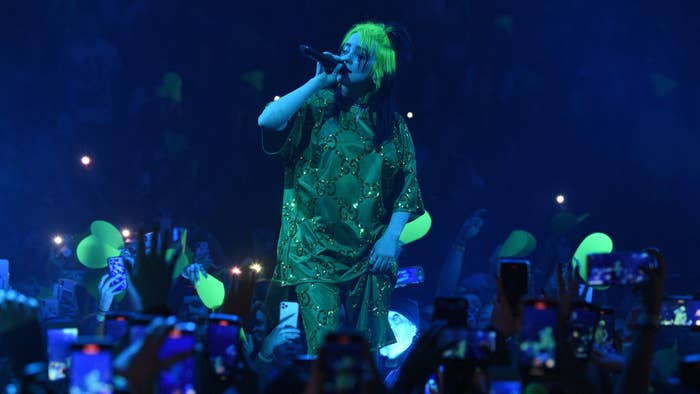 Billie Eilish let fans in on her social distancing routine in a new interview with the Telekom Electronic Beats podcast.
The interview, out Tuesday, sees Eilish touching on a variety of topics ranging from her recent fostering of two puppies named after To Kill a Mockingbird characters to her evolved thoughts on the cruciality of Los Angeles. From there, Eilish was asked if she has been using programs such as Zoom and the like to stay connected during what is a largely isolation-centered time for most people due to COVID-19 containment efforts.
"I have not, if I'm being honest, I haven't wanted to, it sounds so introverted and like lonerish, but I've been really enjoying being alone, you know, and that's like, the rest of my life is like that, which is totally fine," Eilish said. "I just like, I have to be aware of it. But it's been nice, I don't know, I feel like everybody on the internet has been talking about like, they've been on FaceTime all day long with their friends, and I kind of have this feeling of like, I love my friends, I can't wait to see them, I do miss them a lot, but at the same time I'm like, I don't know, I'm good. I'm good being alone, like I like being alone . . . I haven't had this time off since like I was like 12, so yeah, it's crazy."
Later on in the discussion, Eilish was asked what she predicts we all might learn about "social connections" once our era of social distancing comes to a close. By Eilish's assessment, there's a high chance we all start to take everything for granted within days.
"Because that's the way people work, you know, it's the way humans are made," she said. "You miss something so bad once you don't have it. You never think about it when you have it."
In the exclusive interview, Eilish also detailed her passions for veganism ("I think animals should be treated better, I wish people didn't eat them"), climate change betterment practices ("I wish people would stop using so much plastic"), equality, and more. 
Listen below via SoundCloud. The podcast is also available on Spotify, Apple, and Mixcloud.