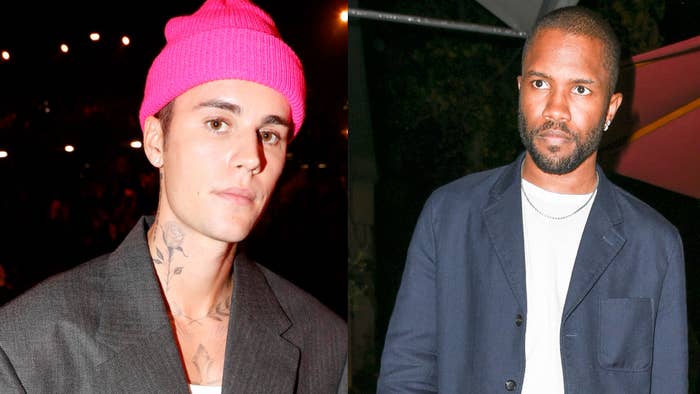 Justin Bieber was amazed by Frank Ocean's polarizing performance at Coachella.
"I was blown away by Frank Oceans Coachella performance," Bieber wrote on Instagram following Ocean's weekend set. "His artistry is simply unmatched, his style, his taste, his voice, his attention to detail.. I was deeply moved. It made me want to keep going and get better as an artist. He continues to set the bar high and gave me a night I will never forget! Thanks Frank."
While Bieber's take on Ocean's set is a strong one, it's definitely not the consensus. Some fans were disappointed when they found out it wasn't going to be livestreamed. His performance also started an hour late, with Rolling Stone reporting that that was due to the 35-year-old musician injuring his ankle during on-site rehearsals last week. Apparently, the set itself was a bit "chaotic," a word used to describe the performance by Ocean himself. He did however tease that a new album does exist, so there's that.
Ocean's performance was also cut short due to a curfew, with TMZ reporting that Coachella organizer Goldenvoice has to pay $117,000 to the City of Indio for any curfew violations. Goldenvoice's contract with Indio states that there is a daily fine of $20,000 for the first five minutes curfew is broken, and then an additional $1,000 for every extra minute.
The $117,000 is allocated to Indio's General Fund, which is apparently used for the city's operating costs, like public works, the police department, and the fire department. Coachella has had a contract with Indio since 2013 and it will go through 2050, though past curfews were much earlier than the current standard.
For Fridays and Saturdays, curfew is 1 a.m., and on Sundays, it's 12 a.m. Coachella ran late on Friday by 25 minutes, Saturday by 22 minutes, and Sunday by 25 minutes. After arriving on stage at 11 p.m., Ocean acknowledged the curfew at the end of his set, saying, "Guys I'm being told it's curfew, so that's the end of the show."