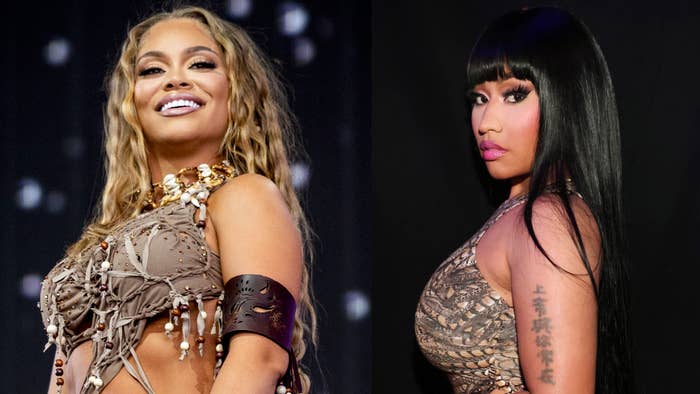 Latto and Nicki Minaj's alleged beef might be far from over.
A clip from Latto's Coachella performance on Sunday, shows the Atlanta rapper seemingly dissing Minaj in an unreleased song.
"Bitches acting like they running shit, they really ran through," Latto raps in the clip. "She thought I would kiss her ass, she mustn't have took her meds."
"Say she got a problem, imaginary smoke/Bitch, you said it's up, then put on the floor," Latto continues.
According to TMZ, she walked off stage and yelled, "Pussy hoe… Let a bitch know, we tired of the subtweets this year."
Latto's words could be a nod to her and Minaj's social media feud last year, which was sparked by the 2022 Grammy Award nominations. Nicki was upset about her song "Super Freaky Girl" being snubbed by the Grammys for consideration in any rap categories, and roped in Latto by saying that if "Super Freaky Girl" doesn't get acknowledged for being rap, then other pop-adjacent rap songs like Latto's "Big Energy" shouldn't either.
"I have no prob being moved out the RAP category as long as we r ALL being treated FAIRLY, If ['Super Freaky Girl'] has [2 billion views] moved out RAP then so does Big Energy," Nicki tweeted at the time.
Latto responded, "Damn I can't win for losing… all these awards/noms I can't even celebrate."
The pair began beefing, which led to subtweets, screenshots of private conversations, and Latto leaking audio from a phone conversation with Minaj.
Late last year, Complex ran an in-depth explainer about their feud, which you can read here.