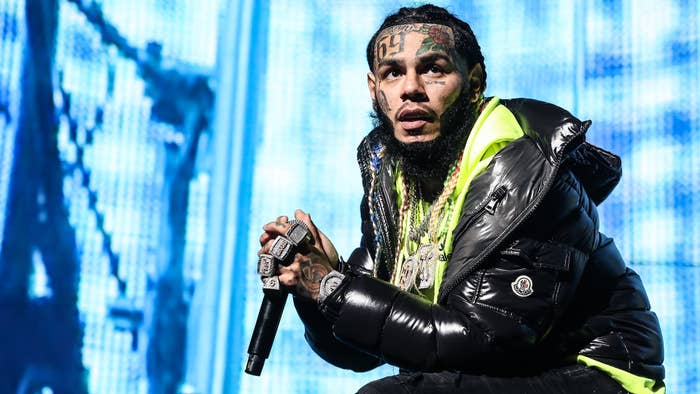 6ix9ine's bodyguard has challenged the men who ambushed the rapper this week to a fight of their own.
This follows speculation that the bodyguard, Bam-Bam, arranged for the men to jump 6ix9ine in a Florida gym, TMZ reports. Bam-Bam took to Instagram on Thursday to deny the accusations, and put $10,000 on the table to fight the men who came for Tekashi.
"69 a grown man n he wanted to do cardio on his own," Bam-Bam wrote. "He be outside like that...I can't control him...but to say I set him up...false allegations..some thing minorities used to...we be accused of nothing."
He went so far as to promise "if you lose you die," said he would go head-to-head with four people by himself, and called out one man who allegedly took part in the attack, Bullet Guzman.
"4 vs 1 y'all weak ass bitches against me..you win I pay you 10,000$ n if you lose you die..there will be no ref..claim it gangstas," the bodyguard captioned a post.
At the time of the assault, 6ix9ine was alone in an LA Fitness sauna, when a group of men entered the gym and descended upon him. The Brooklyn native was transported to a hospital after sustaining injuries to his jaw, back, and ribs.
"He was attacked in a Sauna at a gym by three or four thugs who beat him up (he tried fighting back)," 6ix9ine's lawyer Lance Lazzaro said in a statement. "He had cuts to his face and bruises. Employees heard the disturbance and the perpetrators fled. Police in South Florida were called and he was transported via ambulance to a local hospital." 6ix9ine is currently recovering in the hospital.
This is far from the first time he's gotten into a fight. Back in September, the 26-year-old was allegedly jumped at a club in Dubai and labeled a snitch by the DJ.