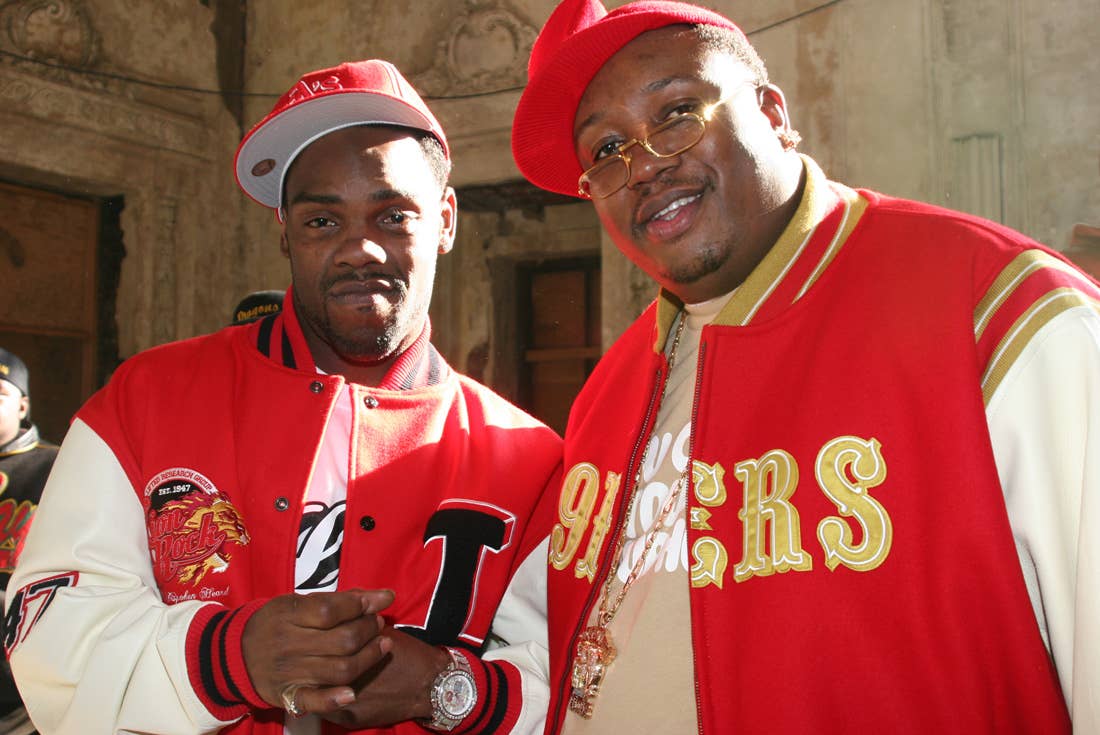 E-40, a Bay Area icon, has been sitting on the sidelines of the Golden State Warriors NBA Finals games, rocking a yellow-and-blue hoodie and chunky chains from his indie label Sick Wid It Records, established in 1989. The title is at stake tonight during game 5 in Oakland as the Warriors come in with a 3-1 lead against the Cavaliers, but the team already proved that talent, perseverance and, of course, refined strategy fuel its city.
40 has always repped his hometown, from spearheading the mobb music movement in the '90s (a slower, 808-driven precursor to hyphy pioneered by Mike Mosley, Studio Ton and Sam Bostic) to building up the hyphy movement in the early 2000s. Ten years ago, in 2006, rappers including E-40, Mistah F.A.B., Too $hort, and Keak Da Sneak crystallized hyphy, finishing the work started by the late Mac Dre, who passed away in 2004. The movement was defined by its parties (called "sideshows" by those in the know), wearing stunna shades, and ghost riding the whip (a dangerous and highly criticized act in which the driver puts a car in neutral and walks alongside or on top of it as it rolls)—not to mention its particular musical style, anthems with BPMs cranked high.
"Gettin' hyphy is just gettin' hype, takin' it there," Draymond Green says while on the set of Beats By Dre's latest commercial shoot. The Warriors power forward elaborates, "Like gettin' in your zone and just being live. That's the whole theme. That's the Bay in a nutshell, you know? Be live, be you. You ain't gotta change—just be yourself and be live wit' it."
Coined by Keak Da Sneak in 1994, hyphy had its moment in 2006, when E-40 dropped his pivotal album My Ghetto Report Card, spawning the mainstream radio hit "Tell Me When To Go," featuring Keak. 40 and Keak invoked the past for the new Beats By Dre commercial, recreating the song's original music video, including Green in the foreground of the sideshows.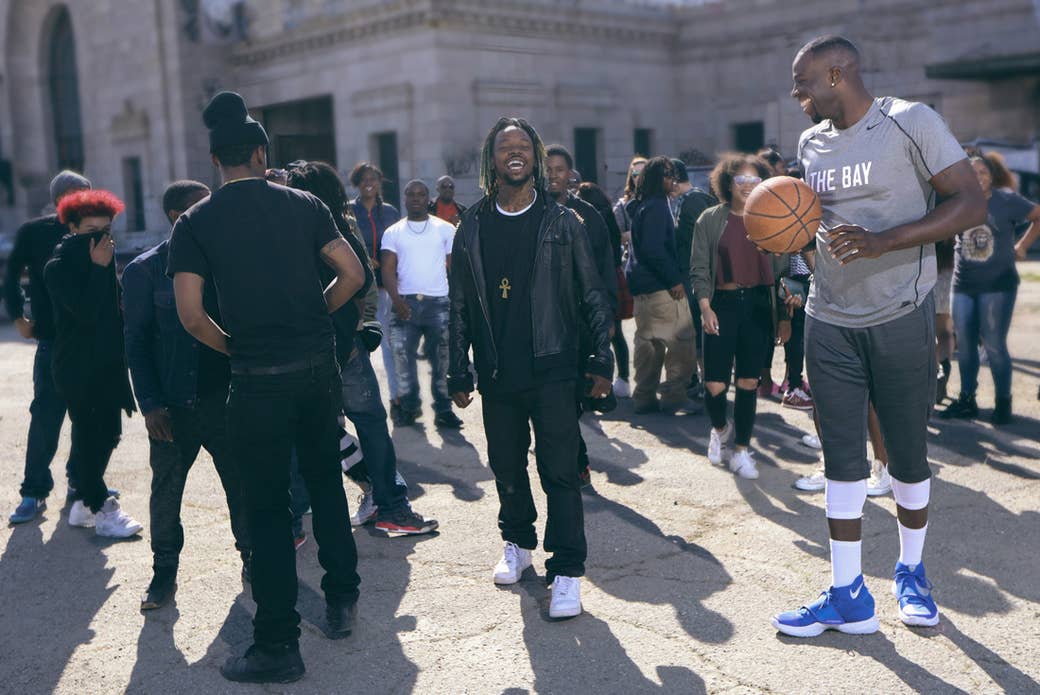 Back in 2006, E-40 had signed with Warner Bros., which also welcomed rap trio the Federation (produced by hyphy sound innovator Rick Rock) to its roster, and hyphy was poised to break on a mainstream level—even MTV stopped by the Bay to film a documentary on the little subgenre that could.
"The whole hyphy movement came from the 'hood," says T-7 of Turf Feinz, a prominent dance crew from Oakland that formed around the time hyphy took hold. "It was like one block from another block expressin' theyself without having to take it to violence. Hyphy was young kids our age finding something positive to represent where we from." 
But it was a short-lived, hard-boiled glimpse of what could be. Rappers in the Bay weren't ready to deal with the influx of attention, and few had the business acumen to carry it through. Labels kept their focus narrow, on just a few rappers, and the Internet wasn't so ubiquitous to serve as a promotional tool for the insular movement. As soon as the mainstream media determined that hyphy was up next, it died down before the Bay's very eyes. Elements of hyphy linger on—in the cold, upbeat bounce of DJ Mustard's beats, in EDM's infatuation with hip-hop, in the contemporary rap lexicon—but the Bay wasn't prepared to attain mainstream glory in a pre-YouTube era, commodified by a corporate system that didn't know how to properly promote its artists.
Ten years after hyphy's explosion, the Bay's finest weigh in on how it happened and what could have been.
E-40 - rapper; entrepreneur
Keak Da Sneak - rapper
Mistah F.A.B. - rapper; philanthropist; entrepreneur
Too $hort - rapper; actor; founder of Up All Night Records
Stretch - Mac Dre's former manager
Wanda Salvatto, a.k.a. Mac Wanda - Mac Dre's mother
Rick Rock - producer; founder of record label Southwestern Federation
Ghazi Shami - founder of EMPIRE Distribution
Draymond Green - power forward for the Golden State Warriors
T-7 - member of dance crew Turf Fienz
Big Von - DJ/radio personality on 106.1 KMEL and Shade45
J-Diggs - rapper; co-CEO of Thizz Entertainment
Orlando McGhee - former Director of A&R at Warner Bros. Records
Kamaiyah - rapper
Keak da Sneak: In the seventh grade I wanted to rap, so me and a lot of my friends would freestyle and scheme on how to get in the game. I was a character back in junior high school, a class clown. I used to make everybody laugh. The word "hyphy" came about 'cause I used to eat a lot of candy. I was thinking hyper, like when a kid eat a lot of candy and they can't be still and they just runnin' around.
Rick Rock: In the Bay Area, there was a sound called mobb music, which is primarily Mike Mosley and Studio Ton, those types of people. DJ Daryl had a nice sound as well. It was all independent for the most part. A lot of those artists were just getting their first deals, like Jive with 40, Spice 1. Mobb music [was] sinister kind of synths, handclaps, and 808s. 
E-40: Hyphy is energy. Hyphy is a lifestyle. It originated with the streets. I credit people like Keak Da Sneak, Mac Dre, and plenty more. It's really a way of life, just hard-headed and really energized, like, "He just a young hyphy dude." "Man, he hella hyphy."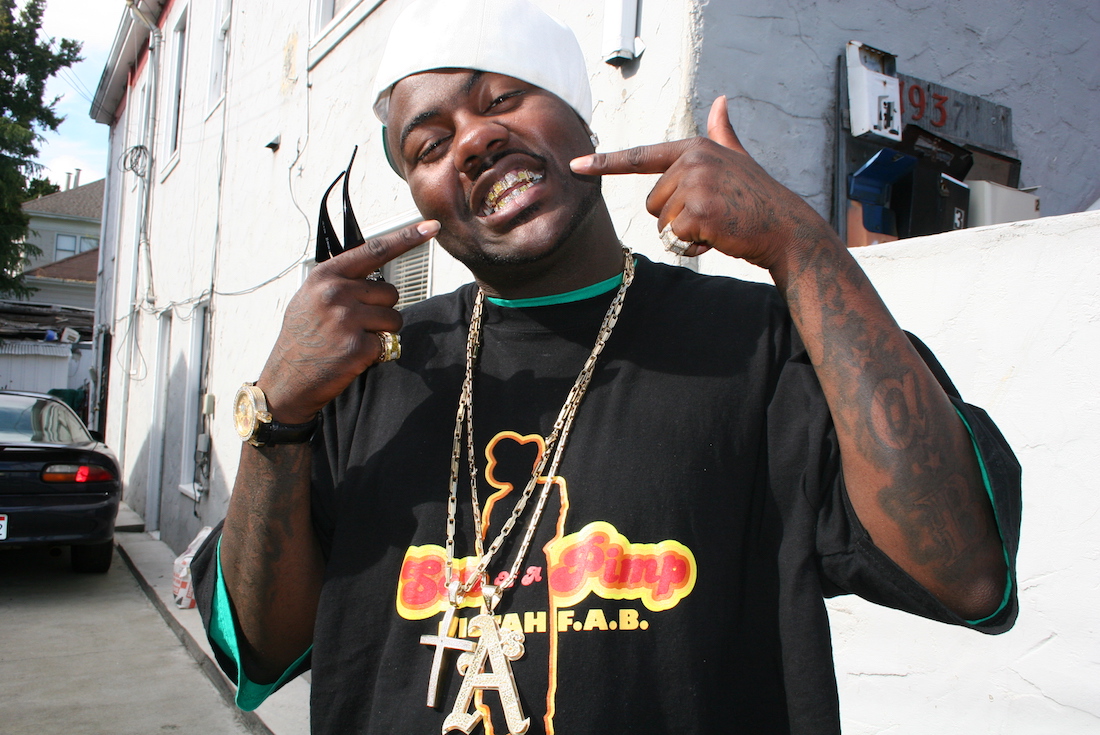 Mistah F.A.B.: What people don't understand is, hyphy in the streets of Oakland at first wasn't a good thing. Like, if you were hyphy, that wasn't cool. People would be like, "Man, that dude's too hyphy. Why you dealin' with him?" So, we turned it into something that was accepted by the masses, and then it became the cool thing to be.
Ghazi Shami: In the late '90s, radio in the Bay Area became corporate. And as radio became corporate, it fell under the Clear Channel umbrella. There was a lot less airplay reserved for independents, and when you change the dynamic of radio, you start to change the music. Hyphy was a way of saying, "We're gonna make the music we wanna make, and we don't give a damn if you play it or not."
It was Mac Dre and Keak Da Sneak. You have to say those two in unison. - Mistah F.A.B.
Mistah F.A.B.: It was Mac Dre and Keak Da Sneak. You have to say those two in unison. Dre was a fascinating man. In this world today, someone becomes far greater in their past than they are in their present. Mac Dre was already huge. And this is before he went to jail. So when he came out and reinvented himself to become Thizzelle Washington, he became even huger. When he died, [his reputation] went crazy. Through it all, Keak Da Sneak was there. Keak Da Sneak has transcended a few generations of Bay Area music. And he's still here. 
THE MOVEMENT
Stretch: Everything that people associated with hyphy, from ghost riding to stunna glasses and all the cliché stuff, was first seen in Mac Dre's Treal TV DVDs. [Ed. Note: Mac Dre released the first installment in 2003.] That put a face on it when people weren't even seeing sideshows. They weren't seeing any of those things. And then from there, after Treal TV came out, all these other DVDs like Oakland Gone Wild started coming out. 
Big Von: It started off in 2001 and kicked off heavy in 2002. That's when it really got going. We would get together Friday night, 'cause I had this thing called "Friday Night Freestyles" where Bay Area rappers would come in and freestyle against each other. If you won, you got your songs played. The architect of the whole thing was Rick Rock. Rick Rock had his hands in a little bit of everything. He really crafted the sound, you know what I mean?
Rick Rock: [Hyphy was] high energy, bass line, a lot of the mobb elements. It's gotta have a Bay Area element. No kind of nostalgic samples really. It's an energy that touches your chakras, your energy sources. Things that automatically make you feel great and you don't know why. Hyphy was a great time when we had our own sound signature. The world was like, "That's theirs." We couldn't describe it, we knew it when we heard it. I know I could sit down and make one at any time. I start at a certain tempo and give you a certain feel with the frequency itself. The emotion was in that frequency, how I go up and down with the chord range. I'm doing it in that frequency that makes you say, "What is that?"
It's gotta have a Bay Area element. No kind of nostalgic samples really. It's an energy that touches your chakras, your energy sources. Things that automatically make you feel great and you don't know why. - Rick Rock
Big Von: I think the first [record] was "T-Shirt, Blue Jeans & Nike's" by Keak. And then The Team had a record called "It's Getting Hot." I remember breaking that one out on Broadway. Before it was on the radio, I would test in three clubs. It was Broadway in Oakland, Mingles, and I wanna say Geoffrey's was the other spot. You know how some areas, they just get into their own mode of playing their own music? You've heard everything else for so long that you just start playing your own? That's how it happened. 
[Ed. Note: After Mac Dre served a five-year bid in prison from 1992 to 1997 for conspiracy to rob a bank, he established Thizz Entertainment, which is now handled by his mother Wanda Salvatto, A.K.A. Mac Wanda.]
Mac Wanda: Before Mac went to prison, there was a lot of gangsta rap. But during that time he was in there, he got this better appreciation for freedom, life, fun. After those five years, all that energy and passion he was holding in—he hit the studio the day he got out. Within a few weeks, he completed another album.
He started doing more upbeat rapping, and it became more like dance music. And that's when he really took off, when he did "Get Stupid" and "Thizz Dance" and "Feelin' Myself." His style was unique. He'd layer Burberry with Kangol with Levis and wear huge stunna shades. He had a way of dressing and talking about his life and what it felt like to have a good time. He'd get on stage and do these crazy dances. People started to dance like him, and then they ended up with the Thizzle dance.
After those five years, all that energy and passion he was holding in—he hit the studio the day he got out. Within a few weeks, he completed another album. - Mac Wanda
J-Diggs: I was the first person to ever ghost ride a car. I remember before Lil Jon had signed with E-40, I had seen him in Las Vegas and I pulled into the MGM and I jumped on top of my car. I was in my Range Rover and ghost rode my Range Rover through the MGM valet, and I remember the look on Lil Jon's face—when he seen that, he was standing with a friend of mine, Bleu Davinci from BMF. And he was like, "Oh my god, man what is this?" And the next thing you know, they was working, and then E-40 was really working on that project [My Ghetto Report Card]. I know Lil Jon was really pushing E-40 to bring that whole movement. And I'm the guy that's doing the only real ghost riding in E-40's "Tell Me When to Go" video. 40 called me personally to do that.
Mac Wanda: The whole ghost riding the whip thing, you know, they were feelin' what Dre and Keak Da Sneak [were doing], just having fun. They started sideshowing and jumping out the car while it's still going. They were still fairly dumb cause you know, from an adult's perspective, it's dangerous. But they made it fun.
[Ed. Note: As the hyphy movement began to take hold, Mac Dre was shot and killed in Kansas City in 2004. His murder remains unsolved.]
Stretch: Every year, there was a rumor that Mac Dre had died. When I met him in '99, the rumor was that he'd died. The hyphy movement didn't really kick off until 2005, but everybody looked at him like he was the next thing. Period. He was gonna be the one to represent the Bay and show 'em what we're really about. Instead of trying to do stuff for other people, he was doing Bay Area music and other people were converting.
Ghazi Shami: There were generations of people who followed Mac Dre. He had the youth, he had the older people, and he had everybody in between. All ethnicities, all races, all backgrounds. He had such a comprehensive fan base. I'll go out on a limb and say he's probably the most charismatic rapper I've ever been around, and I've been around some great ones.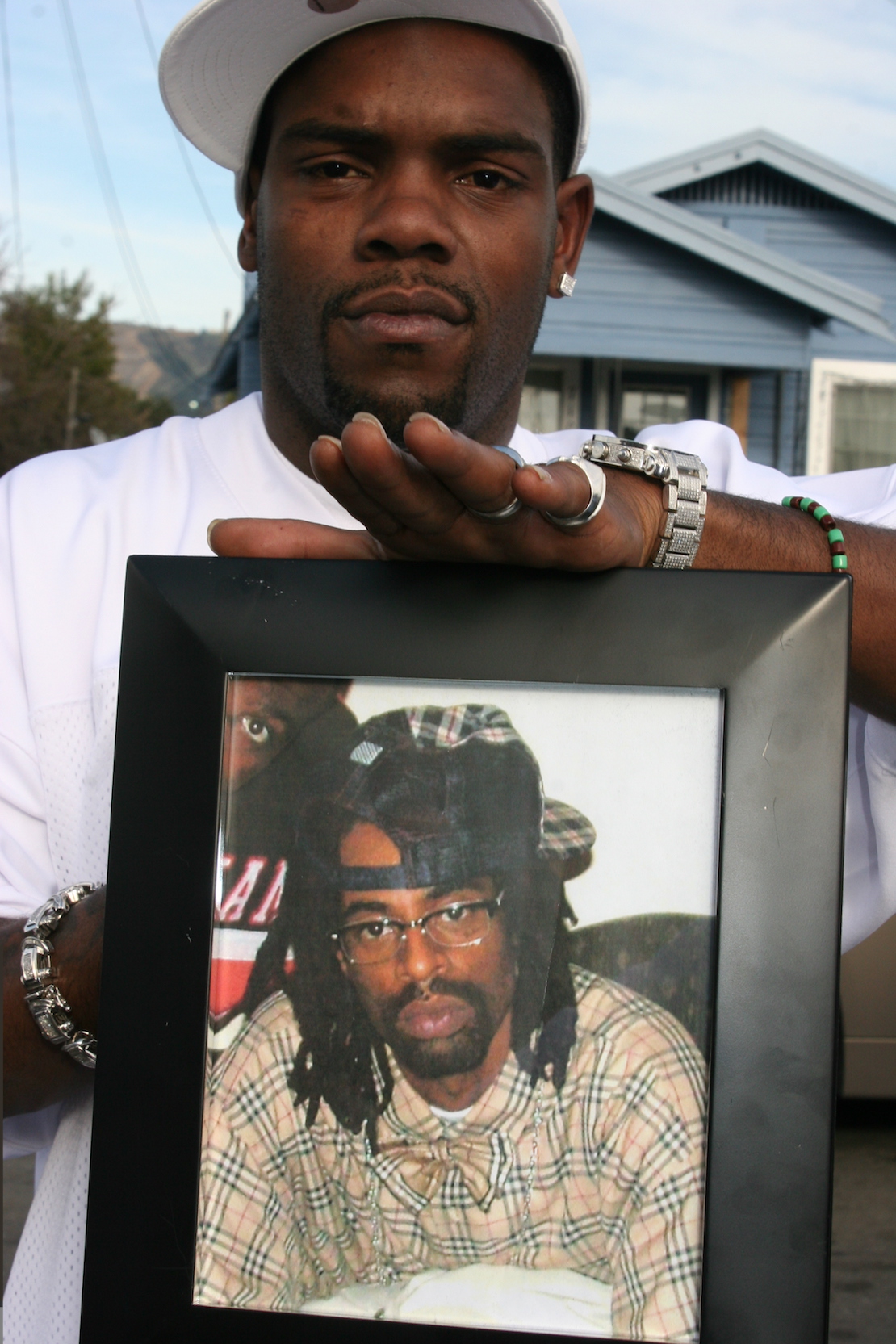 [Ed. Note: Following Mac Dre's passing, E-40 and the Federation signed to Warner Bros. Records in 2006. The label was actively pushing the hyphy movement, buying domains like hyphy.com and putting out street DVDs about the Bay Area.]
Orlando McGhee: We took footage off of YouTube, put it in a DVD, and had street teams pass it out to introduce the culture. Pass 'em out in New York, Atlanta, New Orleans—markets that wasn't the Bay. People would get familiar. Remember street culture DVDs in New York—we took it from that, where you had the Come Up DVDs and several different ones across the country. We made our own without putting a real label on it.
E-40: During that time, I was also part of crunk movement, 'cause I was with BME Records and Lil Jon. We was over there under the Warner Bros. umbrella. It was probably the best move I could have made in my life 'cause I didn't care about pride. The whole house of Warner Bros. got behind the movement. Had they not, it wouldn't be as well known as it is right now. When a house and a record label get behind you, you on. We was on USA Today. It was national, worldwide.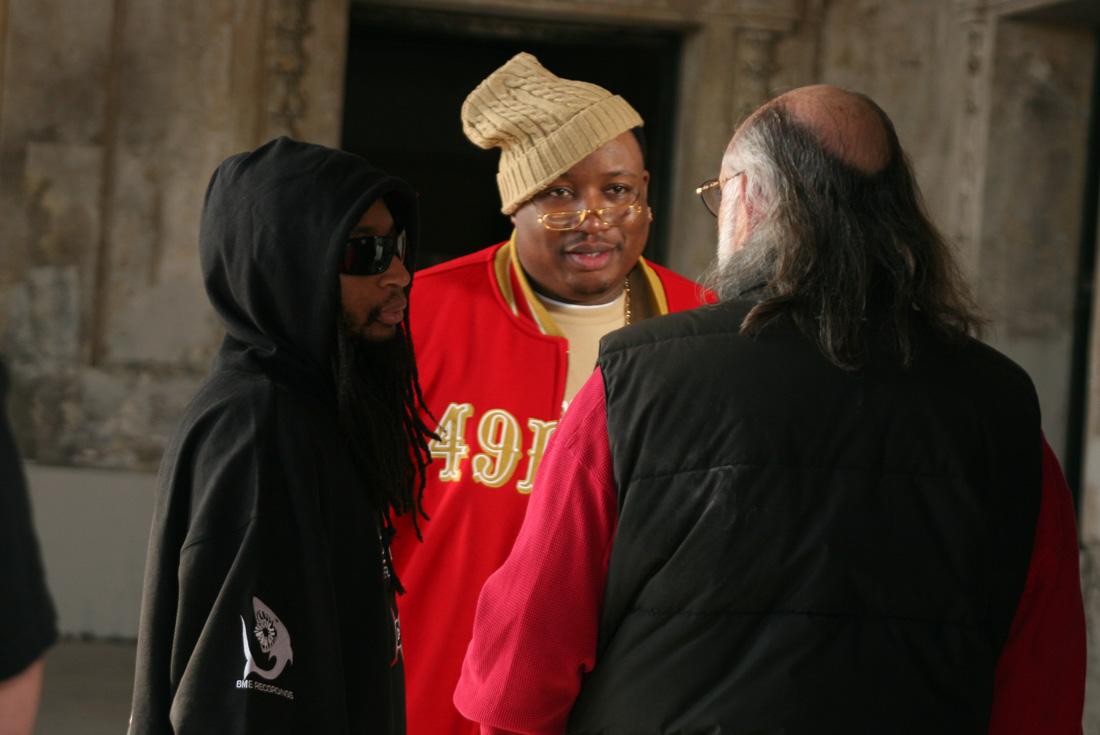 Too $hort: When Lil Jon, who's from Atlanta, noticed that songs that he produced were popular in the Bay—songs he probably didn't think would be regional anthems—he went there as a DJ and artist and then came back to Atlanta, where I was living at the time. He had ideas about producing stuff even though he didn't invent it. Lil Jon produced "Tell Me When to Go." He did signature hyphy songs.
Orlando McGhee: E-40 was at the forefront of the Bay Area. I'll even say that [Warner] took a little backlash for it because, for a lot of the younger kids in the Bay, 40 was not the founder. With him being such a huge entity from the Bay Area, and him introducing it to the world, a lot of people were like, "It wasn't the originators of it." Those things happen. The marketing plan was so great that at that moment it kind of took off and skyrocketed. I remember we did the Hype on Hyphy DVD. That was huge. 
Keak da Sneak: We needed something to follow. We needed something to say, "This is ours. This is what we do." The south had crunk and we needed an identity. And it had always been there, I guess we just didn't really know what to call it.
[Ed. Note: Arguably the biggest song from the hyphy movement was E-40's "Tell Me When to Go" featuring Keak Da Sneak, which released on Feb. 1, 2006 and peaked at No. 8 on the Billboard Hot Rap Songs chart that year.]
E-40: "Tell Me When To Go," we knew it was a winner. We went [to Warner Bros.] and showed [them] clips from the DVDs so they could see what we do in the Bay. Warner Bros. got behind it, and then we took it nationwide. We sold up, man. It was a gold record that should've been platinum.
"Tell Me When To Go," we knew it was a winner. - E-40
Mistah F.A.B.: I'm not tryin to be supercilious when I say this: I wasn't just a part of it. I was it. You know what I'm sayin'? It was three or four noticeable and notable people and I happened to be one of them.
It didn't become known as the hyphy movement until it was damn near over. When Warner Bros. signed E-40, they were so amped and juiced to push E-40 that they bought hyphy.com. So, whatever was being pushed to the masses, Warner Bros. made it seem like it was a product of their creation. This wasn't E-40's fault. It's just a lot of people got swept under the bamboozlement of marketing from Warner Bros. News headlines and tabloids and hip-hop media covered it, but it was never able to break because they couldn't assemble a complete tour to put everybody on. Why would Warner Bros. pay for a tour with six other main acts that they have nothing to do with? I mean, they could have put the tour together with just E-40 and the Federation, but you wouldn't have gotten the whole gist of the movement.
Now 40 alone for sure can hold his own; he doesn't need anybody's help, he has 20-30 years of hits. But to further explain what hyphy was, you would need the other supporting acts. But like I said, why would Warner Bros. pay for a tour wit Too $hort, Keak Da Sneak, Mistah F.A.B., and The Team, if they're not reaping any benefits from that?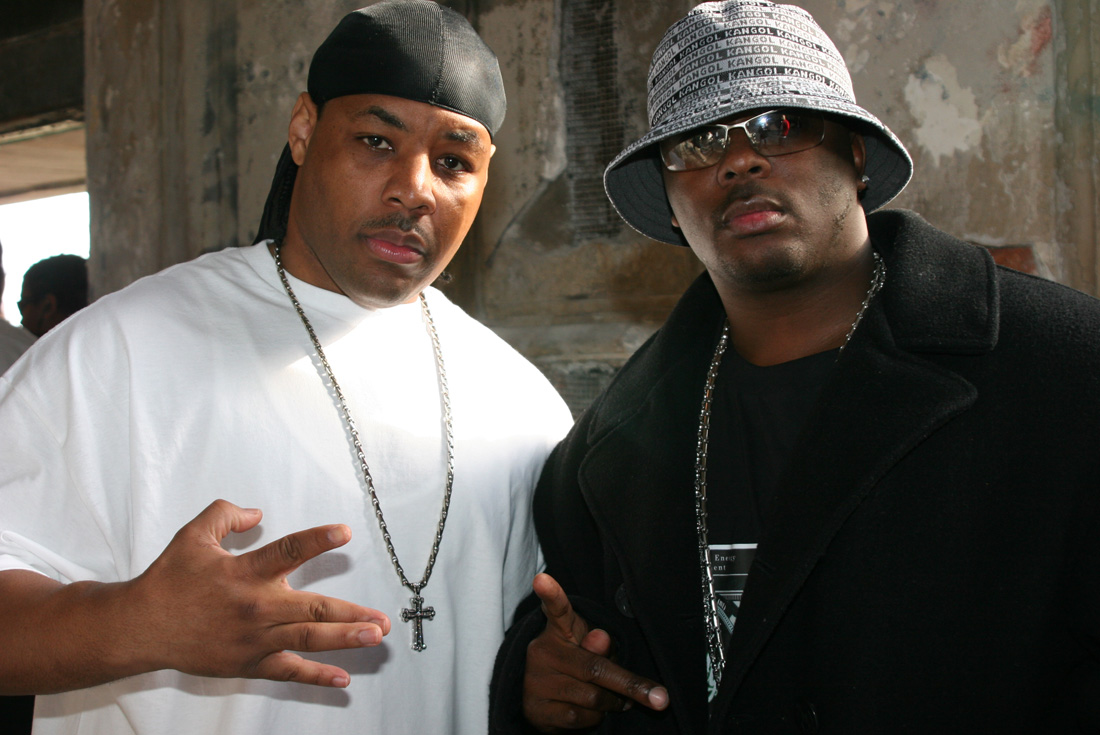 THE DOWNFALL
Big Von: It seemed like when the money got involved, [hyphy] went away 'cause everybody felt like they were stars before they even took off. They never got together. My biggest thing was they all should have gotten together like rock bands. Rock bands get in a van, they go across the country 16 to 20 times, and then go from little bars to big arenas. We had no hyphy tour.
Sometimes they tell you the sound was regional, and it's like, your sound is not regional. It just has to work in everything else. We had "Tell Me When to Go" take off, and then [Too $hort's] "Blow the Whistle" took off. That was great. But there was so many records under those that [the movement] didn't pop off like it needed to.
Orlando McGhee: Without millions of dollars in marketing money, I don't know if the world would have embraced it on a larger scale. There are artists in the Bay Area that sell independently 40,000-50,000 records in that particular region that don't break out nationally. There is a mixed market there, where they make great music and make a lot of money, but there's a disconnect with the rest of the country.
E-40 is a very smart businessperson. There is no way in the world there would have been a Warner Bros. tour with his name associated with it. This is before 360 deals and any of that. 40 went out and did his own thing on the road. If you look back there wasn't even a E-40 and the Federation tour. That's something the artists in that region should have made happen. I don't know the inner workings of it so I can't speak on it too intelligently. I think that [40] got the credit for it was eating at a lot of people. That's why it didn't happen the way it should have.
Keak Da Sneak: We needed a face for it. We needed a leader. At the time, I didn't really like the definition that people were making for [hyphy]. So I wasn't gon' step up and say, "This is what we came up with in the Bay. This is our style. This is what we do." There was just too many people trying to step up and represent it and say that it was theirs. But they was misrepresentin' it. So I fell back because I wanted the world to just see for theyself what it was and what it was gon' be. And it just got over-exaggerated, like, a lot of people was slippin' in it like a banana peel.
J-Diggs: We take things, we ride them for awhile, and then we get rid of them. And that's what it is. It was a movement, it came and gone. It's only going to be so long that people are going to jump on top of cars for us.
E-40: Everybody [was] tryin' to do it, and everybody wasn't good at doin' it. They wasn't successful, you know? They was just doin' the same recycled beats over and over and not bein' creative with it. That's why they songs didn't poke out like they hoped. And then with the hate from the older rappers and the stubborn ones who didn't know how to adjust. Me, personally, I can do it all. You just gotta pick your brain and get your creative thoughts to another page. You can't be lazy. So that's what it was. People [and the movement] started getting oversaturated, and you know, we out here with crabs in a barrel. But not me, and not a lot of other solid people. We was together, we was wit it, but when you got everybody hating and tryna rile you up, using publicity stunts and saying, "Ah, he got this from that, and he got this from that." Everybody wanna claim that they made this up.
Ghazi Shami: I think the "crabs in the bucket" thing is accurate.
When you're in an independent market, and you're so used to doing for yourself, you become your own worst enemy. That feeling of empowerment becomes inflated, and you feel like, "Local radio stations playing my record, I'm getting booked from San Jose to Sacramento," so on and so forth. You start to feel like you don't need anybody else, and by the time that you need somebody else, the ship has already sailed.
Rick Rock: People weren't together, all the way together, like Atlanta was with the crunk movement. Out here, it was the total opposite. It really was. That's the only reason I think it didn't go. We all could have bigged each other up. But we didn't. 40 was just 40, Keak was just Keak, the Federation was the Federation. Business could have all been a bit better.
THE LEGACY
Too $hort: When the hyphy movement was no longer called the hyphy movement, the energy of the movement was adopted by multiple producers in L.A., mainly DJ Mustard. Chris Brown and other guys were adopting it. People were on that vibe of what the Bay music sounded like, and without even acknowledging it—which you should right now—they kind of incorporated the best, commercial elements of Bay Area music. It was incorporated by NoCal and SoCal artists: Iamsu!, Sage the Gemini... They kept the vibe going and went nationwide. YG is very Bay Area-ish.
E-40: [Hyphy] did great cause the basslines turned into ratchet music or turnt up music or whatever label it is. But there are so many songs. You could go with the Iggy Azalea record ["Fancy"], you could go with [Jidenna's] "Classic Man." Songs I love. Put it this way, it's what they now call the Mustard sound. Like [Big Sean's] "I Don't F*ck With You"—Mustard and Mike WiLL Made-It, they got down. They did they thang. And it's like "I forgot about their song, I'm in they sound." They tryna bring hyphy back in a whole other way.
Keak Da Sneak: We got the chance to represent it right. Everything I hear now is what we started. But I can't say they bitin' us. What I call it is paying homage. It's a California thing, too. We always got some attention in the Bay; I felt like we needed to be heard. We needed to be seen. So I appreciate it, you know what I mean? I never was insulted.
Kamaiyah: I feel like there's people that are really making a breakthrough. It hasn't been poppin' in the Bay Area in the right way for a long time. I feel like, we have artists like Kamaiyah [Laughs.]—just the real essence of Oakland. It's like, "Oh my God. What is this?" It's refreshing, so it makes people want to come and see what's goin' on down here? In the next five or 10 years, there'll be a plethora of people comin' from the Bay.
Mac Wanda: A couple years ago, Drake called me and told me how Mac Dre influenced him when he was 15 years old, how important that was to him. And I said, "You know what? Mac Dre did have an influence on a lot of people, and he deserves more attention." And so, as I discover things, I'm telling the story from a mother's perspective. I'm strong enough now that I completed the Legend of the Bay DVDs. That was one of my first projects. Last year I started a clothing line, Thizz 84—all Mac Dre-inspired clothes. We did an art show last year, and we're gonna do the second annual art show this year in downtown Oakland. We had over a thousand people that came. I'm also going to work on Treal TV 3 just to carry it on. People are asking for it, so we might as well do it.
J-Diggs: It's there, from Big Sean to Nicki Minaj. Anytime you hear phrases from "getting stupid" or "going dumb" or "feeling myself"—any phrases like that is classic Mac Dre phrases.
Big Von: I hear it all the time. Anytime there's an up-tempo record with a good groove to it, that comes from the Bay. 'Cause L.A. had the gangsta funk, then you had Atlanta with the booty shake and the Ying Yang sound. And New York has always had the New York sound. We was the dance sound.
It used to be when I listened to an OG record, I would know where it was from. I don't feel that anymore. I feel like you can go anywhere and jump on any beat and sound like anything. You can be Atlanta one day, Chicago the next day, the Bay the day after that. There's nothing wrong with it, it's just that no one reps their own area too much. Atlanta got it down. Atlanta says, "This is our sound. This is how we're doing it, and this is how it's gon' move."
Rick Rock: It's a loved time for me, because I was able to get my folks some deals and help them out and help their moms and their whole situations, and it's great to be a person to be able to do that. But all that arguing and backstabbing and people you thought were your friends in the industry, and then everything that happened for it to just go away, it wasn't even worth it, us doing all this to each other now that it's gone. I don't look nostalgic towards that time. The love I could give and the help I could give to others, people liking the music and having a good time—I feel good for that.
Mistah F.A.B.: I hear the music, I hear the songs. But music is evolving and music is revolving, so you'll always hear similarities in things. Hip-hop is a big cycle, and unfortunately when you're in it at the moment, you don't realize the evolution of it. Songs get sampled and voices and sounds get took, influencers get balled. That's hip-hop man, and that's life.
It'll continue to happen. If it happened once, believe me, it will happen again. It may just be another person doing it or it may be another region doing it, but the same gears that it took to turn that car will load up another automobile. And you just have to ride it. You ride it until the wheels fall off, man. You either crash and burn or you hop your ass out of the automobile and you find another way of transportation to continue to move forward. But the main thing and your main obligation and objective is to continue to move forward. And stay workin', man.