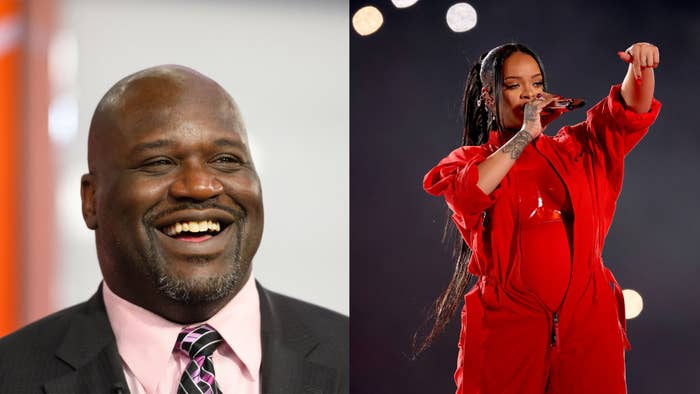 Shaquille O'Neal, 50, has become an official member of The Navy, as he defends Rihanna's Super Bowl halftime show from critics. 
On Friday, the four-time NBA champion spoke on the "Diamonds" singer's halftime performance on his podcast show, The Big Podcast with Shaq, responding to her haters, telling them to "shut the f#ck up." 
"All you people disrespecting Rihanna, shut your face. Shut it up. We living in a world where people got too much freedom, keep your f—ing thoughts to yourself. She did a wonderful job. She's pregnant, she blessed it, she did her thing, she didn't fall. Just leave it there. All you superstars, that's disrespectful and causing beef, shut your face," O'Neal said. 
O'Neal scorned internet trolls. He continues saying, "If she was my woman and I seen one of you superstars do that, I'm gonna have to get at you. Rappers. Presidential candidates. I'm gonna have to get at you. Leave her alone."
On Feb. 12, Rihanna took center stage for the first time in seven years. She performed a twelve-song medley, seemingly announcing her second pregnancy with her long-time boyfriend, ASAP Rocky. The pair welcomed their first child, a baby boy, in May last year. The highly anticipated show reached nearly 119 million views Sunday night. 
The couple and their son recently posed for British Vogue for the March cover. On Instagram, Rihanna revealed she had no clue she was pregnant while shooting the cover. In an Instagram post, the Barbadian singer wrote, "my son so fine! Idc idc idc! How crazy both of my babies were in these photos and mommy had no clue ❤️❤️."