Every year since 2010, the Red Bull Culture Clash has provided fans with a star-packed spin on an old-fashioned sound clash. Multiple crews of DJs and musicians battle on multiple stages, pulling out their best one-of-a-kind dubplates and remixes, and maxing out their Rolodexes for high-profile guest performers. 
Over the years, competitors have included ASAP Mob, Wiz Khalifa & Taylor Gang, Major Lazer, Just Blaze & Young Guru, and more. The contest is not a normal battle-of-the-bands. Instead, Red Bull explains, "it's about who has the heaviest sound, the best tunes, the most effective MC tactics, and the most entertaining presentation." You can check out how things work via the graphic below.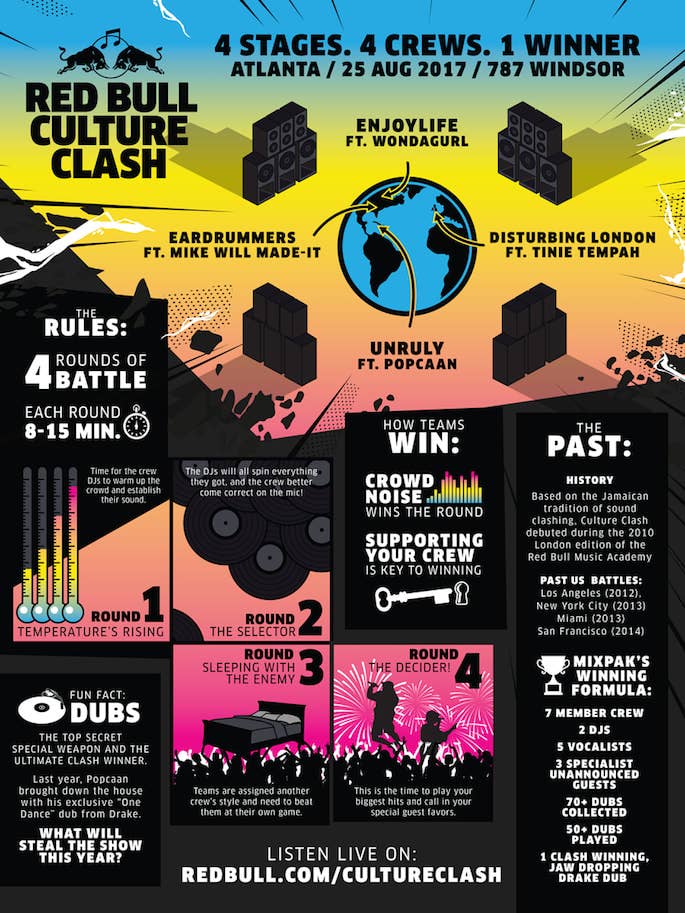 Bringing out special guests and pulling out unreleased material is par for the course—at last year's contest, Popcaan dropped a dub of Drake's "One Dance" that all but assured his team's victory. 
This year's version, which takes place in Atlanta and starts with a pre-show at 8 p.m. ET and the main event at 9, features four teams. There's the EarDrummers, headed by superstar producer Mike Will Made-It, repping the battle's home turf of Atlanta; Enjoylife fronted by the producer Wondagurl, from Canada; Disturbing London with Tinie Tempah in charge; and, since it wouldn't be a sound clash without Jamaica, Unruly featuring Popcaan. It has already been reported that Rae Sremmurd will be joining the EarDrummers, and with the assembled teams having worked with everyone from Gucci Mane to Drake to Jay Z to Beyoncé, the rare material and special guests on display will surely be insane.
You can catch the whole event at the livestream above.