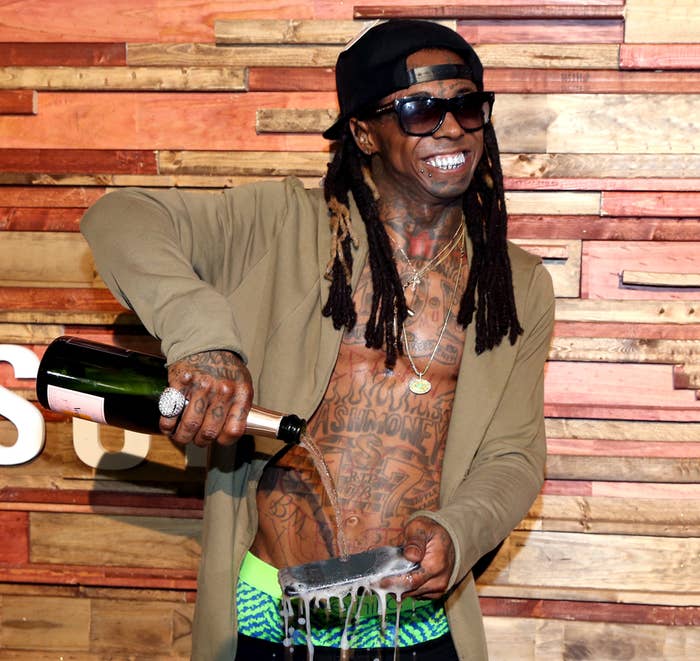 Lil Wayne had a successful return to the spotlight last month with the release of his long-awaited album, Tha Carter V. But several months before, another side of the star came back to light: Lil Wayne, the pitchman.
Wayne's commercial for Bumbu rum, which positioned him as the G.O.A.T. while featuring an actual goat, was a reminder that Weezy F. Baby has (in addition to his skills on the mic) shown a unique talent for selling products, as well. Anyone involved in the making of Wayne's major ads will tell you: the Best Rapper Alive is also an extraordinary commercial actor.
Wayne-as-great-commercial-actor might be surprising to even his longtime fans. He has a well-deserved reputation for doing whatever he wants, consequences be damned. Whether he's firing off headline-grabbing tweets or telling lawyers about their "stupid ass questions," Wayne can be a loose cannon—something quite at odds with the early starts, long hours, and tight discipline needed to star in big-budget advertisements.
Sara Gilbert, Public Relations Manager for Sovereign Brands, was on set for Bumbu's goat commercial, as well as several other Wayne-related promotional shoots including the "A Word With Wayne" series. She says that Wayne has an ability to take in—and improve—the concept of a scene in almost no time at all.
"It must be from his experience being a professional for all of his adult life," she explains. "He can hear something and put his own spin to it instantaneously."
Gilbert, who doesn't hesitate to call the rapper a "genius," notes that Wayne will sometimes even function as his own director, stopping a take when things get noisy.
"He might hear something upstairs or down the hallway—[maybe] someone shifted their weight and they have their keys in their pocket. He'll stop and wait for the noise to clear and then he'll resume or we'll take it from the top. He doesn't miss a stride, it doesn't throw him off his game. The fact that he self-corrects, he's directing himself, is amazing."
You may think he isn't listening or he's in his own little world not even looking your direction, but Wayne is very aware of everything around him.
Matt Aselton, who directed Wayne in a slew of popular Samsung ads, says the crew was initially skeptical of the famous rapper in their midst, but quickly changed their minds.
In one of the spots, Wayne had a lengthy line accompanied by a tricky camera movement, while surrounded by a ton of extras. "Everyone was like, 'I hope he can do it,'" Aselton recalls. "I was like, 'He's a rapper. That's what they do—they remember lines.' He nailed it the first time."
Over the next few days, Aselton took his star through a variety of locations, bringing along the small skate park they had to build (per Wayne's rider). Whether it was a convenience store or a mansion in Beverly Hills with Wesley Snipes, Aselton noticed that Wayne had a unique way of taking direction.
"I figured out pretty early that I didn't need to over-explain the idea," Aselton explains. "Everything I said, he would always say, 'Gotchu.' Once he said 'Gotchu,' it meant stop talking. I kind of got used to that."
Eif Rivera, the director of Bumbu's goat ad, said something similar: "You may think he isn't listening or he's in his own little world not even looking your direction, but Wayne is very aware of everything around him. He's a very intelligent, focused individual."
Andreas Nilsson, who helmed the memorable Apartments.com ad featuring Wayne and Jeff Goldblum—"these two wonderful freaks," as he calls them—agrees. Nilsson first met Wayne on set at around 5 a.m. "He was smoking the biggest joint I've ever seen," the director writes via email. Nilsson says Wayne "looks like he is on another planet" when listening to instructions. But, Nilsson continues, "he is totally on top of it and delivers like a pro."
Rivera, who has also worked on videos like "God Bless Amerika" with Wayne, says the rapper made every part of the spot his own—even his body language. Wayne's slouched posture was his own touch, one that Sovereign Brands CEO Brett Berish was initially skeptical of.
"Brett said, 'He should be sitting up because it looks like he just kind of doesn't give a shit,'" Rivera remembers. "And I'm like, 'Brett, that's Wayne. That's how Wayne is. Let him do his thing.' The guy's a superstar. He's been doing it so long he knows how to make it his own, but also stay within the guidelines of what we're trying to accomplish."
Even though Wayne is a superstar, both Gilbert and Rivera say that Weezy shook hands with and acknowledged literally everybody on set. "He will go around and introduce himself. Like, yeah, we know [who you are]," Gilbert laughs. And Nilsson says that Wayne remains Facebook friends with everyone from the Apartments.com set.
It's Aselton who sums up Wayne's approach to commercials the best. Unsurprisingly for someone so devoted to "sports sports sports," Weezy F. Baby treats acting the way a pro athlete might.
"I do a lot of commercials with athletes. Athletes want a coach to say, 'Don't do this, do this. Go there,' as opposed to, 'This is the mise-en-scène. This is the beat behind it,'" the director points out. "They don't really want to know. They want to know exactly what they're supposed to do and where they're supposed to go, and they want to please. I felt like Lil Wayne was a little bit that way, too. He reacted more like an athlete. I guess he's a terribly good tennis player and he's a very good skater, so I think he has that athletic mind."