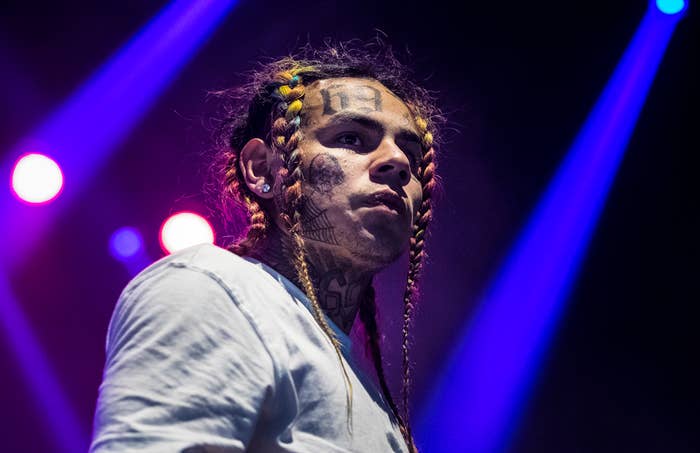 On Monday, September 16, the remaining two defendants in the 6ix9ine racketeering case, Anthony "Harv" Ellison and Aljermiah "Nuke" Mack, will have their day in court. 6ix9ine, or "CW-2" (for "cooperating witness"), as he's identified in court papers, will almost certainly testify. 
Ellison and Mack are both charged with being members of the Nine Trey Gangsta Bloods, and face other serious counts besides that. Ellison's charges center around his alleged kidnapping of 6ix9ine in July 2018 and a slashing that took place in Brooklyn this past October. Mack's have to do with alleged drug dealing.
Here's a primer on what to expect during the trial, which will take place at Manhattan's Thurgood Marshall Courthouse and will be presided over by Judge Paul Engelmayer. 
Why isn't 6ix9ine on trial?
6ix9ine, born Daniel Hernandez, pleaded guilty at the beginning of this year to nine counts, which include a staggering variety of crimes ranging from being a member of Nine Trey to participating in multiple robberies and assaults to dealing heroin. 
In exchange for the possibility of a lighter sentence than the 47-year minimum he would otherwise be subject to, 6ix9ine agreed to cooperate with the government. While his lawyers were hoping that all of the case's 10 other defendants would plead guilty, thus avoiding a trial and the spectacle of the rapper testifying in open court, Ellison and Mack decided to face a jury. Thus, it seems all but certain that 6ix9ine will be taking the witness stand at some point during the proceedings.
Who is on trial?
Anthony "Harv" Ellison is 6ix9ine's former bodyguard, who appears to have been involved in a power struggle over control of the star's career with manager Kifano "Shotti" Jordan during the height of his fame. 
Aljermiah "Nuke" Mack is an accused Nine Trey member, though recent court documents show that he was kicked out of the gang in spring 2018 by two of the most powerful members of its "prison lineup" (that is, the portion of the gang that is behind bars): Pedro "Magoo" Gutierrez and James "Frank White" Baxton. What got Mack kicked out, according to court filings? Robbing Nine Trey member Roland "Ro Murda" Martin, a co-defendant in this case who pleaded guilty back in June.
What are they accused of doing?
Both defendants are accused of being members of the Nine Trey Gangsta Bloods. Ellison is accused of kidnapping and robbing 6ix9ine on July 22, 2018—an event that received much publicity at the time. Ellison was originally arrested for it last Halloween, but his case was folded into the larger Nine Trey racketeering case.
Ellison is also accused of committing a gory slashing on October 24, 2018. That night, in the Brooklyn housing project colloquially known as "Smurf Village," there were two shootings and a slashing within 90 minutes. Ellison is accused of the slashing—one where the victim was so mutilated that Ellison's lawyers unsuccessfully tried to have photos of the victim's injuries excluded from the trial. Ellison is not accused of either of the prior shootings. 
Mack is accused of narcotics trafficking. Specifically, the government says he sold heroin, an analogue of fentanyl, and MDMA. He is also accused of having a gun while dealing the aforementioned drugs. 
What evidence does the government have?
Most of the government's evidence has yet to be seen by anyone other than the accused and their lawyers. However, in the weeks leading up to the trial, a few tidbits have become public.
First, Ellison's alleged kidnapping of 6ix9ine was, the government says, captured on camera by a cooperating witness (one who is not 6ix9ine), whose vehicle was wired up for sound and video. Court documents give us a peek into how the rap star allegedly reacted to being held against his will. During the robbery, CW-2 [6ix9ine] can be heard saying, essentially, "Harv, you know I'll give you everything... Harv, I've always done right by you... Harv, I've put money in your pocket bro, I'm scared.." 
After the kidnapping, 6ix9ine went to a police station and talked to an officer about what happened. That officer is set to testify "that CW-2 [6ix9ine] kept repeating that CW-2 did not think CW-2 was going to see CW-2's daughter again, and that CW-2 thought his kidnappers were going to murder him."
Second, excerpts of 6ix9ine's own songs and videos will be shown at trial. They will be used to detail "certain disputes between [6ix9ine] and rival rappers"—disputes that led to violent incidents the government will enumerate in an attempt to show the inner workings of Nine Trey.
The government will also use text messages, iMessages, phone calls, social media posts, and DMs. They will show increasing tension between Shotti and Ellison as it related to control over 6ix9ine's career and how to respond to the increasing number of people the rapper was angering with his trolling. Ultimately, the feds will claim that shortly before the alleged kidnapping, co-defendant Jamel "Mel Murda" Jones made the call to have Jordan be 6ix9ine's manager, rather than Ellison. There are also messages that appear to show Ellison attempting to sell 6ix9ine's jewelry that he had stolen during the kidnapping. 6ix9ine will also claim that he offered a bounty of $50,000 to have Ellison killed after the kidnapping.
Though Mack will not be standing trial for robbing Ro Murda, the government plans to show a number of messages related to that incident and its fallout. They also have prison phone calls in which Mack "made incriminating statements to a cooperating witness, also a member of Nine Trey, concerning their participation in drug dealing." Included among those calls are five from the summer of 2016. 
What will the defense be?
Ellison's main lawyer Deveraux Cannick has been very public about the main thrust of his defense: that 6ix9ine is an inveterate liar who faked his own kidnapping for publicity.  
Mack's main lawyer, Louis Fasulo, hasn't given much of a public hint about his client's defense, but he has appeared confident in pre-trial hearings. He told Complex after a recent hearing that he is confident the use of 6ix9ine's songs at trial will reveal a story favorable to his client.
What will 6ix9ine say on the stand?
The government has given a detailed picture of what 6ix9ine will say when he testifies. He is expected to claim that his main function was to be a cash cow for Nine Trey, including that he gave money specifically to Ellison. He will talk about the bounty he put out on Ellison. He will explain how his songs "Kooda," "Gummo," and "Billy" revealed the internal dynamics of Nine Trey and its relationships with its enemies. 
He is also expected to speak about conversations he had with gang members right before and right after various violent acts, including a November 2017 assault on Trippie Redd, the April 2018 robbery in the lobby of the G-Unit office, the shooting at the Barclays Center, the Chief Keef shooting, his own kidnapping, the slashing that Ellison is accused of, and more. 
6ix9ine will also talk about the "Gummo" video shoot, pinpointing it as the time when he "met several of the Nine Trey defendants." 
Documents released on September 9 laid out even more information: 6ix9ine will testify that starting in early 2018, Ellison and Shotti "began to fight about, among other things, Nine Trey's role as it related to CW-2 [6ix9ine]. For example, CW-2 would testify that Jordan's [Shotti's] view was that Nine Trey should respond to any form of disrespect, no matter how slight, in a physical and public way. Ellison viewed Jordan's approach as being akin to using Nine Trey to settle social media disputes. CW-2 would testify that Ellison preferred to respond to any perceived slights with violence, but there was no reason to publicize it – i.e., word would get out about what happened to those who disrespected Nine Trey."
In addition, 6ix9ine is expected to explain his message to Nine Trey members that they have to "run down On casonova [sic] when I get back." He will say that he felt he had to retaliate against Casanova for Cas' lyrics dissing 6ix9ine on "Set Trippin." This approach was not unanimously agreed with by Nine Trey members, and the order led to internal disputes.
6ix9ine is also expected to discuss his 2018 South by Southwest show, and the beefs that surrounded it. Court documents do not mention any names, but it is well established that 6ix9ine ran into issues with J Prince Jr. on that trip to Texas. 
One thing that will not come up? 6ix9ine's admitted history of domestic violence, which the judge ruled off-limits.
When will 6ix9ine testify?
It's impossible to say right now exactly when 6ix9ine will take the stand. However, the most recent government estimate was that he would testify almost as soon as jury selection was completed. When asked to give their best guess of a date, they responded with Tuesday, September 17.
How long will the trial last?
The trial is expected to last a little more than two full weeks. Court will run Monday through Thursday of each week, with the exception of Monday, September 30, when the court will take a break for Rosh Hashanah. 
When will 6ix9ine be sentenced?
When 6ix9ine pleaded guilty back in January, his sentencing date was set for January 24, 2020. However, the court made clear that is a "control date," which essentially means a placeholder date on the calendar until they figure out when the rest of the case was going to end. So, while the control date still stands for now, it is very possible the date will be moved up once this trial is over and the remaining defendants who have already pleaded guilty will be sentenced.