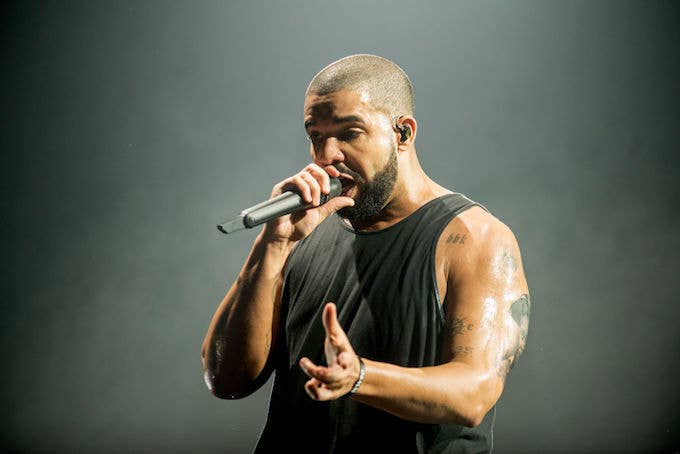 Drake's The Best in the World Pack has been making news for everything from its restaurant disses to its producers. But to music industry watchers, the most notable thing about the songs may be the copyright information attached to the release.
When the tracks were originally released to streaming services, the copyright information credited, as you might expect, Young Money and Cash Money (proof of TIDAL doing so initially is here, and Spotify, as of this writing, still reads that way for its explicit version). But the information, at least on TIDAL and Apple Music, was updated as of Tuesday afternoon to read "Frozen Moments, LLC, under exclusive license to Republic Records." 
Frozen Moments is, as we told you back in February, the company that Drake has used for many of his business ventures for over a decade—filing for trademarks for merch, getting fake Drake and OVO websites taken down, and other miscellany that comes with superstardom.
But with the exception of one song back in 2009, Frozen Moments had nothing to do with Drake's music career, until his remix of Summer Walker's "Girls Need Love" earlier this year. That track had the business' name in the copyright information (though it has since been changed to OVO).
The Best in the World Pack being licensed from Frozen Moments to Republic is not a surprise. An employee of the accounting and business management firm Nigro Karlin Segal & Feldstein LLP, whose Los Angeles office is listed as the address for Frozen Moments in its registration with the California Secretary of State, confirmed that Frozen Moments is not a record label. Therefore, the idea of teaming with Republic Records, Cash Money's longtime distributor, makes sense. What is surprising is that, at least as of this writing, Cash Money seems to have had nothing to do with the release of these songs.
Representatives from streaming services and Drake himself have not responded to requests for comment as of this writing, so we have no idea if this Frozen Moments-to-Republic situation will apply to future Drake releases, or if Cash Money will be back to putting out forthcoming Drizzy projects. There was wide-ranging speculation that the 2018 release of Scorpion marked the end of Drake's deal with Cash Money, but that has not been confirmed.