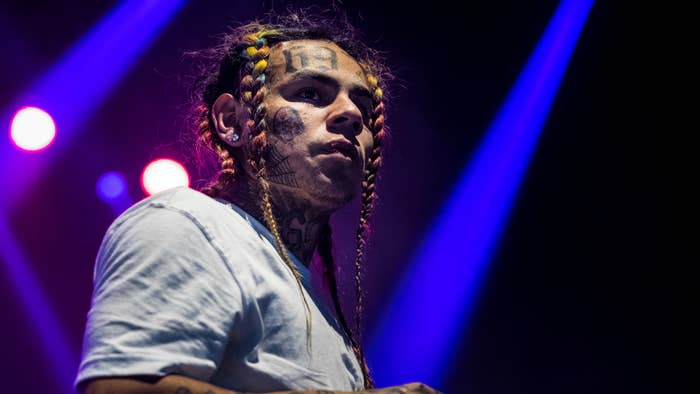 On Thursday, Daniel "Tekashi 6ix9ine" Hernandez made headlines when he was released from prison four months early to serve the remainder of his 24-month prison sentence at home. The reason? His asthma put him at high risk for catching COVID-19, and of dire medical complications if he got sick. Now, one of his co-defendants wants the same deal, for the same reason.
Denard "Drama" Butler was a "hanger-on" in the Nine Trey Gangsta Bloods, the gang that oversaw 6ix9ine's rise to fame. He was sentenced in January to 60 months behind bars after pleading guilty to one count of participating in a racketeering enterprise. Butler took part in the April 2018 robbery in the lobby of the G-Unit office building in Manhattan that 6ix9ine infamously filmed and shared on the internet. On Friday morning, Butler's attorneys attempted to get their client the same deal as his famous co-defendant.
Lawyers Jacob Mitchell and Kenneth Paul submitted a letter to Judge Paul Engelmayer saying that, like 6ix9ine, Butler has asthma. In addition, they wrote, Butler suffers from bradycardia. And taken together, that means their client is "at particularly high risk from COVID-19." And the consequences, they argue, could be fatal ("The specter of death is a very real possibility given the circumstances"). So he should, they argue, be able to serve the remainder of his sentence in home confinement.
Butler is currently being held in Brooklyn's Metropolitan Detention Center (MDC). According to the latest Bureau of Prisons count on Friday morning, four BOP staff members in Brooklyn have tested positive for COVID-19, though as yet no prisoners have. But Butler's lawyers say that they were told that an entire unit at MDC is already in quarantine due to an inmate receiving a COVID-19 diagnosis. And conditions at the facility make it "impossible for inmates to effectively follow the CDC's published advice that individuals socially distance themselves from other individuals." 
While Butler was sentenced to 60 months, his release date is currently set for January 2024, according to his attorneys. At the end of their letter, they offer up an alternative suggestion to Judge Engelmayer. If the judge isn't comfortable letting Butler serve his entire sentence at home, the lawyers suggest that he be placed in home confinement "until the COVID-19 pandemic has been deemed to no longer be a health crisis," at which point he would go back to prison.
Mitchell told Complex he thinks highly of the judge who will decide his client's fate.
"In my experience, Judge Engelmayer is a very thorough, thoughtful, and fair judge, and we're just waiting for his decision," the attorney said. "These are unprecedented times."
Butler is the third defendant in the 13-person 6ix9ine-Nine Trey case to attempt to be freed from prison due to coronavirus concerns. In addition to 6ix9ine, Kintea "Kooda B" McKenzie was recently freed on bond until his sentencing in June—although he almost immediately got in trouble with the judge for allegedly appearing in a video partying with other people.
For more about Tekashi 6ix9ine, check out the Complex/Spotify podcast 'Infamous: The Tekashi 6ix9ine Story,' narrated by Angie Martinez.