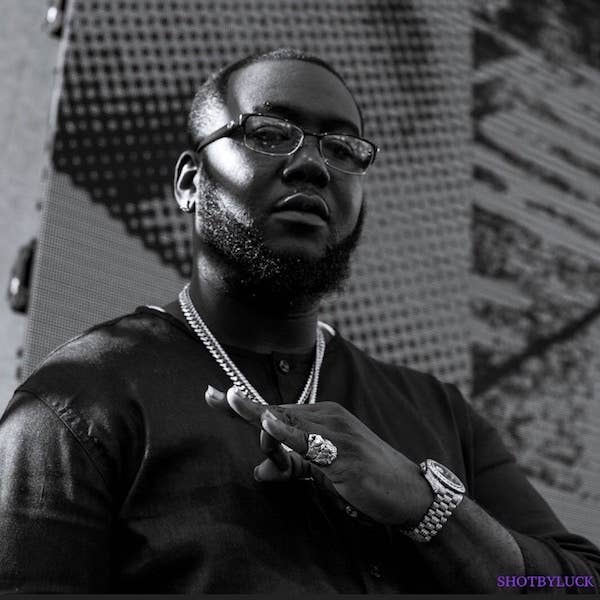 BlaqNmilD is a New Orleans-based producer who has been one of the most sought-after beatmakers in the city for years. But he first really popped up on the radar of fans from all over with his contributions to Drake's No. 1 hit song "Nice for What," which he produced with Murda Beatz. 
BlaqNmilD's bounce stylings on the song delighted N.O. rap veterans, as well as listeners all over the world. So it's no surprise that Drake would come back again. BlaqNmilD co-produced Scorpion's "In My Feelings." I caught up with him just as he was about to hop in the studio with Master P, and found out how it went down.
How did you get involved in "In My Feelings"?
Well, it starts from the first record, "Nice for What." Drake kept his word he was gonna give me another opportunity to get on a record. I went back to Toronto and touched two records. I was for sure that one of them was going to make the album. So that's how "In My Feelings" came about—he gave me what he'd done so far to the record, and I just sauced it up.
What were the parts you added?
I'm not gonna take full credit for it. He started the record with a guy named Trap Money Benny.
Basically, I wanted to give [Drake] another hit record. I'm like, damn, what can I do as far as adding my sound to it? I added the Magnolia Shorty sample.
Drake, he don't really record in front of people. Whatever him and 40 do, that's they secret sauce.
Me and Magnolia Shorty was real tight. I was her main producer. She was signed to Cash Money back in the '90s. We did a mixtape record called "Smoking Gun." She did vocals over a Jadakiss and Jazmine Sullivan record. It was a big ol' hit locally in Texas, New Orleans, Mississippi. She'd been killed in New Orleans. Rest in peace Magnolia Shorty. I miss her to death. She's a pioneer in New Orleans.
I just knew it was gonna work from the Magnolia Shorty [sample]. And we got some City Girls vocals, a female group out of Miami—I chopped they vocals up in it. Drake suggested that it would be cool for us to add some Wayne in it, so I chopped some Wayne up in it. I added more percussions, I added the bounce sounds, the scratches, the loops. I put a little second line at the end, on the strength of New Orleans and our culture, to make it authentic. 
I know you produced on "Nice for What." But how did you get to work with Drake in the first place?
My guy Fifth Ward Weebie, also a pioneer from New Orleans, he got a call from Drake's manager to do a record. He ended up calling me on behalf of it because I'm the hottest producer in the city of New Orleans. I have been for the last decade. We have a relationship. We've worked on records together. We have a hot record featuring Juvenile and Snoop Dogg called "Let Me Find Out."
Drake had us in L.A. He left, and he didn't want us to leave until he came back, because he wanted to make sure that we did what we had to do with the record. So we wound up staying in LA for a little extra. Drake turned out to like what we did for the record, and he kept his word on giving me another opportunity to get on the album again.
Were you in the room when he recorded his vocals for "In My Feelings"?
No, I wasn't in the room when he recorded his vocals. Drake, he don't really record in front of people. Whatever him and 40 do, that's they secret sauce how they get those magical good-sounding vocals to go.
Between "Nice for What" and now "In My Feelings," you're bringing the sounds of your city to a national audience. How do you feel about that?
I feel good about it. I've been producing for a very long time. I done produced for every artist that came out of New Orleans, whether they was with Cash Money, whether they was with No Limit. I got a chance to work with all my pioneers, the ones that was there before me. That's a blessing.
I never thought in a million years that I would be working with one of the biggest artists of my time. I'm just holding it down for the city, man. It's been a long time since New Orleans been back in the mix of what's going on. Everybody's looking and depending on me to at least help get us back on the map where we're supposed to be, like No Limit and Cash Money had us.
What's next for you?
I got some New Orleans young artists that's ready to come and take this thing back. And we gonna run with our sound, man. The sound that I've given Drake, that's our sound. It's nothing new to us. It's just new to the world.