Searching For a Clear Signal During a Complicated Grammys Week
Grammys week 2020 will forever be connected with the passing of Kobe Bryant. Here's our report, featuring Coldplay's Chris Martin, TDE's Punch, D Smoke, & more.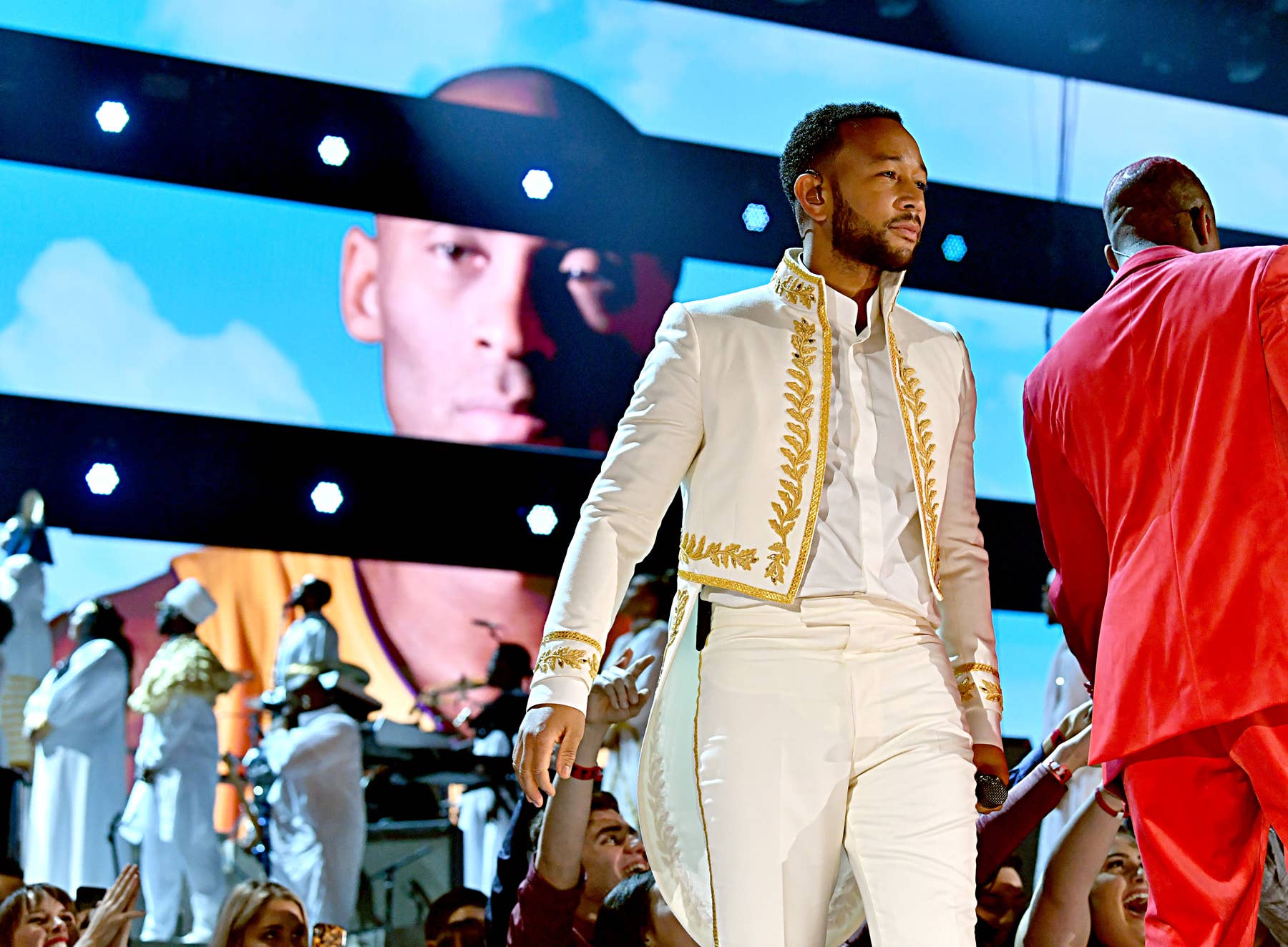 Getty
Image via Getty/Emma McIntyre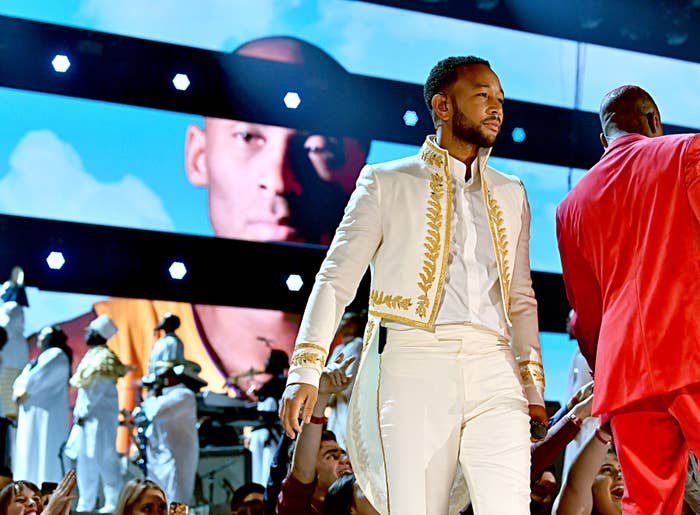 I attended my first Grammys in 2008. My cousin was trying to recruit me to go to college in Los Angeles, so he got tickets for my mom and I. He knew how much I loved music and what it would mean to me. There's a short, uncovered section of walkway between the end of the red carpet and Staples Center, and to the right is a gate used to transport performing talent. As my mom and I made it through the red carpet and out into that open-air section, an angel wearing a flowing dress walked right in front of us. 
It was Beyoncé. My mom said my jaw hit the floor. Attending that year with my mom was poignant because it was just a few months after Kanye West's mother had passed away, and I had the joy of sitting with my own mother, witnessing The Old Kanye perform a beautiful rendition of "Hey Mama," singing up to the heavens. I still cry when I watch the clip of Kanye breaking down while performing the song in Paris, shortly after his mother's untimely passing. 
When I arrived in Los Angeles for the 2020 Grammys, I had no idea another sudden passing would rock the city to its core. It was a week of highs and lows, joy and sorrow, laughter and tears, and a reminder to hold your loved ones close. This is how it went, through my eyes.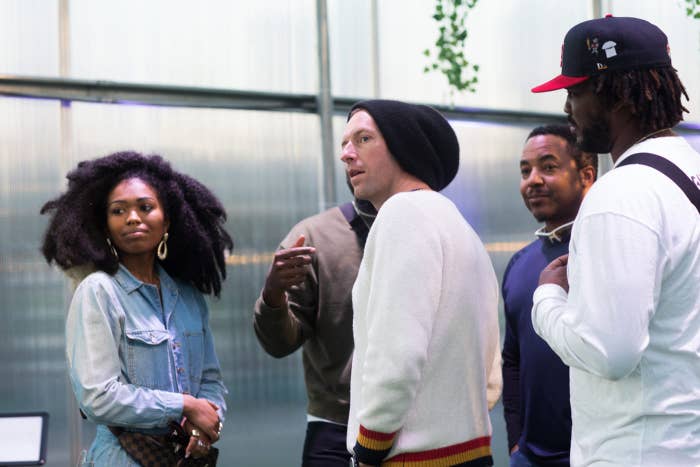 Tuesday
For some reason, Coldplay's Chris Martin is being really friendly to me. A week from now, he'll be performing at the massive Grammy Salute to Prince—alongside Usher, H.E.R., Common, Gary Clark Jr, Alicia Keys, Sheila E., The Time, and more—but tonight he's just played the second of back-to-back nights at the Hollywood Palladium before announcing that this would be Coldplay's last show for a while. Not a break-up, just a break. When he makes his entrance at his own afterparty, on the rooftop of Hollywood's Neuehouse just a block from the Palladium, he disregards everyone in the room, walks straight to where my friend Amal and I are sitting, gives me a hug, and asks, "Were you taken care of alright?" 
I say yes, thank him for the hospitality, then tell him that my friend Amal had an important observation about the show. 
"She said, 'That guy Chris can sing a little bit!'"
Chris laughs and quips back, "So here's the thing: I actually can't sing exceptionally well, but I sing honestly."
"Oh… interesting!" we say to each other. We're both still a little shaken that Chris has focused his attention on us. To which Chris replies, "So, really, what was the observation?"
Amal says, "That was it, actually."
Chris bursts out laughing, which eases the tension. But Amal has a really important follow up. 
"Did I hear you playing [Justin Bieber's] 'Yummy' for a second in the middle of the show?"
"Yeah," says Chris, before taking a melancholic pregnant pause and relenting, "But then someone booed, so I stopped."
Amal and I are both telepathically telling Chris, "Please stream 'The Box' by Roddy Ricch." 
[Chris, if you're reading this, I need you to understand how important this cultural reference is. This is me helping you.]
"I actually can't sing exceptionally well, but I sing honestly" - Chris Martin of Coldplay
I think he caught the message, because when I make the natural segue into talking about how Timothée Chalamet is slated to play Bob Dylan in Going Electric, Chris nods in approval. And when I bring up how people are getting mad and saying that Timothée can't sing (and how that's dumb because neither could Dylan), Chris hits me with another, "Actually…"
"You should watch a documentary called Don't Look Back," he says. "It's not like [Rolling Thunder Revue]. It's before he got coked out. I think you'll really like it and you'll gain a better appreciation for his singing."
You really would think we were CPF (Close Personal Friends), but I only just met Chris earlier this afternoon in South Central, just a few blocks from Leimert Park, where he was showing up to support community organizer and "cultural architect" Damon Turner who, alongside Black Lives Matter co-founder Patrisse Cullors, put together a week of programming inside of a pop-up greenhouse to help promote the Michael B. Jordan, Jamie Foxx film Just Mercy. 
When I arrived, a different kind of mercy, Merci Kassa, who also helped launch Trap Heals, walked me straight over to Damon, who I already knew from his very impactful community events, and Chris, who was wearing a large beanie, but was otherwise dressed very inconspicuously. 
I asked Chris how he got involved with this social justice initiative and he told me it began when a friend gave him a copy of The New Jim Crow by Michelle Alexander, which led to him meeting Damon and Patrisse, which led to him learning about Trap Heals, and that lead to Coldplay offering their assistance to the cause. 
"I create spaces that bring people, who you wouldn't expect to interface on an average day, together, and provide the recipe for it to make sense," said Turner as "Life Is Good" blasted in the background. "That's what today is. You'd think it wouldn't make sense for the gang members to be hanging out with Chris Martin, but today it does."
Chris added, "My mom was always interested in [social and environmental justice movements]. Life on this planet becomes more joyful when you become less afraid of people who look or speak different than you." 
I mentioned the photos of him in Palestine, and Coldplay's performances in Jordan, from 2019. I told him how happy I was to see those photos, and his face lit up.
"When we were in Jerusalem, we were riding through the old city, and a young Palestinian woman stopped us and said, 'I'm going to sing for you,'" he told me. "So I said, 'Alright.' And she walked us into the Church of the Holy Sepulchre. So imagine the huge, vaulted ceiling, and the history that place has seen. And then she began to sing, and it was one of the most beautiful things I've ever heard. That woman is Norah (Shaqur) who is going to be singing with us on stage tonight."
Sure enough, at the show that night, I meet Norah, and a contingent of Palestinian musicians who were attending the event as guests of the band. It was the most of my people I'd ever been around at an event of this magnitude since…. ever.
Chris, after this experience, you're now extremely good in my book, but I'm still going to need you to stream Roddy Ricch. Maybe cover "The Box" if you're feeling lucky. Thank me later.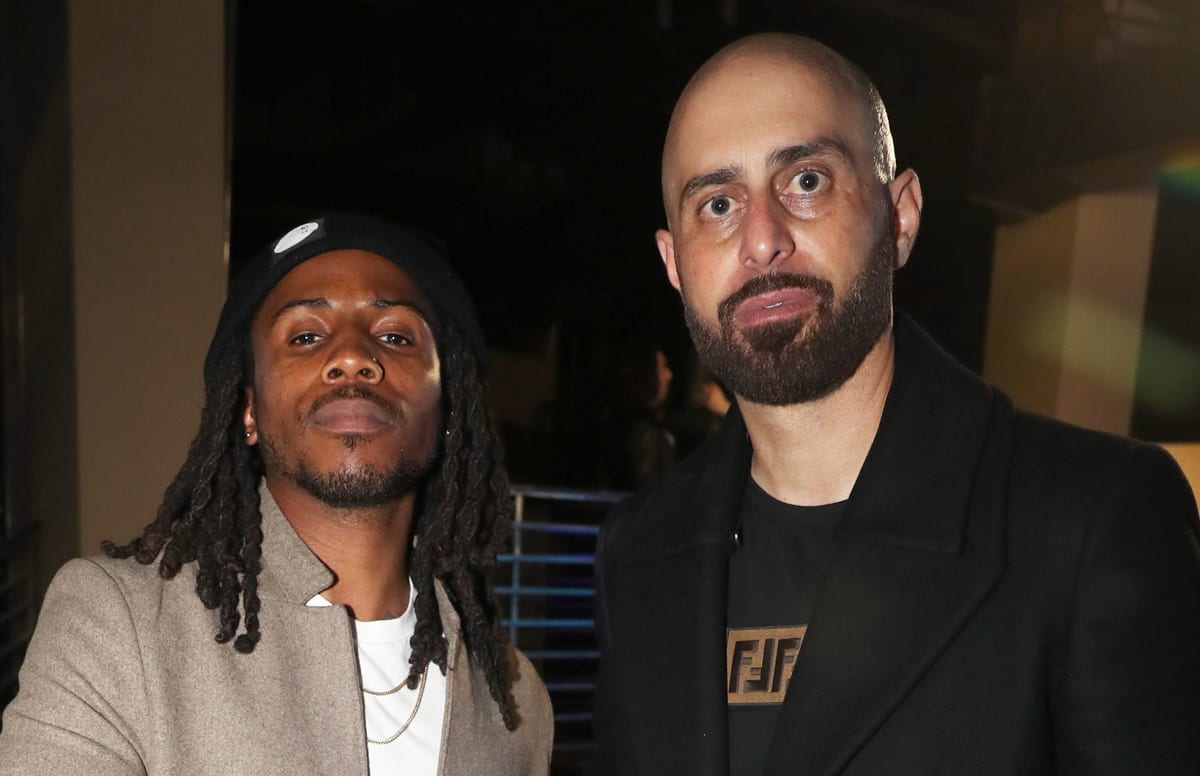 Friday
Just a few hours after a 4.5 magnitude earthquake hit Hollywood, I'm at the sprawling underground club The Reserve, in downtown Los Angeles, with the winner of Netflix's Rhythm and Flow, the rapper D Smoke, and his friends Shanx and Greg, for the EMPIRE pre-Grammy party. No one seems to know if EMPIRE has any nominated artists, but that doesn't particularly seem to matter.
I wonder how many people actually watched Rhythm and Flow, and, sure enough, people stopped Smoke, the Inglewood native and brother of TDE artist SiR, throughout the night to ask for pictures. There are also lots of different kinds of rappers here: Murs, Rucci, Jim Jones, and Dee-1. One thing you have to give credit to EMPIRE for is painting the spectrum with their roster. 
Rucci and his posse enter our section to light up a blunt and Smoke's friend Shanx politely tells them they have to go somewhere else because D doesn't smoke. 
Realizing D and I both have that in common (thanks, asthma), I wonder to myself if the "D" in "D Smoke" stands for "don't." Really makes you think. My nose also itches a lot, but I'm always scared to scratch it in settings like this because I don't want people to think I'm on coke. These are anxieties you develop in Los Angeles without even realizing it.
"It's important to listen to popular music you don't like, study it, and try to understand what makes people drawn to it." - D Smoke
Posted up at the bar, Smoke turns to me, and I tell him about my interaction with Chris Martin earlier in the week. We talk about Roddy Ricch's battle against pop musicians for the number one spot on the chart. 
On Bieber, he says, "It's important to listen to popular music you don't like, study it, and try to understand what makes people drawn to it." 
Smoke eventually wanders away and Shanx suggests we should go find him. So I follow him across the room, but out of the corner of my eye, I see a head full of very curly blonde hair, and I know there can only be one answer as to who it is. I lean over to the head of curly hair and ask, "Are you Elyanna?"
She says back to me in a thick Arabic accent, "No but..."
"Damn," I reply. 
"...Elyanna is my sister, she's right over there!" she says, pointing behind a curtain near the DJ booth. 
My night is absolutely made. 
Elyanna, a Los Angeles-based Palestinian R&B singer who's already amassed a huge following online, and may be the newest member of the Weeknd's XO family, is with her sister, brother, managers, and a close friend. We instantly bond. Elyanna's new video, "Shee," premiered just two days before we met, and at the time of writing this, has amassed three quarters of a million hits in just under a week. 
Jim Jones walks by as we bond over our shared heritage—both our families are from the same village—and I'm way too excited to break away and greet the Dipset legend. I can't believe I was at two big music industry events in the same week and found new members of my tribe each time. In this dark timeline we've slipped into, moments like this give me a strong fix of hope and joy. 
We spend the rest of the night mobbing around the expansive club before finally ending up in EMPIRE CEO Ghazi Shami's section. This is when my asthma really starts to kick in and I'm elated to hear Elyanna's brother Feras ask, "Hey bro, are you ready to leave?"
When we make it above ground, there's an eerie, thick fog settling on downtown Los Angeles. A fire truck overtakes the bike lane to bypass the Friday night traffic jam, my phone signal is dead, and my rideshare apps are freezing. For a brief moment I genuinely think the fog might have been smoke and that another earthquake may have hit downtown. I hop in a car and disappear into the low-hanging clouds for the night.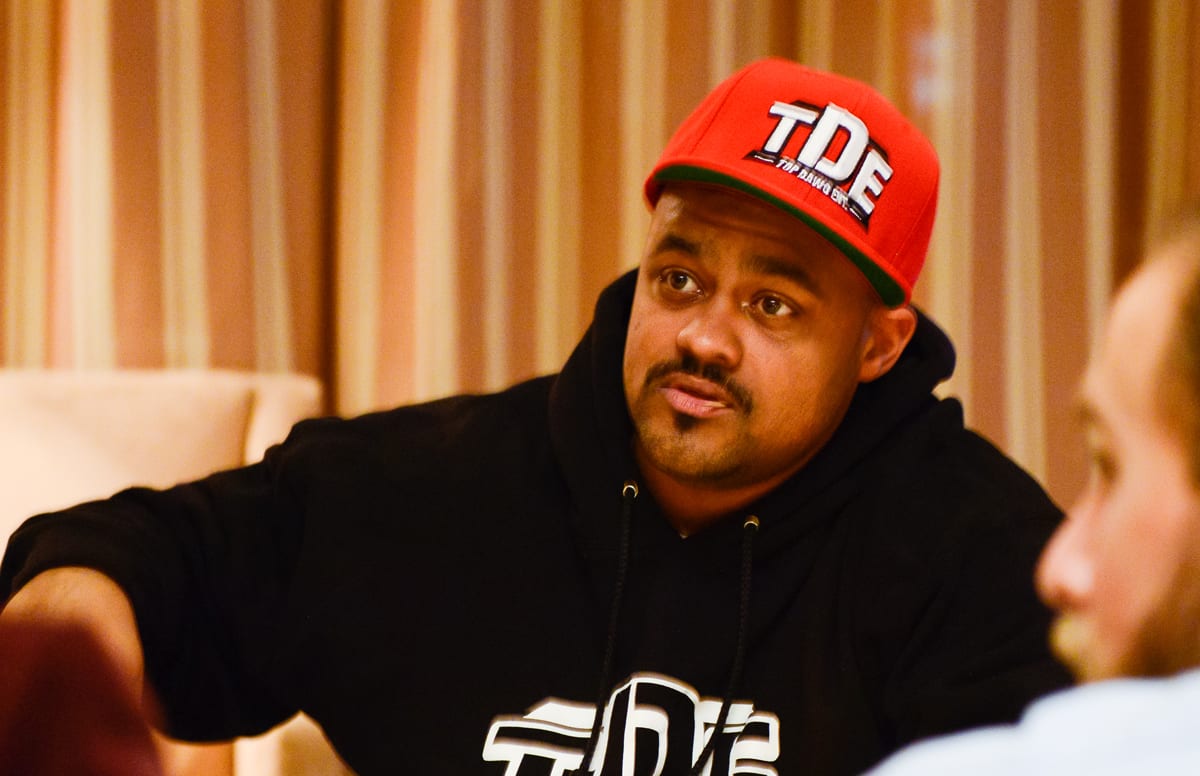 Saturday 
"Do you fuck with Coldplay at all?" I say to Top Dawg Entertainment president, Terrence 'Punch' Henderson. We're in Brentwood where he's overseeing a video shoot directed by rapper Lyric Michelle and featuring Nick Grant, Daylyt, and a few other budding artists. They're keeping the details under wraps, and only let on that it's for some type of compilation project. Punch is always cooking up something, so I trust that we'll all be talking about the final result soon enough. 
"Hell yeah I fuck with Coldplay," Punch says. "We actually did a session with Chris [Martin] and SZA a while back."
"Is that ever gonna come out?" I ask. "Probably not," he says.
I'm gonna keep my fingers crossed that he changes his mind. I need to hear that. 
(Two days later, I tell Chris about this conversation and he says, "Yeah, SZA is an amazing singer, but I don't think that song will ever come out because I didn't bring my best stuff [to the session.]" Remember when Chris told me he prides himself on his honesty? That was another dose of it.)
"Hell yeah I f*ck with Coldplay. We actually did a session with Chris [Martin] and SZA a while back." -TDE's Punch
Between takes, Daylyt, who dons facial tattoos reminiscent of Tech N9ne's now-retired face paint mask, is analyzing and processing the wealth of the neighborhood we're in.
"Brentwood," he says, taking a pause. 
"Whenever I drive through these neighborhoods," I say, "I always think: These houses can't all belong to athletes and entertainers.'"
"Nah, bro," says Daylyt. "There's way too many of these big houses. This old money… this slave money…"
"I would have been killed quick back in those days," he says with a sobering confidence. "Rebellion is in my genes."
He tells me he got the face tattoo the day he picked up his last check at Quizno's. Now he's rapping for his life.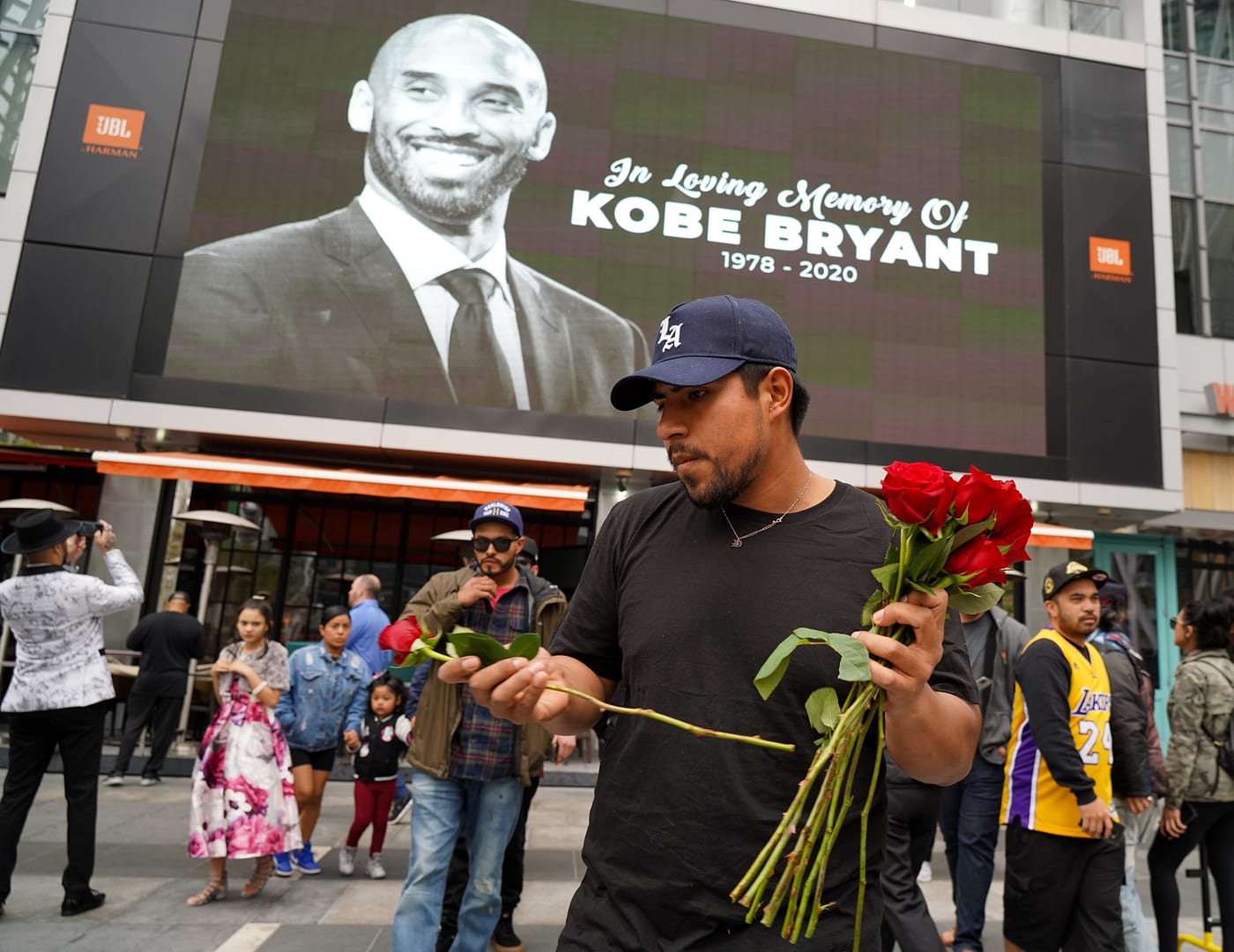 Sunday
It's 11:34 a.m. and I'm getting my Grammy outfit together when I receive a text from my best friend Moe in our group chat:
"Guys. 
Kobe died in a helicopter crash today. 
Oh my God.
I am so sick right now."
I hate getting this kind of breaking news from TMZ, so I wait with bated breath for other news outlets to confirm it, which they do. I'm still unsure about how to process what I'm reading, so I stop getting dressed and push open the sliding door to the balcony of the apartment I'm staying in. The downtown L.A. skyline is perfectly framed just south and west of the apartment. Out on the street below my friends' apartment, just off the 101, a car waits at a traffic light, windows down, blasting the news about Kobe. The honking of horns and the blaring of sirens I hear in the distance seem reactive. Nipsey is on my mind, too. I had just been at an event celebrating his 6 millionth album sold. Los Angeles had lost two of its biggest icons in under a year. This city is reeling and desperately in need of something to celebrate. 
It really feels like—as we did when Prince died—we slipped into this dark, alternate timeline where heroes are taken from us and villains gain power and live long. 
Now, I'm heading to Staples Center, where Kobe played for 20 seasons, and it freezes me. Should I really be going? Will the Grammys even still happen? Forget that. I have to go. Kobe meant so much to the culture and to this city, I need to be there.
As I arrive, that same ominous, heavy fog from Friday night makes a return. Despite the street closures, thousands of people have filled the LA Live plaza across from Staples Center to chant Kobe's name. Every available screen is lit up with Kobe's face. 
When I finally arrive on the red carpet, I run into Lucky Daye, who is ecstatic about his nominations and trying to stay in good spirits. 
"I feel like I'm being initiated into the superhero league," he says with a huge smile. "Being here is magical."
"How is the Kobe news making you feel, though?" I ask. 
"His passing is something to celebrate and something to grieve. My condolences are with his family. I grew up watching him as a kid and, man, it is so sad."
As the ceremony kicks off, Alicia Keys and Boyz II Men offer a tribute to Kobe, and I cry. Nipsey wins two Grammys, Khaled shares one of them—a rare Grammy victory for a Palestinian. My emotions are reaching new heights. Usher and FKA Twigs pay homage Prince (though I wish Janelle Monae was there, too.) Ava DuVernay, Meek Mill, Roddy Ricch, YG, Kirk Franklin, DJ Khaled, and John Legend perform a beautiful elegy to Nipsey. An emotional YG rapped, "I'm running my marathon in Chucks," and I cry. Kirk Franklin preaches, "Only God's love can give us 20/20 vision/so we could see past ourselves/and we could love somebody else," and I cry. Gary Clark makes a searing anti-Trump statement not long after YG was on stage reminiscing about making "FDT" with Nipsey and I get goosebumps.
I need some air.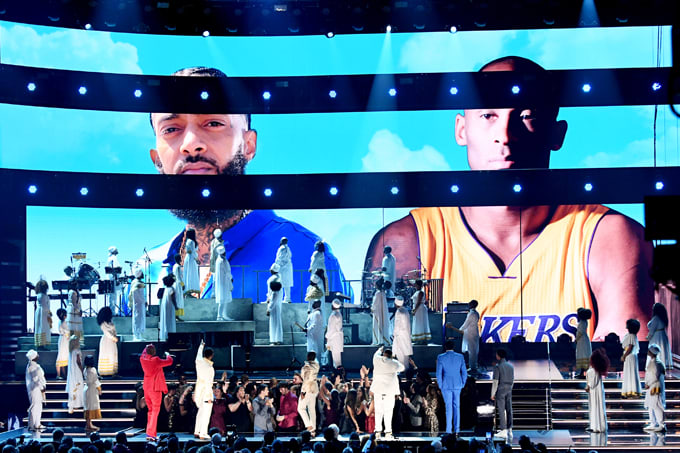 Sunday night
Walking away from Staples Center and through the LA Live plaza, I'm moving through a spectrum of emotions. A biker and a skater fight each other while a street drummer bangs on buckets over a portable speaker, blasting Bone Thugz N Harmony's "Crossroads." And only a few feet away, a group of people carrying picket signs are shouting over the commotion that Kobe was murdered and Prince was, too. One Kobe fan is shouting back at them to shut the fuck up. I feel like I'm at the epicenter of this dystopian timeline we've slipped into, as if one more rift would have us slip into Bladerunner. 
At the end of the night I tell my Lyft driver, Gilbert, about my Prince theory, and he tells me that Prince came to him in a dream shortly after his untimely passing. In the dream, Gilbert was the only person who could see him, and, as he realized the power he had, he began to chase after the Purple One. When he finally caught up, Prince told him, "Stop. Just listen." And then he woke up. 
My name, Sama'an, in Arabic, means: "The one who listens."
Monday morning (denouement)
As fate would have it, I'm back at LA Live with Chris Martin and his manager Phil at a rehearsal for the Grammys' upcoming televised, full-length tribute to Prince. Chris has a sore throat and is powering through it. When he hops off stage, still wearing that same beanie, (or maybe he has multiple), we walk outside where Kobe jerseys pepper the sidewalks and new graffiti seems to have popped up overnight. 
"You know," he says to me, "I never crossed paths with [Kobe], but it's incredibly sad." 
He hugs me, slips into his car, and whisks away. 
That ominous fog is gone and the sun is out. 
I'm listening, I just wish the signal was a little more clear.