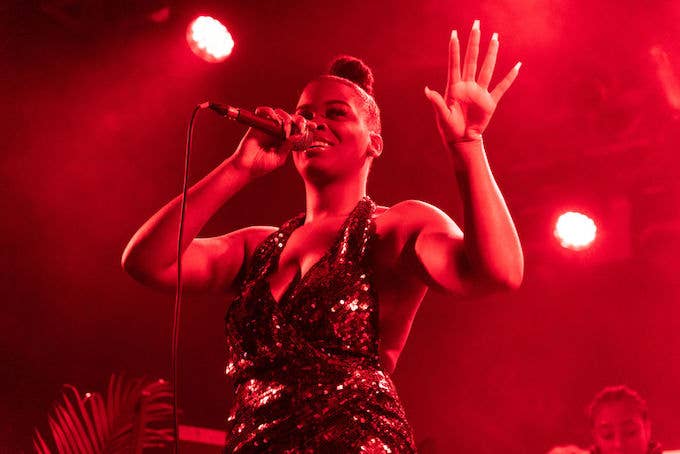 A troll has sparked one of Twitter's first major firestorms of the decade after he said Ari Lennox and Teyana Taylor have "dangerously high sex appeal" but look like dogs.
"Ari Lennox and Teyana Taylor's ability to have dangerously high sex appeal while simultaneously looking like Rottweilers will always amaze me," the Twitter user wrote on January 1, not even allowing us a full day of 2020 before leaping headfirst into anti-Black rhetoric.
The "BMO" singer saw the hurtful tweet and responded, "People hate blackness so bad."
"Moms and Dads please love on your beautiful black children. Tell them they're beautiful constantly. Tell them Black people are beautiful. Tell them black features are beautiful," she continued.
Teyana Taylor agreed with Lennox's assessment, replying "no lies detected" to Ari's original tweet.
Lennox appeared on Instagram Live and wondered aloud as to why people are "so comfortable tearing Black women down?"
"I'm not with it, how people hate Black people so much. How Black people can sit up here and say, 'It's not my problem' or 'She does look like a Rottweiler.' That's fine. And you want to talk about how people are so sensitive, they want to cancel freedom of speech. Why is that your speech? Why are you so comfortable tearing down Black women and no other race?" Ari said in the video, a clip of which is embedded here:
"Look around! When are Hispanic women ever compared to dogs? When do they do that? When do they do that to white women? When are white men doing that to white women? When are Hispanic men doing that to Hispanic women? They're not doing it," she continued.
"I made this Live because I want people to know I really do love myself. I love my nose," Lennox said. "I love Black features. I want us to get to a point where we are becoming aware of the self-hate sometimes, when you are referring to Black women as a dog. Because we're not doing this to other races. Or to races of women who don't have a nose like this."
Droves of people offered words of encouragement and support for the Shea Butter Baby artist.
Back in November, a frustrated Lennox spoke out about being snubbed at the 2019 Soul Train Awards. "Tired of being annoying tired of being annoyed. I just ain't built like the rest of them. This shit ain't for me... It's clear I'm not 'cool' enough," she tweeted. "Not trendy enough and I don't care to be. I don't strive for that. I'm not going to chase this shit ever again. No more fake shit on my part... It's not just the awards. SBB was slept on in so many ways. Im too emotional to pretend like I can play this game."