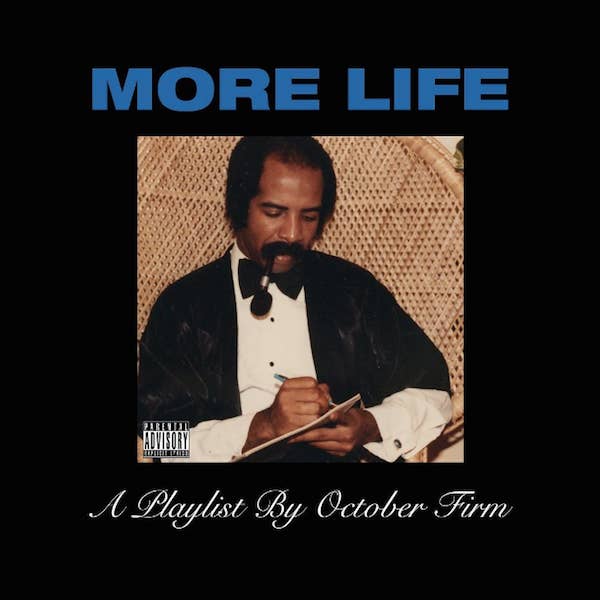 On Christmas Day, 2004, I pulled the protective plastic ("Don't steal music" in four languages) off of a fourth-generation iPod. I put on my new Toronto Maple Leafs jersey (BELFOUR, 20), walked upstairs in my aunt's Winnipeg home, and installed iTunes to her desktop computer. The first song I transferred was 50 Cent's "Disco Inferno," which hit No. 3 on Billboard—and which I've heard maybe twice in the last ten years. That iPod replaced the Walkman I'd brought with me to Winnipeg, the one with The Black Album and Like Water for Chocolate and the whole book of CDs that I'd lugged around for most of my adolescence.
I stole a lot of music to put on that iPod. Most of my friends did the same. We all brought our iPods to school, scrolling with tight, right-thumbed circles through our collections: 50, Kanye, Wayne, Jay, Lupe. If we had been of the age or inclination, we would have been reading online articles about how our iPods were shifting the future of music, how consumers would curate their own playlists, no longer bound to albums as conceived by artists and their record companies. While digital technology had already begun to rattle the record industry's foundation, the shift had only affected the business, not the art itself.
I'm writing this in 2017, a handful of hours after Drake, the world's most popular rapper, released new music on his radio show, a program he broadcasts bi-weekly (or thereabouts) to Apple Music subscribers—that is, consumers who pay $9.99 a month ($4.99 for students, $14.99 for a "family license") for access to Apple's library of songs, albums, and other media, which can be streamed on phones, computers, tablets, or the watches Apple manufactures. This collection of songs is called More Life. Drake has gone to great lengths to communicate to his fans that this work is a playlist, as opposed to an album, EP, or mixtape—even going so far as to include the word on the artwork, which otherwise features a picture of his father and a nod to October Firm.
More Life is not a playlist in the typical sense of the word. It's not a collection of songs by various artists, anchored by a broad theme, like "sex" or "rainy Mondays"; it's not a collection of songs by a single artist, culled from across their discography. To Drake's credit, his claim to the label is compelling. In an interview with the British radio broadcaster and DJ Semtex, he explained that More Life was conceived as an episode of his radio show, reflecting his current regional and stylistic tastes—except each song would happen to be a Drake original.
But there was another, more revealing quote in that interview with Semtex. Discussing his most recent album, last year's Views—which was met with massive commercial success but tepid reviews from fans and critics—Drake said, "There was a time where I thought about actually taking the rap off of Views and just making it an album full of music that made me happy with melody. But obviously I know why I'm here, I know who my core fan base is, and so toward the end of the album, I tried to execute it as best I could on the rap end." Drake goes further, conceding that while the album's success was "incredible," it "wasn't the one." Three of the album proper's four singles ("Too Good," "One Dance," and "Controlla") ditch rap completely.
Until More Life, Drake's toying with form had been strictly semantic.
This wasn't the first time that Drake, press savvy though he is, has admitted that the album-making process frustrates him. In a 2011 interview, also with Semtex, he said that he regretted how his debut LP, Thank Me Later, had been rushed—so much so that "9AM in Dallas," one of his best-received songs to that point, missed the deadline for mastering. His next two albums, that year's Take Care and 2013's Nothing Was the Same, were well-received, though they represented opposite approaches to the form: Take Care dove down a variety of rabbit holes, leaving a long, messy, idiosyncratic work, while Nothing Was the Same was far more concise and focused. To the dispassionate observer, Drake was trying to find the right balance.
Until More Life, Drake's toying with form had been strictly semantic. His surprise 2015 release, If You're Reading This It's Too Late, was nominally a mixtape, but it featured entirely original production, counted as an official release on the Cash Money and Republic calendars, was sold on the iTunes store for as much money as any other new album, and was eventually issued on CD with no changes except for a pair of bonus tracks. There was no practical difference between If You're Reading This It's Too Late and Nothing Was the Same.
If you look at Drake's career and see that he's spent more than 400 consecutive weeks on Billboard's Hot 100, a chart that measures the success of singles; that Views was a monumental success despite its singles existing in a different musical world than the bulk of the album; and that he's ruled some years (like 2014) with little more than a loosie ("0 to 100"), you might wonder why he bothers with full-length records at all.
A cursory look at its history will show you that rap, like so many other types of music, was primarily a singles genre for years after its birth, and that some of its greatest artists and stylistic movements lacked definitive albums or album artists. Unfortunately for Drake (and for Whodini, and for the New Boyz), the album is the format people are generally interested in—or perhaps more specifically, the format that people find most worthy of serious parsing, praise, and attention. The album is the canvas for the masterpiece. The album is where art is made. Supposedly. This is why any one of the inane Twitter conversations about Drake devolves into a single question: does he have a classic album?
Whatever meaning you derive from More Life, it's satisfying to watch an artist think critically about his means of presentation.
There are other parallels to rap's past worth mentioning. More Life is subtitled "A Playlist by October Firm," which recalls records like Jay Z's The Dynasty: Roc La Familia, which was conceived as a Roc-A-Fella compilation before Jay, Dame, and Biggs figured it would sell more if it was billed as a solo album. Compilations by the Diplomats and the Ruff Ryders helped solidify crews as alphas in their time; Rawkus became one of indie rap's flagships largely due to its comp game. (For what it's worth, when Nas, AZ, Foxy Brown, and Cormega Nature linked up as the Firm, they made sure that their debut was called The Album.) No matter the artist, label, or era, though, compilations were generally seen as a welcome bonus, rather than the yardstick by which great, canonical artists were measured.
It's easy to position More Life's playlist tag as a cynical way of skirting expectations, a means to cast a wide net of potential summer smashes while mitigating critical blowback. But I think there's something more interesting at play. For as tech-literate as most of today's artists have to be, very little music is made with an eye to how it'll interact with a phone, or a watch, or the Macbook you're using to read this article. (The artists whose work does seem uniquely attuned to a digital landscape—take Lil B for example—are both closer to the genre's avant-garde edges and seem to have been more comfortable in the murkier, more mysterious internet that's quickly sanitizing itself.)
And to Drake's credit, the work takes on characteristics of a radio setlist or a DJ mix; his comments in the Semtex interview were more than a quick reframing after the fact. The sounds change how they might on radio, too: after lapsing into his London self on More Life's second song, "No Long Talk," Drake invites a hard left turn into a five-song dance suite, then into a period that's slower, more somber, darker. There are breaks between songs where a voice other than his—be it Giggs, Moodymann by way of a years-old sample, his mom—serves as a brief reprieve. The project has a kinetic sort of forward motion, rather than momentum built by narrative or familiar arcs.
Whatever meaning you derive from More Life, it's satisfying to watch an artist think critically about his means of presentation, both as it pertains to his strengths and weaknesses and to the personal, physical lives of his audience. Here Drake's free to pick up and put down any sound he's been toying with for the last handful of months, free of (most of) the narrative baggage that comes with the fight to craft a Great Album. None of this is to say that this form is inherently superior—it isn't. But this time, it works.