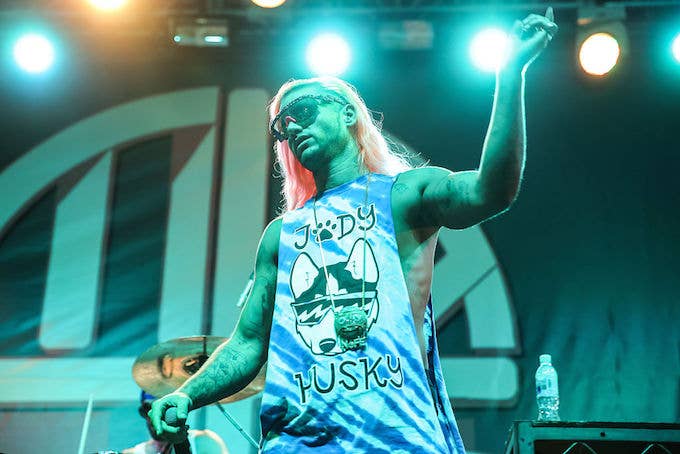 Riff Raff has recently been accused of rape by Melbourne woman Eliza Stafford, and now, a second woman is coming forward to detail another incident of sexual misconduct involving the rapper from an encounter in 2015.
The Houston rapper's first accuser, Stafford, detailed her horrifying experience from 2013 in a Facebook post after she learned that Riff Raff was scheduled to begin a new tour in Australia and New Zealand. Stafford spoke out saying, "He is performing at the corner hotel next Friday night. I will be 50 meters from my rapist all night."
Riff Raff's Australian and New Zealand tour has since been canceled. Now, 20-year-old Kelsey Doucette is coming forward with her own unsettling account of a situation involving her and the rapper at the Milwaukee, Wisconsin stop of Warped Tour 2015.
According to Jezebel, Doucette explained that she attended a meet-and-greet with Riff Raff after his performance because some of her friends were fans of his. During the meeting, a then 17-year-old Doucette says that Riff Raff asked if she was single and put his contact information into her phone. She says her friends were excited that she got his number, saying "we have to hang out with him."
Doucette goes on to explain that a while later—after another friend had been texting the rapper from a different phone—she and her group of friends were escorted to Riff Raff's tour bus. Doucette explained that she mostly wanted to get her male friends onto the bus so they could hang out with him, but only Doucette and one other female friend were allowed on the bus. 
She continued to recount what happened next, saying they made small talk, Riff Raff offered the girls drinks, to which they declined, then were offered to see the rest of the bus. "I went to go follow him and I just remember looking back at my friend and had that feeling she wasn't behind me. I looked back at her and she was sitting on the couch shaking her head like, 'no, let's go,'" Doucette said.
With her friend waiting at the front of the bus, Riff Raff lead Doucette into the master suite.
"He went to lay down on his bed and he said come lay down with me, check out these sheets," to which Doucette replied, "I was like, 'no, I'm good standing' and then he was like, 'why not, I thought you were single?'" 
Then, Riff Raff allegedly pulled her hand so she could sit down on the bed and began touching her arms and legs, put his hands on the inside of her waistband and tried to kiss her on the lips, Doucette says. 
"Even though I kept swatting his hands away and stuff and just kind of nonchalantly moving them away from me, he kept trying to touch me and trying to kiss on my neck... and at that point I was like, please stop, don't do this anymore."
The final straw that set her over the edge, Doucette says, is when the rapper whispered in her ear, "I'll even let you have my babies."
After that, Doucette says she got up, asked for the time, and said that she had to leave. Riff Raff let her leave, but her friend was no longer waiting for her in the front of the bus. Her friends were waiting for her outside of the bus, and Doucette just brushed them off. "I said he tried to kiss me and I didn't really go into extreme detail with them because I just didn't feel like explaining it at the time," she explained.
This disturbing incident is the second case involving Riff Raff. The rapper has yet to comment on the allegations, but his latest Instagram post reads: