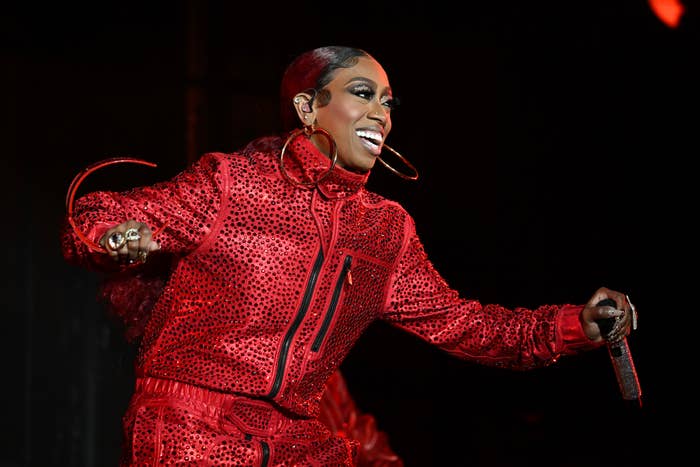 The modern musical landscape is canvassed by on-the-nose, referential samples, with newer songs endorsing records that came before them. One only has to look at Smino's "No L's" (sampling the Missy Elliot-produced "Knock Knock", and the Brent Faiyaz-led "Last One Left" (sampling her Beyonce-assisted "Crazy Feelings") to see the abundance of samples laden for contemporary listeners. Sampling isn't new, but the frequency of it has arguably heightened, noting a yearning for nostalgia, or past artists and talent. Like a sample, rapper and artist Missy Elliott has, in many ways, transcended time. Missy's resounding influence was rewarded this week too, with her induction to the Rock and Roll Hall of Fame. As the first woman in rap to reach this feat, Missy Elliott solidifies her status as a multigenerational legend in music.
Missy 'Misdemeanor' Elliott came cloaked in originality from her inception with the formative "The Rain (Supa Dupa Fly)" in 1997. Her debut had an instant coat of flair, audacity, and fervent embrace of individuality that allured many, including her peers. Though she was called a "twin" by fellow innovators like Busta Rhymes and put in the same category as the likes of Chicago rapper Da Brat, Missy was in a lane all her own. Beyond her overwhelming influence, Missy Elliott has navigated the industry with both grace and an instinctive passion for mentorship, inspiring not only those who traverse rap and R&B realms simultaneously but also a new generation who use nostalgia and samples as the base of their canvases. When Bree Runway, for example, oded Missy Elliott on 'APESHIT,' she not only tweeted her support but then went on to work with her on 'ATM'.
Missy Elliott continued to support Black women co-signing and publicly supporting the likes of Chlöe, Eve, Lil' Kim, and more. Missy paved the way for expressive Black women within both genres and continues to hold the doors open for successors and peers.
Known as much for her visual direction—perhaps best exemplified by her iconic oft Hype Williams-directed collection—as her vocal ability, the multifaceted artist vocally melded the realms of R&B and hip-hop (and variants of the genre) with such a masterful display of respect for musicality. To this day, no one can replicate the sound that she crafted with pivotal co-producer Timbaland by her side (whom she regularly references on her Supa Dupa Fly album debut)—though many have tried.
"Beep Me 911"is the best example of those worlds combining. Boasting a strong foundation of funk-laced R&B led by both 702's charismatic, but velvet-smooth runs and Missy's lofty and playful lyricism, it acted as a song that represented her sundry approach to music and the ownership of both her sexuality and demand to be heard. Despite the often revisionist claims on social media, Missy Elliott often spoke about sex, but found distinctive ways to deliver her wants, needs, and observations in this terrain, not relying on-the-nose tropes concerning exaggerated cadence, or the need to portray a hypersexualized aesthetic to convey her message.
Missy Elliott trailblazed across her debut, and in the years that followed, scored a knack for curating productions and writing for other talent. Beyond her infamous writing work across Aaliyah's One In A Million, Missy Elliott helped many women across R&B and hip-hop to articulate themselves and craft distinct direction in musicality and artistry, making music more than just a pursuit for self, but an opportunity to forge communities and motivate those outside of her immediate spheres of influence. In the '90s, her influence is best seen in the work of singer Tweet, who she pushed to expand outside of the group Sugah when she invited her to provide vocals for her Miss E... So Addictive's opener. To this day, Tweet credits both that feature and Missy's wider motivation and guidance for music direction. The pair recently reunited at the eighth annual Black Music Honors this June, where Tweet honored her alongside 702. Prior to the award ceremony, Tweet described Missy as her "guardian angel" and a figure who "saved her life" and "knocked down many doors."
Missy Elliott is an "avant-garde pop star moving culture forward."
As Missy Elliott's career blossomed well into the 2000s, with the release of formative albums such as Miss E... So Addictive, so did her aptitude for forging relationships with the next generation of women artists and helping them in their own ascents to stardom. Another close bond across this period lies in the formidable entertainer Ciara. The origins of their friendship saw Missy Elliott lean into her tendencies to infuse both rap and singing to her music—an approach that hadn't garnered much notoriety at the time—into the formula of "1,2 Step." After being introduced to her by Jazze Pha, she coached her to sing and rap across the song. The approach stems back to work with Aaliyah on "One In A Million." Because Missy Elliott couldn't do elaborate runs, she'd often run to the rap-and-singing hybrid, even when the approach didn't exist as much in music.
"[Singing and rapping] allowed [Ciara] to be able to dance, so she's not sitting there trying to do all these runs and sing and all that stuff. You can't really get off when you trying to sing and then you trying to do the whole matrix thing going backward," she noted in a Billboard interview reflecting on the song.
Missy Elliott has continued to push collaboration, proving that she always lived in the future. Her iconography, references, and overall aesthetic continues to move from one generation to the next. An unconventional sphere of influence can be found in the pop-infused Israeli singer Noga Erez, who partnered with Missy Elliott on a remix for her single "NAILS" last year. Missy Elliott's tenacity and originality have proven pivotal for Erez since childhood.
"[The first time I heard Missy Elliott] was in 2001 and "Get Your Freak On" was released. I was 11 at the time and hooked on MTV. It was played everywhere and all the time," she tells Complex, calling Missy Elliott an "avant-garde pop star moving culture forward." She shares that Missy Elliott's knack for elevation hasn't dulled across her 20-year span in music and quickly helped nurture the crafting of "NAILS'" new edition, featuring the titan herself.
"Missy sent a bunch of ridiculously genius and effortless ideas that we had to go over and pick from. It was so easy. But a lot was left out and I'm fortunate to have access to all those incredible takes," she says. Leaning firmly into Missy's misdemeanor-laced pseudonym, the menacing ad-libs and verses highlight an artist still skittish, passionate, and diligence after years of dominance. On that feature and more, Missy Elliott provides spirited delivery alongside her contemporaries and proves that there's still hunger there to release and experiment further.
Beyond direct features, and feeding into the yearning for yesteryear, is the aforementioned acceleration in on-the-nose sampling. Recently, BIA's "I'M THAT BITCH" arrived with a high BPM and some drill-laced 808 infused with Missy Elliott's classic "She's A Bitch," by way of the original producer's official co-sign and encouragement. Although intentionally similar, BIA fastened the flow schema and made the song her own as it pertained to intonation. Visually influenced by "The Rain (Supa Dupa Fly)" as well, BIA found herself in the studio with Timbaland to honor a song she calls both "powerful" and "relatable."
"We decided to flip ['She's A Bitch'] and make it drill," BIA tells Complex. "It was so much fun because I'm a big Missy fan and it was my way of paying homage to her legacy. I'm really grateful I had the opportunity to do that."
Missy Elliott's aptitude for working both various roles front and back of house across her career, led to her being assigned directly to assist with the writing and production for the pantheon-led "Lady Marmalade." She's done the same for MC Lyte, Timbaland, and Mariah Carey, whilst sustaining her own career. This, BIA notes, forms her biggest lesson from the juggernaut—she became aware of the fact that she was "capable of doing it all."
"Missy is one of the most iconic people to ever walk this earth! I'm thankful to have grown up listening to her. The bar she set for creative expression is top tier to this day," BIA continues.
"Missy is one of the most iconic people to ever walk this earth! The bar she set for creative expression is top tier to this day."
Although her reign and mentorship in hip-hop are often highlighted, Missy's efforts continue to extend to the corners of R&B once again in contemporary artists. Linking back to her original roots in Sista, acts such as Chlöe, and newer-British based pop-R&B collective FLO champion Missy Elliott's resounding R&B foundations and her continued lineage within the sound. In March, Chlöe collaborated with her on "Told Ya," with Missy Elliott loving calling her "sis" following the song's official release. That same month, the FLO-fronted "Fly Girl" was also released, which extended the lineage of "Work It" and also featured Misdemeanor herself. Sing-rapping in parts of the songs, Missy Elliott's both direct and subtle references are placed center stage. The song created huge social buzz following its release and eventually dented the UK's official Top 40, along with Japan's and New Zealand's Top 40.
Channeling the power and fearlessness that "Work It" made them feel as children, FLO wanted to infuse the original song as it sounded "cool" and instantly "reminiscent" to them. Noting Missy Elliott's ability to express ideas in organically unique ways, group member Renée Downer tells Complex that they wanted the imagination to come through on "Fly Girl." "Our younger selves wouldn't be able to believe we've achieved something like this so quickly," she adds.he group is grateful for the full circle moment. Fellow group member Stella Quaresma particularly appreciates the boldness infused in Missy Elliott's legacy. "She's very unapologetic about what she says lyrically. She's authoritative and always thinks outside the box."
Missy Elliott's reign as one of the most disciplined, visually-zestful, and passionate polymaths in music is cemented in time. Her robust and coveted features and solo efforts are archived and positioned correctly and with a sample every few months, it's hard to not hear Missy Elliott's impact on a dance floor, or in visuals and runways. but beyond that, her legacy lives on through people. Her warm nature and instant urge to develop, work with, or collaborate makes her not just a musical icon, but someone embraced by all.