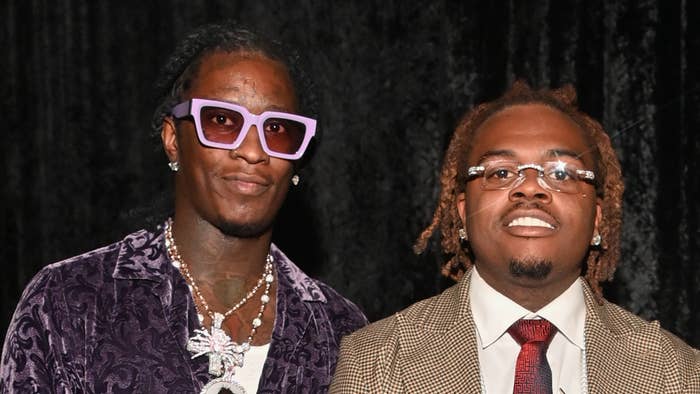 Young Thug's father, Jeffrey Williams Sr., has cleared up any confusion about Gunna snitching on his son and claimed he hasn't done anything to hurt the incarcerated rapper's case.
In an interview with Infamous Sylvia, Williams was asked how he felt about Gunna, and there was no ill will in his answer as he stated he "love" the 30-year-old rapper and shot down any allegations that he snitched. Since he was released from prison last year, Gunna has been accused of snitching on Young Thug in exchange for his release.
"I love Gunna," Williams Sr. said before Sylvia asked his thoughts on the snitching allegations. "Let me try to help the attorney clarify that a little simpler. Gunna hasn't done anything whatsoever that can hurt us on this case, period."
He also claimed that he personally told Gunna that continue releasing music right when he got out and make money for the YSL label.
Gunna was released from prison in December 2022 after serving seven months. Fans were shocked to see Gunna out of prison as he was facing RICO charges, but once details of his release were made public, the reaction changed.
The rapper submitted an Alford plea, which saw him plead guilty to the offenses while maintaining his innocence. Such a deal allows a defendant to bypass the uncertainties of a trial and avoid a much more severe sentencing. As part of the agreement, his five-year sentence was reduced to time served and 500 hours of community service.
Footage of Gunna's Alfrod plea deal hit social media and showed him claiming he "had personal knowledge of members of YSL committing crimes in furtherance of a gang" and agreed that "YSL as a gang must end." Gunna also admitted to being with Young Thug during a 2017 traffic stop where police found drugs and a handgun.
For the full interview with Thug's dad, you can watch below.
Last December, Rolling Stone wrote an article that explained Gunna will not be called to testify against Young Thug. According to the outlet's source, the rapper hasn't made any statements, done interviews or cooperated with anyone regarding the case.
"It's understood that the state is not going to call him as a witness," a source told Rolling Stone. "That's why the plea agreement is written exactly the way it is because the whole idea was: the state wasn't going to call him, and they didn't want the defense to call him either."
The source continued, "[Gunna has not] made any statements, have NOT been interviewed, have NOT cooperated, have NOT agreed to testify or be a witness for or against any party in the case and have absolutely NO intention of being involved in the trial process in any way."