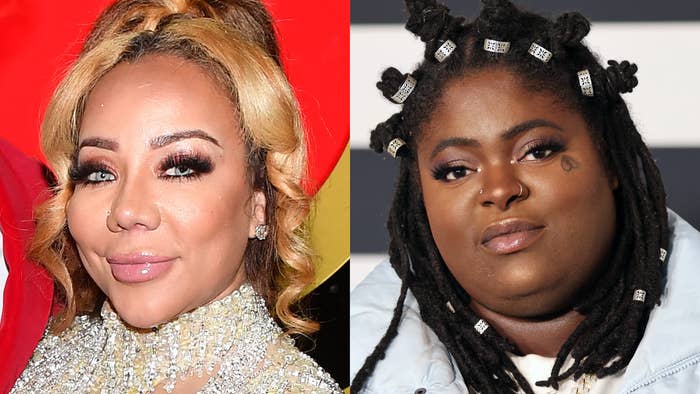 Tiny Harris has made it clear she has a bone to pick with Chika after she insulted the singer's daughter and grandchildren.
Earlier this week, Chika drew criticism after she began angrily tweeting about a set of kids sitting in first class that were crying on the flight. In her posts, the Alabama native called the person with the children "a stupid bitch" for purchasing first-class tickets for the kids and waking the rapper up.
It was unclear who the children were with on the flight, but the actual mother happened to be Tiny's daughter Zonnique Pullins and the family came to the defense of the children once word got out that Chika had dissed them. Zonnique was the first to respond with a video that proved her kids were well-behaved.
"Wait I'm in tearssss not chika boo was mad my child was cutting up in first class [crying face emojis] you should of just sat there and been mad babe..she sky priority af," she wrote.
Another relative, who said Zonnique is her "niece," chimed in on Instagram to drag Chika, calling her a "stupid ass bitch." The relative went on to claim the child only cried for "three minutes" but was otherwise on her best behavior.
Tiny then took to the comments section herself to address the situation and remind people who her family is.
"Yeah she talking about my MF'n grandbaby!" Tiny wrote. "Talking like she wasn't supposed to be in first class or something! TF!!!!"
She also took her claims to Twitter and quote-tweeted her daughter on Saturday replying, "HEAVY ON THE AF!!!!!!"
Chika's rant was sure to anger some people given how disrespectful she got with her words. In addition to calling Tiny's daughter a "bitch," she also wished the mother to choke and receive numerous papercuts.
"The the lady next to me who thought it would be a good idea to buy yourself and your twin infants first class seats on a red-eye flight, who just woke me up by bringing your screaming bastard to OUR seats to soothe her, I just bought $34 WiFi at 4am to call you a stupid bitch," she said. "p.s., I hate you and I hope you get a paper cut between each finger tomorrow, you senseless wench."
Chika had an explanation behind her actions and revealed in a video shared on social media that she was suffering through a manic episode.