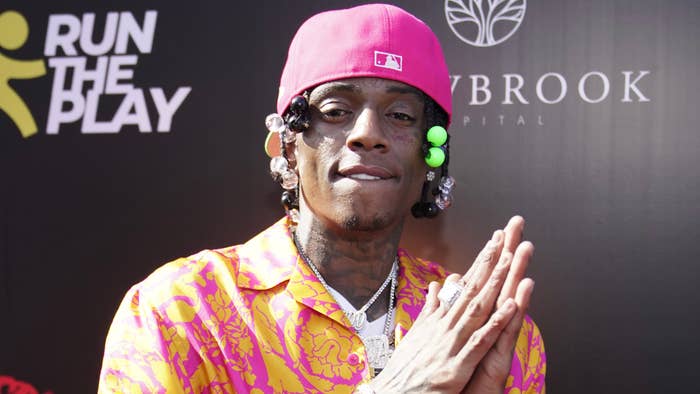 Soulja Boy has made it loud and clear that he may no longer work with producers after he was hit with another copyright claim that forced him to remove another project off of digital streaming platforms.
On Monday, Big Draco took to his Twitter to let his fans know that producers no longer have a shot at working with him after his latest mixtape, Soulja Season, was removed from all DSPs. According to Soulja, a producer filed a copyright claim against him, leading to the album being removed.
"My album Soulja Season was taken off DSPs because of a copyright claim from a producer," Soulja Boy wrote in a tweet. "I purchased the beat from 100% this is the third time this happened. First 'Biggest Opp' then 'BigDraco3' This may be my last time working with producers. They messing it for all producers!"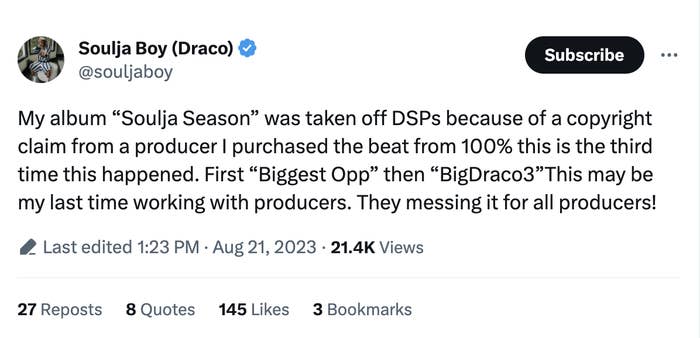 While announcing he's done with producers, Soulja is also making it clear he wants to be recognized and respected as a pioneer during hip-hop's 50th anniversary celebration this year. The 33-year-old rapper hopped on Twitter and reminded his critics how much he's influenced the genre, as Soulja took credit for creating the evolution that hip-hop has experienced with the rise of the internet.
"When I came in the game they said I killed hip hop," Soulja wrote. "But really, I birthed the new wave of hip hop with internet/streaming. Ahead of my time."
He added, "Now everyone vlogs their career like me. Now everyone uploads their music to the internet. Now everyone goes live for their fans. I started it. Thank me or not. Flowers/Credit or not."